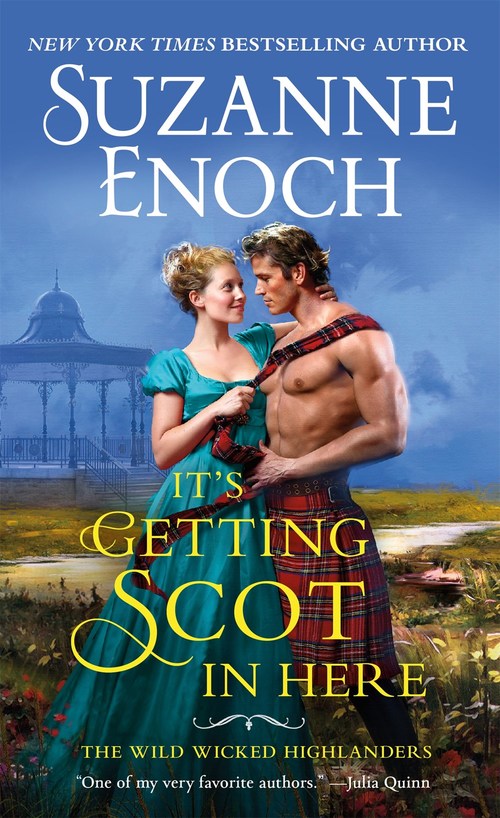 Purchase
Wild Wicked Highlanders #1
St. Martin's Paperbacks
March 2019
On Sale: February 26, 2019
Featuring: Niall MacTaggert; Amelia-Rose Baxter
352 pages
ISBN: 1250296374
EAN: 9781250296375
Kindle: B07F1BTFVH
Mass Market Paperback / e-Book
Add to Wish List

The first in a wickedly seductive new Scottish historical romance series from New York Times bestselling author Suzanne Enoch!
"It's time to fall in love with Suzanne Enoch." — Lisa Kleypas
HAPPILY-EVER-AFTER
London socialite Amelia-Rose Baxter is nobody's fool. Her parents may want her to catch a title, but she will never change who she is for the promise of marriage. Her husband will be a man who can appreciate her sharp mind as well as her body. A sophisticated man who loves life in London. A man who considers her his equal—and won't try to tame her wild heart...
IN THE HIGHLANDS
Rough, rugged Highlander Niall MacTaggert and his brothers know the rules: the eldest must marry or lose the ancestral estate, period. But Niall's eldest brother just isn't interested in the lady his mother selected. Is it because Amelia-Rose is just too. . . Free-spirited? Yes. Brazen? Aye. Surely Niall can find a way to soften up the whip-smart lass and make her the perfect match for his brother for the sake of the family.
JUST GOT A WHOLE LOT HOTTER.
Instead it's Niall who tempts Amelia-Rose, despite her reservations about barbarian Highlanders. Niall finds the lass nigh irresistible as well, but he won't make the mistake his father did in marrying an Englishwoman who doesn't like the Highlands. Does he have what it takes to win her heart? There is only one way to find out...
Awards
Fresh Fiction Box Not To Miss, Selection, January 2019

Wild Wicked Highlanders
Comments
23 comments posted.
Oh, I just love the excerpt. Really looking forward to
reading it. Thank you for the post. Always enjoy reading
your books.
(Carol Luciano 5:34am February 27, 2019)
Looks/sounds like another winner. Best of luck with the newest book. Thanks for a chance to win a copy.
(Nancy Reynolds 2:13pm February 27, 2019)
I would love to read this book. I don't remember reading a book written by you, but I'm adding your name to a list for the future. Thank you for the contest.
(Anna Speed 3:37pm February 27, 2019)
I love the sound of this! I love reading about heroines who
are intelligent and sassy!
(Sandy Kenny 4:40pm February 27, 2019)
Love the title of this book! 😃
(Colleen Conklin 5:43pm February 27, 2019)
I love historical romance novels! I've been reading them for
the last 29 years! Always looking forward to reading another
one.
(Candy Voisine 7:21pm February 27, 2019)
an Alpha Scot and an intelligent heroine...sounds like mighty good reading...
(Virginia Campbell 12:39pm February 28, 2019)
Highland romances are what attracted me to the genre and I do love them. This
sounds like it will be an good series. Amelia-Rose and Nial are two strong
characters. Their contest of wills on their way to their HEA should be most
enjoyable. Thank you for the giveaway.
(Patricia Barraclough 1:25am February 28, 2019)
I always love your books and keep them to reread. This one sounds yummy.
(Sharon Mitchell 3:28am February 28, 2019)
Thanks for the opportunity to win. I would love to read this Highland
Romance!!
(Kathy Roope 1:00pm February 28, 2019)
Well, that is certainly an interesting set up for conflict!
Sounds like quite an amusing read.
(G. Bisbjerg 8:57pm February 28, 2019)
interesting story of a family dynamics - have to read the
stories to see how things end up
(Diane Sallans 11:46am March 1, 2019)
Thanks for writing about Scottish men.
(Sharon Good 12:46pm March 1, 2019)
I like historical romances but they aren't a favorite genre of mine. However reading this excerpt has me hooked and I will be reading this book. Congrats to the author on a terrific premise and wonderful prose.
(Mary Songer 4:47pm March 1, 2019)
I enjoyed the prologue & am looking forward to reading the rest of the
book.
(Jana B 6:44pm March 1, 2019)
Oh my gosh! I NEED this book! Absolutely love the cute
title and have it on my wishlist on all the sites! Hope
begging helps my chances because pretty please! I am
begging here!
(Amber Niebaum 3:57am March 2, 2019)
Thank you for the chance! I would love to read this book!
(Margaret Yelton 12:46pm March 2, 2019)
It sounds like a fun read. And let's face it, anytime there
are men in kilts, I'm in! :)
(Kt C 3:36pm March 2, 2019)
I'min!!
(Hester Mayo 8:43pm March 2, 2019)
I love the premise of the series, and the book sounds great!
(Janie McGaugh 12:04pm March 3, 2019)
Looks like a great story. Thanks for chance to win.
(Nancy Reynolds 11:48am March 4, 2019)
My mother would absolutely love this book! Thank you for
the giveaway!
(Sarah Nakoneczny 4:34pm March 4, 2019)
Thank you for the opportunity! I love highlanders.
(Carrie Tillman 7:15pm March 4, 2019)
Registered users may leave comments.
Log in or register now!