For our readers who may be unfamiliar for Sisters in Crime, can you give a little info on what makes it special and what this celebration on September 24th is about?
Sisters in Crime is an amazing nonprofit that was founded to provide equity for women crime fiction writers. Here is the 1987 mission statement: "To combat discrimination against women in the mystery field, educate publishers, and educate the general public as to the inequities in the treatment of female authors, raise the level of awareness of their contributions to the field, and promote the professional advancement of women who write mysteries." The September 24th celebration is about celebrating SinC's 35 years as an organization!
As a mystery fan, most of the mysteries I read happen to be written by women. The first mysteries I ever read were by Agatha Christie and Dorothy L. Sayers. What inspired you to write mysteries?
The first adult mysteries I read were by Agatha Christie, and I fell in love with whodunits. I particularly enjoyed Miss Marple, who is both intelligent and underestimated. I also adored the puzzle aspect of Christie's mysteries as well as the quaint community setting.
What challenges, if any, have you faced in your writing career?
I enjoyed many mysteries while growing up.
Unfortunately, the ones I noticed getting published were quite homogenous. I didn't find Asian American representation in the genre until I got older. I've faced both internal challenges (expectations of a stable career) and external obstacles (the reception of stories that weren't as familiar).
How much, if any, research goes into writing a mystery?
A lot! Not only do I need to research unique methods of murder for each book, but I also do ongoing research. This is particularly true for cozies because they often come with themes. In my Sassy Cat series, I had to research pet grooming. In my L.A. Night Market Mysteries, I hunt for recipes and interesting hidden Los Angeles locations.
I wanted to talk a little about the different mystery sub-genres. I am a huge fan of cozy mysteries, but I often feel like they're not taken as seriously by critics and booksellers as high suspense and horror. What are your thoughts?
Yep, that's right. I'm grateful that cozies are getting more traditional media coverage now (ex: more New York Times Book Review reviews), a new award (ex: Lilian Jackson Braun Award), and bookseller boosts (ex: staff recommendations).
When I'm starting a new mystery series, whether I stick with a series is partly due to how much I enjoy the story overall, but it has equally as much to do with whether I like the protagonist sleuth. I love female protagonists who are realistic and aren't easily manipulated. What makes a good female protagonist in a mystery in your opinion?
My own tastes lean toward smart sleuths who are bold and curious. I also like ones with fascinating and distinctive voices and backgrounds.
I've read mysteries with female protagonists who investigate crimes solo, who have an unofficial "Scooby crew" to help out, a love interest who helps (or occasionally hinders) an investigation. Do you prefer to write a main character who is largely alone – in life and in crime-solving? Or do you prefer to include helpers?
I tend to include helpers. My new L.A. Night Market series features two cousins with opposite personalities who run a food stall. Cozies are all about community, so I like involving more people (or pets) in solving a mystery.
In addition to mysteries, I'm also a romance fan. I enjoy when there's an element of romance in a mystery, but I'm leery when the female sleuth has a cop love interest. I've found that dynamic can be a little toxic with the male love interest coming off as condescending and sounding like a disapproving father figure. What are your thoughts?
I'm okay with a cop love interest, but because it's been done a lot, I prefer different romantic relationships. I think it offers more excitement and complexity when there are other types of interesting characters involved.
LA Night Market #1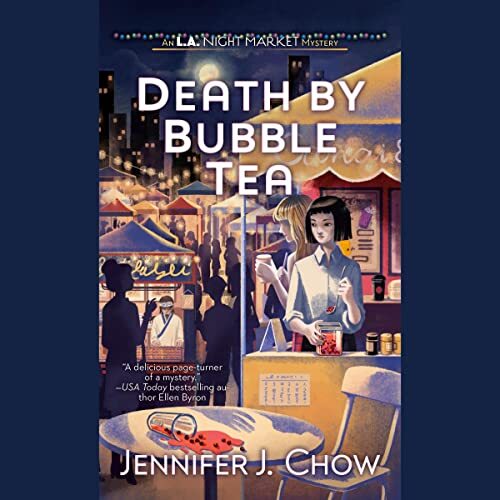 Two cousins who start a food stall at their local night market get a serving of murder in this first novel of a delicious new cozy mystery series by Jennifer J. Chow, author of Mimi Lee Gets a Clue.
When Yale Yee discovers her cousin Celine is visiting from Hong Kong, she is obliged to play tour guide to a relative she hasn't seen in 20 years. Not only that, but her father thinks it's a wonderful idea for them to bond by running a food stall together at the Eastwood Village Night Market. Yale hasn't cooked in years, and she hardly considers Celine's career as a social media influencer as adequate experience, but because she's just lost her job at her local bookstore, she feels she has no choice.
Yale and Celine serve small dishes and refreshing drinks, and while business is slow, it eventually picks up thanks to Celine's surprisingly useful marketing ideas. They're quite shocked that their bubble tea, in particular, is a hit—literally—when one of their customers turns up dead. Yale and Celine are prime suspects due to the gold flakes that Celine added to the sweet drink as a garnish. Though the two cousins are polar opposites in every way, they must work together to find out what really happened to the victim or the only thing they'll be serving is time.
Narrated by Stephanie Sheh.
Thriller Spy | Horror [Penguin, On Sale: July 5, 2022, Audio, ISBN: 9780593592601 / ]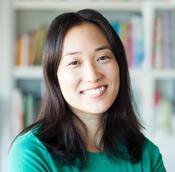 Jennifer J. Chow writes cozies with heart, humor, and heritage. She is the twice-nominated Lefty Award author of the Sassy Cat Mysteries. The first in the Sassy Cat series, Mimi Lee Gets A Clue, was selected as an OverDrive Recommended Read, a PopSugar Best Summer Beach Read, and one of BuzzFeed's Top 5 Books by AAPI authors. Her new series is the L.A. Night Market Mysteries, and the first book, Death by Bubble Tea, hit the SoCal Indie Bestseller List multiple times. It was featured in CrimeReads' Most Anticipated Crime Books of 2022, Bustle's Most Anticipated Books of July 2022, and Book Riot's Best Mystery, Thriller, and True Crime Books Out in July. The New York Times said of the novel: "Yale and Celine's growing loyalty to each other, coupled with the warmth of Chow's prose, adds extra depth, just like the tapioca balls nestled in a glass of bubble tea." Jennifer currently serves as Vice President on the national board of Sisters in Crime and blogs at chicksonthecase.com. She is also an active member of Crime Writers of Color and Mystery Writers of America. Connect with her online.
No comments posted.