I'm excited to share a brief excerpt from my new release, TAKE IT FROM ME, a story about friendship and all its little secrets. This snippet is from the end of Chapter One, which is in Wendy's point of view. The scene takes place late on the afternoon that someone new has moved into the house next door. Wendy—a lonely empty-nester—picks up a ready-made meal and flowers to give her new neighbor (Harper) as a welcome gift when they meet for the first time:
Before I leave the house, it occurs to me that my neighbors will be busy unpacking. Not an ideal time to chat. I pull out a sheet of embossed stationery from the kitchen desk.
Welcome to the neighborhood! We hope these small gifts make your day a little easier. Looking forward to meeting you once you're settled.
Fondly,
Your next-door neighbors, Wendy and Joe Moore
After taping the note to the soup container and packing the food into a recyclable bag, I check my reflection in the microwave's glass door and then slip out the back with the goodies in hand.
It feels as if I'm floating across the yard as fantasies about whoever has moved in begin to spin. Maybe they'll be empty nesters like Joe and me, possibly from someplace interesting like Montreal or London. Maybe the wife will be into yoga or paddle tennis. Maybe they'll enjoy hanging out with us, and by this time next year we'll be true friends.
Smiling to myself, I trot up the porch stairs, prepared to hand over the goodies and allow them their space.
Resisting the desire to step inside the wide-open door, I ring the bell while a mild pang for Peg tightens my chest. We often sat here commiserating over childhood stories. I would seek advice about dealing with my mom, and she'd lament about her alcoholic father. We bonded in part through the scars and childhood embarrassment our sick parents caused us. Luckily, I've spared my son that fate. Ten seconds later, a young woman—thirty-five, tops—comes into the foyer. My pipe dreams scatter like dead leaves in the wind.
She's quite out of sorts. Her hair—a plain shade of brown that could use both highlights and lowlights—sticks out at all angles, doing nothing at all to complement her sparkling cornflower-blue eyes. Compactly built, she's dressed in ratty jean shorts and a snug black-and-white long-sleeved T-shirt that says This is what a feminist looks like. She tips her head to the left and flashes a winning, broad grin. "Hello there."
"Hi," I say dumbly, tearing my gaze from that shirt. "I'm Wendy, from next door." I gesture with my head while holding up the gifts. "I thought you might appreciate a little food and a welcome gift."
"Well, that's unexpected. Thanks." Her statement almost sounds like a question. She takes the gifts, then can't shake my hand because hers are full. "I'm Harper. It's nice to meet you."
"Same to you." A fly buzzes between us. "I know you're busy, so I won't keep you."
She sets the bag and bouquet on a table just inside the door and steps onto the porch, clasping her arms behind her and stretching. "I've got a minute."
"Oh." I'm not prepared for a conversation, but I smile. "So, are you on your own or do you have a, um, partner?"
She crosses her arms, her gaze trailing off. "On my own. Moved from the city."
People from Manhattan refer to it as "the" city, as if it's the only one on the planet.
"This'll certainly be a change of pace." Although only seventy-five minutes by direct train to Grand Central, New Canaan's the opposite of that bustling metropolis. I'm curious about her choice, but it'd be rude to question her so quickly. "We're a small but mighty community. If you'd like, I'll give you a list of the best doctors, dentists, and salons in the area."
"Is everyone here as helpful as you?" Her expression is as enigmatic as her tone.
I choose to treat her question as sincere. "Not always, but this is a friendly street. Peaceful too."
"Perfect." Harper lets her hands fall to her sides. "Thanks again for the thoughtful gifts."
"You're welcome." I pause, then add, "You should consider joining the Newcomers' Club. It's a great way to meet people in your situation—new to town, I mean."
It then occurs to me that she'll stick out in this family-oriented community, populated primarily by married folks with small children and older folks who've been here forever. Despite the multitude of restaurants and few bars uptown, there isn't much of a singles scene, especially if you exclude older divorcées.
"Maybe I will," she says, glancing over her shoulder through the open door. "I should probably get back to work now, Wendy. Have a good day."
"Same to you." I nod. "I look forward to getting to know you better."
Her expression is friendly as she waves goodbye, then she strides inside where I can't see her anymore.
When I return to my kitchen, Joe is there, glistening with sweat and gulping down water. "Saw you over at the Durbins'."
Why didn't he come introduce himself as well? "I took a little welcome gift to our new neighbor."
He sets the glass in the sink and wipes his forehead with the hem of his shirt. "Neighbor—singular?"
"Yes. A younger woman. Harper."
His expression reflects my same sort of surprised curiosity about that fact. "Let's hope she's quiet."
I snicker. It's such a Joe thing to seek the quiet. He can spend hours in his hammock or puttering around the garden humming to himself, content with whatever the day brings. "I guess we'll find out."
He busses me on the cheek. "Gonna go shower." Sadly, it's not an invitation. "Then we'll head to the lake."
Once he's gone, I dab his sweat from my face and think about Harper. She's not what I expected, but perhaps the unexpected is what's needed to shake off my doldrums. She looks like someone who'll need help to learn the ropes around here. Someone to perk up her style a little, too. Maybe even to play matchmaker.
I tap my finger to my lips, making a mental list of some of the single men in Joe's office.
Yes. By Christmas, Harper will be telling everyone that moving next door to us was the best decision she ever made.
Excerpt from TAKE IT FROM ME used by permission from Montlake. Copyright © 2022 by Jamie Beck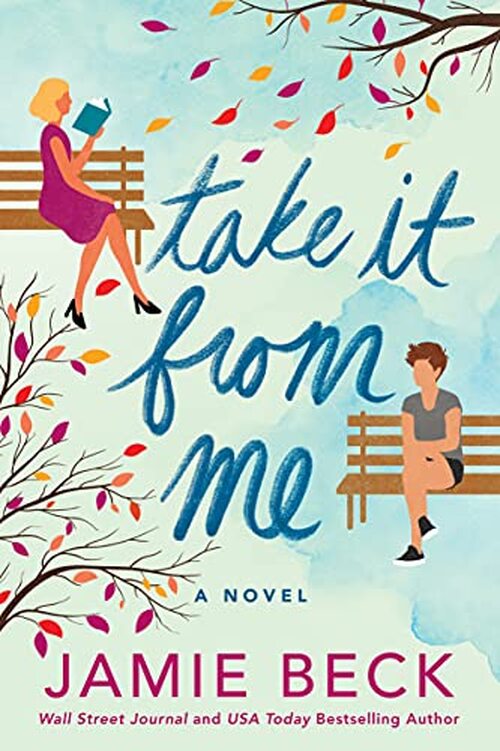 A humorous and heartwarming novel about friendship and all its little secrets by Wall Street Journal bestselling author Jamie Beck.
Wendy Moore hides her collection of pilfered bric-a-brac from everyone, including her husband. He thinks she licked her kleptomania in therapy more than a decade ago. Therapy did help, as did focusing her attention on motherhood. But now Wendy's gardening and furniture-refinishing hobbies fill up only so much of the day, leaving the recent empty nester lonely and anxious—a combination likely to trigger her little problem. She needs a project, fast. Luckily, Harper Ross—a single, childless younger woman in desperate need of highlights—just moved in next door.
The only thing Harper wants to change is the writer's block toppling her confidence and career. Then a muse comes knocking. Sensing fodder for a new antagonist, Harper plays along with Wendy's "helpful" advice while keeping her career a secret so Wendy keeps talking. Sure, she's torn about profiting off her neighbor's goodwill—especially when Wendy's matchmaking actually pans out—but Harper's novel is practically writing itself.
Just as a real friendship begins to cement, their deceptions come to light, threatening Wendy's and Harper's futures and forcing them to reconcile who they are with who they want to be. Easier said than done.
Women's Fiction Contemporary [Montlake, On Sale: September 20, 2022, Paperback / e-Book, ISBN: 9781542032391 / ]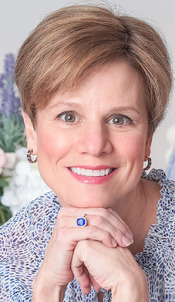 Wall Street Journal and USA Today bestselling author Jamie Beck's realistic and heartwarming stories have sold more than three million copies. She is a two-time Booksellers' Best Award finalist, a National Readers' Choice Award winner, and critics at Kirkus, Publishers Weekly, and Booklist have respectively called her work "smart," "uplifting," and "entertaining." In addition to writing novels, she enjoys dancing around the kitchen while cooking and hitting the slopes in Vermont and Utah. Above all, she is a grateful wife and mother to a very patient, supportive family.
Fans can learn more about her on the web, which includes a fun extras page with photos, videos, and playlists. She also loves interacting with everyone on Facebook.
No comments posted.