Excerpt from GUARDING HER HEART by: Negeen Papehn
I'm yawning and rubbing my eyes as I head into the empty gym. The silence that meets me is a welcome sound. I'm not a morning person, and I prefer to push my limbs to their limit without anyone around to watch me.
I throw my ear pods in and crank up the volume so it's loud enough that I couldn't think even if I wanted to. I lean over the treadmill, taking a second to stretch before I start the machine.
It takes a few minutes until I've raised the speed high enough that the pounding of my feet against the belt is in perfect time to the music. I'm so lost in my sprinting that I almost trip when Travis's unhappy face appears beside me.
"Shit!" I stumble, my hand slamming on the red emergency button, slowing my treadmill to a stop. "You scared the crap out of me."
"Sorry," he grunts. His face is twisted with frustration. "What are you doing here?" His question sounds more like an accusation.
"Working out," I answer, raising a brow.
"Forget something?" He taps his foot, and the sound fills the gym.
"Um…maybe?" He doesn't look pleased with my answer. I puff out my cheeks. "Look, Travis, I have no idea how to do this annoying bodyguard thing, okay? I'm not used to checking in with someone every time I'm taking a breath."
"It's not that difficult. You just call me and say, 'Hey, Travis. I need to go work out.' Then I'll say, 'Cool. I'll be at your room in five.'"
"But it's super early, and I don't see how working out in an empty gym requires you being with me."
"Everything requires me being with you."
As soon as he says it, it's apparent he catches his mistake. I clamp my lips together, trying not to laugh. I know I should let it go—his cheeks are already reddening—but what would be the fun in that? He's obviously back to the all-business attitude this morning, and a girl has got to find a way to bear it.
"Everything?"
"I…I didn't, um, mean it that way."
"Good. Because I'm pretty sure you couldn't handle me."
His eyes look like they're about to pop out of his head, and I'm thoroughly satisfied with the level of discomfort I have caused him this morning. Makes the sting of his reprimand not so bad.
I notice he's dressed in workout clothes as well and decide to move on. Don't think he could take much more of my poking. "Wait, did you come down here to find me, or were you coming to work out, too?"
He shifts on his feet and avoids eye contact. "I didn't know you were even awake, because you didn't call my room. I thought I'd get in a quick workout before the day started."
"So let me get this straight," I say, tilting my head as I eye him. "You can come down here to get in a run without telling me, but I have to make sure I tell you?"
He can't stop the grin from taking over his face, and my heart flutters a little at the way he lights up. "Yeah, basically."
"Well, that doesn't seem fair."
"Life isn't fair."
Wait. Is Mr. Robot actually teasing me?
I quiver at this new development. I thought I had this guy all figured out. Stuffy, uptight, irritating. But oh, have I been wrong. This witty, playful side of him has heat burning in my belly and thoughts flying through my head. Dirty ones.
"Okay, how about a wager, then?"
"A wager?" he repeats slowly.
"Yup," I answer, pleased with the way he's curiously watching me. "If I outrun you in fifteen minutes, then you ease up on all your restrictions."
His eyes narrow. "All of them? Yeah, I don't think so."
"What? You're that certain you'll lose?"
"Ha! Not a chance," he answers, and I smile.
A rawness develops at my core, my mouth dries, and my throat tightens.
I spend too much time looking at the breadth of his shoulders, pay too much attention to the way his tongue darts across his bottom lip as I wait for his reply to my wager.
This looser version of Travis is getting more and more appealing each time he makes an appearance.
"Well then, put your feet where your money is."
He cocks his head and smirks. The wings beating in my chest amplify.
Damn, the way he's staring at me makes my skin tingle.
"Okay," he agrees. "But if I win, you follow my rules."
"Deal."
He gets on the machine to the right of me and starts it up.
I fall in step beside him, determined to outrun him. As he increases his speed, I do the same, until neither of us can do anything more than pant as we catch each other's eye. Words are scarce, trying to keep steady at such a fast pace. But it feels good to push myself. And even more so to have Travis doing the same beside me.
His six-foot-two frame is statuesque, muscles rippling with exertion as he drives his body forward. There's sweat dampening every inch of his skin, glistening beneath the halogen lights of the gym. His T-shirt sticks to his chest, and I half wish he'd take it off.
I steal glances at his reflection in the window we're facing and see the edges of an image I can't make out peeking around his collar. Another tattoo to add to his collection. I can't help but wonder what artwork is scrawled across his tight, V-shaped back, imagining what it would feel like to run my fingers across its outline.
He doesn't notice me checking him out, his gaze fixed on an invisible spot on the wall, running toward something but going nowhere. Man, he's sexy as hell.
"Time!" he yells as his watch starts to beep.
We both slam down on the stop buttons, panting as the treadmills slows to a crawl.
I'm so exhausted, I don't even worry about what I look like right now. I'm definitely sweaty, a little stinky, and I can't imagine what frizzy mess my Middle Eastern hair is in. All I can do is take two steps away from the machines and lie flat on my back on the gym floor. Travis seems to have the same idea, because he plops down beside me.
"Man, I'm tired," I admit.
"Me too." He closes his eyes.
I use the opportunity to check him out again.
Travis is so not my type with his brooding personality and constant no-messing-around attitude. I'm usually attracted to the tall, dark, and handsome guys. Travis is tall, but blond hair and blue eyes have never done it for me. Until now.
"So what's the verdict?" I say, returning my attention to the ceiling before I get caught staring.
"A little over two and a quarter miles," he answers.
"Damn it. You beat me."
He turns on his side, propping himself up on his elbow. He's so close I can feel his breath tickle my cheek when he asks, "By how much?"
"An eighth of a mile." I have to force the words out, his proximity making it hard to breathe.
He stares at me for a moment, a vulnerability in his eyes that he blinks away so fast I'm certain he doesn't want anyone in the world to see it. And a playfulness that lingers in the background of his hard, strict exterior. I want to explore it, learn everything about this softer side of him. If only he would let me.
"I have to say, you're pretty damn impressive, Niloo."
"Am I?"
"You're tiny but fierce as hell." He chuckles, the sound vibrating from the bottom of his stomach and blooming through his windpipe like the perfect song. I want to be annoyed with him for beating me, but sadly, I can't manage it.
"Tiny but fierce. I like that."
"Well, it's the truth." His voice drops, and my breath becomes uneven. I can't tell if I want to get up or lean in.
"I guess that means that I've signed over my soul to you."
"Not your soul. Just your compliance." He grins. "Guess that means you're stuck with me."
I bounce to my feet, certain that if I don't, I may do something inappropriate, like kiss this man who's supposed to be my bodyguard but has unexpectedly found a way to send chills up my spine.
I reach my hand out to help him off the floor, and when his fingers touch mine, it disarms me.
This work situation is proving to be as difficult as I expected but for reasons I hadn't seen coming.
© Negeen Papehn, Entangled Publishing 2022. Shared with permission from the publisher.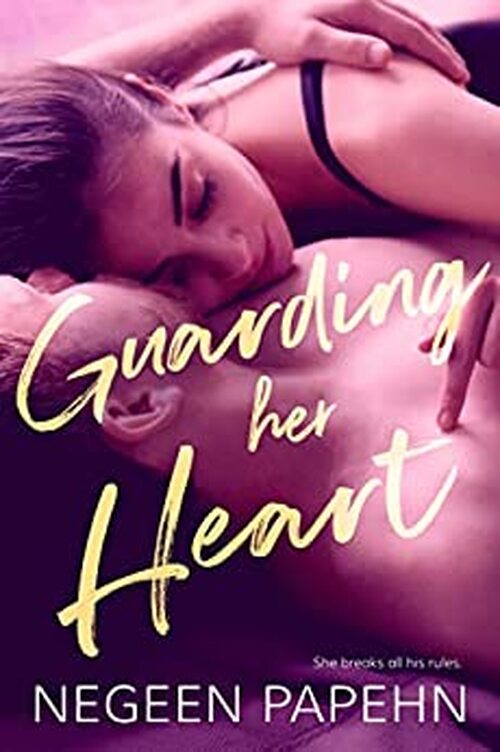 Going on tour with mega-hot rock band Ternura is the opportunity Niloo Zameeni needs to kick-start her career as a high-end stylist. It also means defying the expectations she's always struggled to live up to as the youngest daughter of a Persian family.
Niloo will do almost anything to make her glam-as-hell dream a reality, even going toe-to-toe with six-feet-plus, tattooed, former Marine Travis Collins, the band's stoic, unmovable head of security.
My babysitter.
There's nothing the rebellious Niloo loves more than getting under his skin. Teasing him. Watching his professional control slip, only to reveal raw hunger that takes her breath away.
Now she's the one temptation he can't resist—and she doesn't want to be resisted. But Travis has rules for a reason, and distractions just might cost them everything they've ever wanted…
Romance Contemporary | Romance Music [Entangled: Amara, On Sale: September 12, 2022, e-Book, ISBN: 9798849932217 / ]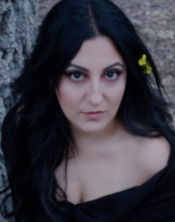 Negeen Papehn was born and raised in southern California, where she currently lives with her husband and two boys. She wasn't always a writer. A graduate of USC dental school, Negeen spends half of her week with patients and the other half in front of her laptop. In the little time she finds in between, she loves to play with her boys, go wine tasting with her friends, throw parties, and relax with her family.
No comments posted.