1--What is the title of your latest release?
2--What's the "elevator pitch" for your new book?
After butting heads, an event planner doing his best impression of a dude-bro and a wedding officiant who doesn't believe in romantic love begin an enemies-with-benefits arrangement as wedding bells chime around them.
3--How did you decide where your book was going to take place?
The heroine, RJ, was a character in my last novel, The Fastest Way to Fall which is based in Chicago, but I wanted to move RJ to a new location and decided on North Carolina. I like the idea of RJ making her way in a new place and finding her footing, but also the fictional town where Lear grew up and where he visits his great uncle is based on my late great uncle and aunt's home in Sylva, NC. In fact, Uncle Harold is based on my uncle, who passed on in the last couple years.
4--Would you hang out with your heroine in real life?
Yes! I want to hang out with RJ, learn from RJ, and definitely have her in my corner. She's tough, funny, and fiercely protective of those she loves.
5--What are three words that describe your hero?
Charming, Generous, and People-pleaser
6--What's something you learned while writing this book?
I learned some of the ins and outs of divorce and wedding laws! I also rekindled my love of weddings—Like RJ, I'm ordained to officiate, and it was a blast writing snippets of different ceremonies.
7--Do you edit as you draft or wait until you are totally done?
I do light editing as I go—moving major plot points if needed; however, I do the heavy lifting of editing once the book is done.
8--What's your favorite foodie indulgence?
I am a sucker for the carrot cake at a local restaurant near my office in Ames, IA. They serve it with this delicate caramel sauce and despite The Cafe's extensive dessert menu, it's what I always order!
9--Describe your writing space/office!
A few years ago, I converted our guest room into my office and it's my sanctuary! I have a big desk where I can spread out notes, diet coke cans and mugs, and everything else I hoard while writing and still have space to work. My window lets in tons of light, and I've even managed to keep a plant alive in the room. The best feature is the bookshelves full of my favorite books and my own, plus art on the walls that inspires me.
10--Who is an author you admire?
Kennedy Ryan. Her writing is perfection, her stories are poignant and weave in social issues seamlessly alongside steam and swoon, and she's a joyful, uplifting person who does good within author spaces and beyond.
11--Is there a book that changed your life?
I was listening to the audiobook of Wait for It by Mariana Zapata when I decided I should try to write a book. I fell into writing, and it was an escape from my feelings of being overwhelmed by work and being a new mom, but it was that book that lit the match on my creativity that perhaps I could write a book, too. In that way, the book changed my life in so many wonderful ways,
12--Tell us about when you got "the call." (when you found out your book was going to be published)
I was at work, actually. I spend my days as a university administrator, and I was at my desk with a student across the room working on a project for me. When my agent called, she asked if I was driving and then encouraged me to sit down. When I screeched, the student in my office found out my book was going to be published before my husband or anyone else!
13--What's your favorite genre to read?
Romance!
14--What's your favorite movie?
I'm eclectic with music. I will jump wildly from 300 Flowers, an old jazz standard, to Lizzo to pop-country from the mid-2000s to musicals.
15--What is your favorite season?
I can never answer this question. I hate being hot, so I like winter for the weather, but I work in education, so I love summer for the relatively lower stress level. I love the blooming flowers of spring but working in education, the fall is always exciting. How was that for a complete non-answer?!
16--How do you like to celebrate your birthday?
I love birthdays, but I almost always have to work on the day of. Luckily, I work with a lot of fun people so there's usually food, cake, and merriment. I haven't done proper partying or my birthday in years, so maybe it's about time to re-establish that!
17--What's a recent tv show/movie/book/podcast you highly recommend?
I, along with the rest of the world, fell in love with Ted Lasso last year!
18--What's your favorite type of cuisine?
I'm a sucker for Italian food.
19--What do you do when you have free time?
With two jobs and a young child, I don't have much free time, but when I get a little, I love to read and photography is a passion, so getting out with my camera always re-centers me.
20--What can readers expect from you next?
I released three eBook and audio novellas this spring/summer (The Love Connection, The Missed Connection, and The Sweetest Connection) and they will be gathered in a print and eBook titled LOVE AND OTHER FLIGHT DELAYS which is out March 14 of 2023. Also, next spring, I have a short story in a new anthology, as well as a new novel in the fall.
Divorce attorney RJ would never describe herself as romantic. But when she ends up officiating an unplanned wedding for a newly engaged couple in a park, her life is turned upside down. The video of the ceremony goes viral, and she finds herself in the unlikely position of being a sought-after local wedding officiant. Spending her free time overseeing "I dos" isn't her most strategic career move, but she enjoys it, except for the type A dude-bro wedding planner she's forced to work with.
Former pro-football event manager Lear is a people person, but after his longtime girlfriend betrayed him, he isn't looking for love. He knows how to execute events and likes being in control, so working with an opinionated and inflexible officiant who can't stand him is not high on his list. He's never had trouble winning people over, but RJ seems immune to his charms.
Surrounded by love at every turn, their physical attraction pulls them together despite their best efforts to stay an arm's length apart. Lear refuses to get hurt again. RJ refuses to let herself be vulnerable to anyone. But when it comes to happily ever after, their clients might not be the only ones saying "I do."
Multicultural Romance [Berkley, On Sale: September 6, 2022, Trade Paperback / e-Book, ISBN: 9780593437193 / eISBN: 9780593437209]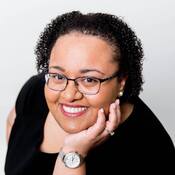 Denise Williams wrote her first book in the second grade. I Hate You and its sequel, I Still Hate You, featured a tough, funny heroine, a quirky hero, witty banter, and a dragon. Minus the dragons, these are still the books she likes to write. After penning those early works, she finished second grade and eventually earned a Ph.D. in education, going on to work in higher education. After growing up a military brat around the world and across the country, Denise now lives in Des Moines, Iowa, with her husband, son, and two ornery shih tzus who think they own the house.
No comments posted.