I'm proud of the way I maintain unwavering eye contact with Max as I speak the words that sent me into a humiliation spiral yesterday. But today? Today those words earn me a sexy crooked grin. And right now I feel like a brazen badass for having the guts to say them again.
"I thought it was amusing. And funny. And really damn cute." Those last three words send a jolt of electricity across my skin. He says them like there's a period after each one to drive
home just how much he means it.
Inside I'm cheering. Max Boyson thinks I'm really. Damn. Cute.
I slide closer to him. Our knees bump, but I don't move. He pivots his chair to face me fully.
"Is that so?" I ask, my voice soft.
"Yeah. And actually." He drains the last of the whiskey in his cup, then roughly wipes his mouth with the back of his hand. "I'd be happy to listen to you talk about tonguing and licking and sucking again. If you wanted."
"Screw talking. What if I just do it?"
I cup my hand over my mouth the moment I finish speaking. Holy crap. Did I seriously just say that? Never have I ever said something so forward, so hot to any guy. Ever.
As my hand falls away from my face, I catch Max's expression. For a long second his eyes are wide, but then he grins.
"I was hoping you'd say that."
The rasp of his tone makes me salivate, and I know that I have nothing to worry about anymore, no reason to nurse that last lingering bit of doubt in the back of my mind. Max is totally into this—into me.
That's why I let go of the edge of his desk and walk the two steps to stand between his legs. I lean down, brace my hands on the back of his chair, just above his shoulders, and gently touch my mouth to his.
There's only so much I can blame on the whiskey. Yeah, it did the heroic job of lowering my inhibitions enough to flirt with Max in a bold way. But everything else—the way I'm touching his shoulders, the way I'm running my tongue along his deliciously plump bottom lip, the way I'm moaning softly into his mouth—is one thousand percent me.
Holy. Crap.
I'm not dreaming, this isn't some daytime fantasy—this is actually happening. I'm making out with Max Boyson.
When his hands grip my waist, I smile against his mouth.
When he leads me to settle on his lap, I'm vibrating.
I close my eyes and lose myself completely in this slow, long, melt-in-your-mouth kiss. It's soft and teasing, just the way I like it. Almost like we're feeling each other out to decipher what rhythm and speed we both like.
It doesn't take long before things turn filthy, before I'm pawing at his shirt and sliding my hands underneath the fabric. My mouth waters at the hard mass that lies underneath.
His hands make their way from my waist to my hips to my ass. He gives me a squeeze that's just hard enough to have me moaning into his mouth and digging my fingers harder into his flesh.
"Mmm," he hums against my mouth. "Feisty. I like it."
I laugh against his mouth. "I can't help it. You're just so . . . hot. And your beard. Dear . . . god . . . your . . . beard," I say between kisses.
This time he chuckles against my mouth. Then he cups his hands over my cheeks and holds me still to look at me.
"What about my beard, Joelle?"
"It's just so sexy. And manly. And rough."
And I'm dying to know what it feels like between my thighs.
Just the thought of saying those words out loud has me vibrating.
He raises an eyebrow, like he can sense I'm thinking some- thing very, very naughty.
I shake my head. Way, way too soon for dirty talking like that. Better to take things slowly and savor this kiss for exactly what it is: spontaneous and crazy hot.
"I can't believe this is actually happening," I muse.
That fiery gleam in his eyes softens. And then he smiles so sweetly, I almost pass out.
"I can't believe it either," he says. "Will you pinch me later?
Just to prove that this is real?"
He pulls me back to his mouth to resume that dirty-as-hell kiss I'm growing quite fond of. But I don't miss the way my stomach jumps at what he's said. He's in disbelief just like me . . . and maybe that means he's liked me for a while too.
The thought sends shivers through my body strong enough to make my thighs quiver.
I settle lower onto his lap. When I feel the hard bulge be- tween his legs, I have to will my jaw not to drop. Oh, damn. That is one impressive package—and it's not even out. I bite back a grin as I imagine the heft Max must be packing down there if I'm able to feel even this much of it while he's fully clothed.
I let my imagination run wild as he runs his hands all over my body. Through my hair, up and down the sides of my torso, to the tops of my thighs. His thick fingers slide slowly up my legs, like he's savoring the journey inch by inch. Like he's taking his time and loving every second of it.
I am too. It's sweet torture feeling his skin on me, wishing I could rip his clothes off and have him run his hands all over me without the pesky barrier of cotton and denim. But I remind
myself we're in his bookstore office. There's a snoozing customer sitting just ten feet away from the closed door.
We can't get naked—yet.
Just then he stills his hands on my legs. As our tongues tangle and suck and lick, he presses his thumbs at the apex of my thighs, where I'm aching, throbbing, dying for him
From THE BOY WITH THE BOOKSTORE published by arrangement with Berkley, an imprint of Penguin Random House LLC. Copyright © 2022 by Sarah Echavarre Smith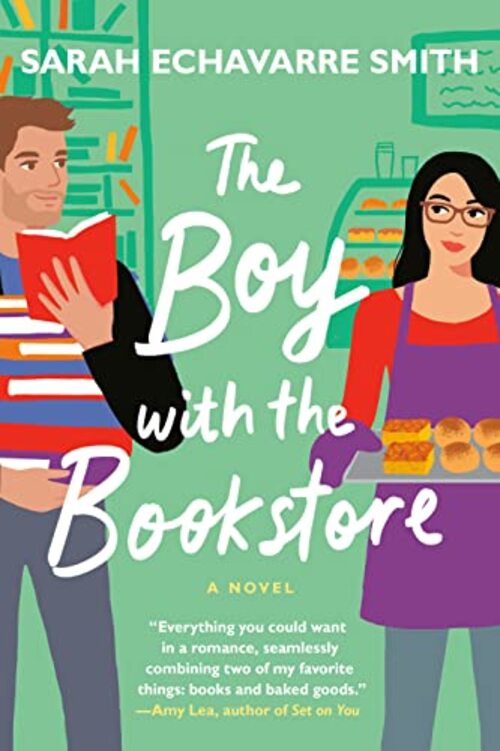 Max Boyson looks good...from a distance. But up close and personal, the tattooed hottie Joelle Prima has been crushing on for the past year and half has turned into the prime example of why you shouldn't judge a book by his delectable cover.
When she first learned about the massive renovation to the building they share, Joelle imagined that temporarily combining her Filipino bakery with Max's neighboring bookstore would be the perfect opening chapter to their happily ever after. In her fantasies they fed each other bibingka and pandesal while discussing Jane Austen and cooing over her pet hamster, Pumpkin. Reality, however...is quite different. Her gallant prince turned out to be a stubborn toad who snaps at her in front of customers, dries his wet clothes in her oven, and helps himself to the yummy pastries in her display case without asking.
But beneath Max's grumpy glares, Joelle senses a rising heat—and a softening heart. And when they discover the real reason for the renovation, they'll have to put both their business senses and their feelings for each other to the test.
Multicultural Romance | Multicultural Asian [Berkley, On Sale: September 6, 2022, Trade Paperback / e-Book, ISBN: 9780593545980 / eISBN: 9780593545997]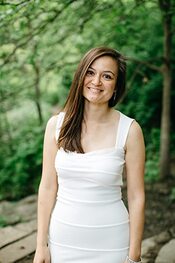 Sarah Smith is a copywriter-turned-author who wants to make the world a lovelier place, one kissing story at a time. Her love of romance began when she was eight and she discovered her auntie's stash of romance novels. She's been hooked ever since. When she's not writing, you can find her hiking, eating chocolate, and perfecting her lumpia recipe. She lives in Bend, Oregon, with her husband and adorable cat Salem.
No comments posted.