Alicia Hunter Pace Exclusive Except: SHINE LIKE SILVER (Good Southern Women, book 3.)
Tonight is the night. After dating since their teens, Skip Landry is finally going to propose to Ava Grace Fairchild at the annual Christmas Gala, as Landry men have done for the last three generations. He was on one knee, in front of three hundred people. All was going according to plan—until he closed the ring box and said, "I can't do this."
The room exploded into chaos.
Ava Grace bowed her head and closed her eyes, but only for a second. As much as she wanted to, she couldn't check out. When she looked up again, her brother was staring at her with one part compassion and two parts fury. It was the fury that concerned her. She'd seen that look before and what followed never came to anything good.
"Emerson," she called, but it was too late. He had already jumped off the stage and was hot on Skip's heels.
"Skip!" Emerson exploded. "Stop right there! We are going to have a conversation!
Emma Frances looked from Ava Grace to Emerson, wild-eyed, and then turned to her husband. "Buck! Do something. This is bad enough without Emerson shouting the house down!"
Damn, damn, damn.
"Mama," Ava Grace said through gritted teeth. "Go with Daddy. Let Skip go."
"Darling!" Emma Frances reached out to her. "What about you?"
"What about me? Go, Mama. I'm all right." She wasn't, but there was no help for that.
Sharon had started to cry, but what was new? It was her hobby, especially now that she was pregnant.
Ava Grace quickly inventoried the room. Skip's mother had collapsed against her husband, who looked like he didn't know whether to shit or go blind. Adele was headed straight for Ava Grace, her arms open, her expression horrified. Brad was rushing toward her, too. And there was Evans, running as fast as her shoes would allow, shoving people out of her way, left and right, like some kind of kung fu princess superhero.
They would want to hug her. They would want to say—well, she didn't know what, but whatever it was she didn't want to hear it, couldn't hear it. She needed to process this, if that were remotely possible.
What to do, what to do?
Then she felt two hands close around her waist from behind. Hyacinth? No. The hands were too big. Ava Grace whirled around—and looked up into huge stormy brown eyes.
"Luka Zadorov…?" How had he gotten behind her?
"Do you want me to take you home?" the big Russian hockey player asked.
"I am home! I live here." Of course, he would assume a woman her age wouldn't still be sleeping in her childhood bed. Who did that? A woman who was too dense to see what was right in front of her, a woman who waited for what wasn't coming.
"Do you want me to take you somewhere else, then?"
"There is nowhere else."
"There is always somewhere else." His voice was quiet—rational and steady in a situation that was anything but. "I can take you there."
"Ava Grace!" It was a chorus of voices—Brad's, Adele's, and Evans's—and they were close.
Ava Grace only hesitated a second. "Merry hell, yes! Get me out of here."
He jumped off the side of the stage, lifted her down as if she were a rag doll, and ran toward the back of the room, half dragging, half carrying her.
"Way out?" he said.
"Behind there." She pointed to the curtain on the back wall that hid the opening to the old servants' passage.
Instead of pushing it aside, the hulking hockey player, her very unexpected white knight, ripped it down.
*
He knew it! Public engagements could go wrong—though Luka hadn't imagined one could go this bad.
And now he had the casualty of that bad plan in his charge.
He still wasn't sure what had come over him, but Ava Grace had stood there ramrod straight and taken it when a lesser woman would have run, fainted, or burst into tears. He knew something about that from the last time he saw Tatiana—though that had only been private humiliation while Ava Grace's had been public.
"Thank you!" Ava Grace said breathlessly when they reached the bottom of the final flight of stairs.
He opened the door to the outside. "Was nothing." They stepped outside and he looked around trying to orient himself. "Where is large tent? That is where I park."
"This way." She headed left.
When she stepped into the grass, her heel sunk into the ground, causing her to stumble. Luka considered picking her up, but took her arm instead.
"Here, I will help you. We should go through tent. Is shorter distance."
Ava Grace shook her head. "No. There may be people inside at the silent auction. I can't see people."
They took the long way around and he guided her to where he'd parked his Harley-Davidson.
"What?" She looked at his motorcycle with horror. "You don't have a car?"
"Da. I have car. But I have this, as well. I did not know I would be giving a ride."
She looked back at the bike and screwed up her pretty face.
"I am safe with motorcycle," he assured her. "I have never crashed."
"It's not that." She pulled at the bottom of her skirt, testing it, it seemed.
Oh. The dress was tight. It was a dress for taking little steps, getting engaged, and slow dancing—not for climbing on a bike.
"Do you have car?" he asked.
She spread her hands to show that they were empty and looked toward the house. "No key."
He fished his phone out of his pocket. "I will call Uber."
She straightened her spine and set her jaw. "No. I can do this."
And with that, she kicked off her shoes, ripped her dress from hem to hip, and climbed on the back of the bike.
His mouth went dry. His eyes wouldn't look away.
What a woman. What a leg. She tried to cover herself, but with little success. Except for a thin strip of blue lace with a little bow below her hip, she was basically naked from the waist down.
He wished for more light.
He wished he could untie the bow.
He wished he wasn't a horn dog with no control over his thoughts.
He tossed her his helmet. "For your head."
"What about your head?"
"I told you, I never crash. Besides, my head is used to getting banged about."
Mounting the bike was awkward with Ava Grace already on, but he managed without kicking her. She'd been kicked enough tonight.
He revved the engine. She wrapped her arms around his waist and they roared off into the darkness.
He felt a smile creep onto this face. He couldn't remember the last time that had happened.
Copyright © 2022 Alicia Hunter Pace with permission from Carina Press.
Good Southern Women # 3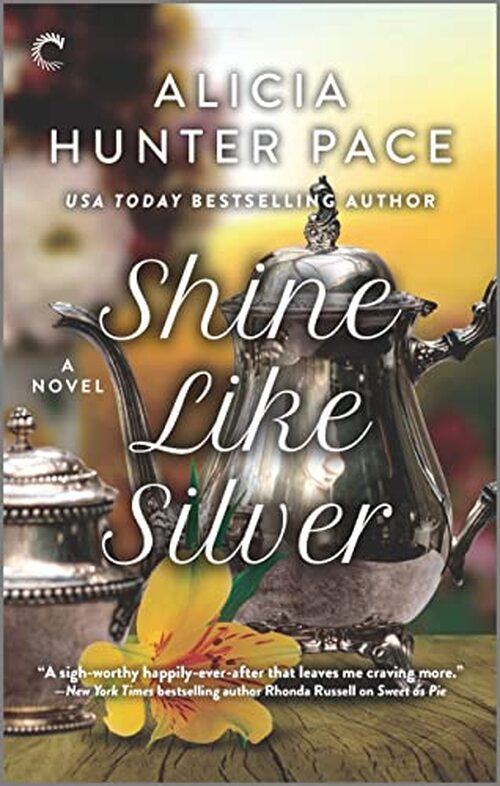 Ava Grace Fairchild never expected to find herself on the back of a hockey player's motorcycle. Until now, her life in Laurel Springs, Alabama, has been everything you'd expect for a Southern belle: old money, silver spoons and a perfectly planned future. But you can't plan for the kind of public humiliation that has her running away from her well-ordered life to spend one perfect night with a stranger.
Russian enforcer Luka Zadorov is no fan of the South. Being traded to Alabama has meant swapping the glory of northern hockey for playing second fiddle to college football, but his plan to get traded back hits an interesting snag when he crosses paths with Ava Grace. Maybe the South has something to offer after all…
Together, Luka and Ava Grace are finally enjoying the present instead of worrying about the future. But when their no-strings fling suddenly develops the kind of strings you can't ignore, it's time for them both to confront what their hearts truly need.
Romance Comedy | Romance Sports [Carina Press, On Sale: August 23, 2022, Mass Market Paperback / e-Book, ISBN: 9781335424860 / eISBN: 9780369717528]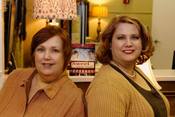 Southern Sassy Romance
Stephanie Jones and Jean Hovey write together as Alicia Hunter Pace.
Stephanie lives in Tuscaloosa, AL, where she teaches school and wishes for a local hockey team.. She is a native Alabamian who likes football, American history, and people who follow the rules. She is happy to provide a list of said rules to anyone who needs them.
Jean, a former public librarian, lives in Decatur, AL, with her husband in a hundred-year-old house that always wants something from her. She likes to cook but has discovered the joy of Mrs. Paul's fish fillets since becoming a writer.
Stephanie and Jean are both active members in the romance writing community. They write contemporary romantic comedy. They love to hear from readers.
No comments posted.