Instead of trying to find your perfect match in a dating app, we bring you the "Author-Reader Match" where we introduce you to authors you may fall in love with. It's our great pleasure to present !
Writes:
Hi, I'm USA Today bestselling author Dylann Crush, and I write steamy, small-town contemporary and cowboy romance with sizzle, sass, heart, and humor. A true romantic, I love strong-willed heroines who don't need a man, but want one, and super sexy heroes who will do anything for the woman they love.
About:
When I'm not dreaming up steamy storylines, you might find me sipping a margarita and searching for the best Tex-Mex food in the Upper Midwest.
I co-host Romance Happy Hour (https://www.romancehappyhour.com/) with live episodes every 2nd and 4th Thursday of each month, and I'm a founding member of the Romance Chicks Facebook group where authors and romance readers can connect.
Although I grew up in Texas, I currently live in a suburb of Minneapolis/St. Paul with my unflappable husband, three energetic kids, and four fur babies: a clumsy Great Dane, a lovable rescue mutt, a very chill cat, and a skittish kitty. I absolutely love to connect with readers, other authors, and fans of tequila and whiskey. You can find me on my website. Sign up for my newsletter and snag a free book.
My ideal reader will love:
A sassy southern tone
Lots of steam
Flirty, delicious banter between the hero and heroine
Falling into a story that delivers a super satisfying HEA
Laughing out loud
A cast of fun-loving quirky characters you'd like to know in real life
What to expect if we're compatible:
Forgetting to feed your dog/cat/children/significant other/yourself since you're so caught up in fictional characters, you don't remember real life exists.
Snort laughing so hard you spit out your sweet tea/coffee/mommy juice/flavored water.
Staying up one/two/four hours late or even all night to finish unputdownable stories.
Quirky, charming characters who two-step their way into your heart.
Feel good romance with little angst and tons of charm. As one reader recently put it… "Like Hallmark movies but with a lot more s-e-x."
Cowboys in Paradise #1
Forzas aren't quitters. That's the motto professional bull rider Justin Forza's dad has drilled into his head since the first time he climbed into the bucking chute. After a serious injury, doctor's orders are to stay out of the arena. But if Justin can win one more championship, he'll be able to continue the family legacy, set himself up for life, and finally confess his love to his best friend Emmeline.
Emmeline Porter lives by one rule: never date a bull rider. She's seen the damage a bad ride can cause. As a last resort to stop Justin from returning to the rodeo circuit, she convinces him to take a trip to Paradise Island, a tropical haven off the coast of Texas. She hopes cutting Justin off from the pressure his dad is laying on him will give her best friend the clarity he needs to walk away for good.
The close quarters and island adventures put their friendship to the test, and it's not long before real feelings surface and threaten to sweep them both away.
Romance Western | Romance Comedy [Berkley, On Sale: August 23, 2022, Mass Market Paperback / e-Book, ISBN: 9780593438732 / eISBN: 9780593438749]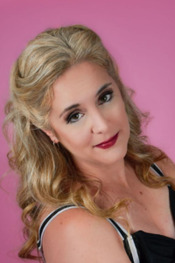 Dylann Crush writes contemporary romance with sizzle and sass. A romantic at heart, she loves her heroines spunky and her heroes super sexy. When she's not dreaming up steamy storylines, she can be found sipping a margarita and searching for the best Tex-Mex food in Minnesota. Although she grew up in Texas, she currently lives in a suburb of Minneapolis/St. Paul with her unflappable husband, three energetic kids, a clumsy Great Dane, a rescue mutt, and a very chill cat. She loves to connect with readers, other authors and fans of tequila.
No comments posted.