"How can you tell the difference between a good lawyer and bad one?"
Mikaela shrugged, baring her teeth in a decent approxi­mation of a smile. In law school, she and her classmates had traded lawyer jokes as a pastime; she doubted there was one she hadn't already heard.
"With a bad lawyer, a case might drag on for several years. But a good one knows how to make it last even longer!"
The group of men standing with Mikaela all laughed. Her boss and the managing partner of the firm, Art Chamberlain, guffawed the loudest.
"Aw, Mr. Proctor, good lawyers are a dime a dozen. They know the law." Mikaela smiled, taking a sip of her beer. "But great lawyers…"
Mikaela paused and the men around her hung on her next words.
"…know the judge." Her grin grew as they all roared around her.
Her prospect, Burt Proctor, raised his glass to her as the Yankees scored another run, putting them in the lead. In the seats just outside the doors, the group watching the game erupted. Several men and the few other women in the suite jumped to their feet.
"A lawyer is in the elevator," Mikaela began, unspooling her showstopper. "And someone runs for the door, unusually, something tells him to hold it. Who gets on? It's Satan…"
Mikaela's eyes swept the room, absently glancing through the glass doorway to the box seats outside. The game hap­pened in the diamond beneath them as the men of her group followed her words carefully.
Schmoozing was one of the many acquired gifts Mikaela was most proud of having developed. Along with a thicker skin and a supposedly sunny disposition, she'd learned to tell a great joke with charm. And this particular joke, she could tell in her sleep. Even Art leaned back on his heels smiling in anticipation. But this time, her voice caught. She glanced at the doors again, sure she had made some sort of mistake.
"And?" Art's second-in-command, a brown-noser named Todd Hoover, prompted her.
She narrowed her gaze on him before plastering a closed-mouth smile back onto her face for Mr. Proctor and his as­sociates.
"And he's thankful that the lawyer held the door. 'Very few people are that considerate anymore,' the Devil says. So, he makes the lawyer an offer. He says, 'I will make you a win­ner—every argument, every brief, every case, for the rest of your life. Your clients will adore you, your colleagues will worship you and you'll be rich beyond your imaginings. But, in return, you must give me your soul, the souls of your wife and children, parents, grandparents and all of your friends…'"
She turned to the outdoor box again, scanning the faces for familiarity…until she saw him.
"Uh-oh, I feel like I know where this is going," Proctor said, smiling at the other members of their group.
Mikaela tried to stay focused, but she'd been thrown off.
"And?" Art asked when she paused a second time.
"I'm sorry." Mikaela shook her head, phony laugh at the ready, trying desperately to stay on track. "The lawyer thought about it for a moment, then asked, 'Okay…but wait, what's the catch?'"
The men surrounding her broke out in another round of laughs. Mikaela grinned, pleased to have made it through, but still felt distressed. Art's recent Aruba tan kept him a sort of reddish color that threw her off in gauging his feelings. Usually when he was concerned or excited, he turned a little pink in the cheeks.
"Mike, you okay? You seem off."
"Maybe she has her money on Baltimore," Todd snickered.
"I'd never bet against the home team," Mikaela remarked, skewering Todd with a look that said shut up. "Gentleman, I'm going to refresh my drink and check out the hors d'oeuvres." She raised her half-full beer cup.
But before she stepped away, she leaned into Todd's shoul­der, for his ears only. "Nice try. And I can see why you'd get confused."
"Oh yeah, why?" Todd gave a smug smile, glancing at the other men.
"'Cause if I added you to all forty of the Orioles, I'd still just have forty-one men that couldn't do shit."
As her perennial competition, she understood where Todd's motivation to undermine her was coming from. She did that too. Always checking for cracks in Todd's smarmy, mediocre but practiced facade to chip away at. Still, it didn't stop it from being annoying as hell.
"Yeah okay, Mike," he chuckled uneasily, guiltily glancing around. He smirked when he knew no one else had overheard.
She gripped her clutch under her arm as she walked away. Mikaela despised conflict but years in this field and the boys' club at her firm had taught her the hard way to give as good as she got. Still, her stomach roiled and hands shook as she strug­gled to keep them still. Mikaela turned toward her group still speaking companionably together. She knew she wouldn't be able to hide out at the bar long before she had to reassert her­self. It wasn't just that Todd couldn't be trusted—she knew in her heart Art couldn't be either. She always had to be on point.
Just then, there was another cheer outside, drawing her attention again to the window. Through the glass partition separating the box lounge from the box's stadium seats, the man on the other side was now clear. And definitely who she thought he was. Being this close was like jumping from the frying pan into the fire. If he just turned, he would see her too. Clear as day.
Cameron Murphy stood right there as a girl—maybe even the one from the gallery—beside him cheered wildly, high-fiv­ing him.
Mikaela scowled as the unbidden thought came to her.
He didn't even like the Yankees.
No, not only that, he hated them. He was a proud Georgia boy and Braves fan.
As his neighbors cheered, Cameron's eyes passed over the seats around them, then into the suite just as Mikaela had dreaded, until they fell upon her. It was like slow motion when their eyes met. Then the car wreck. His eyes squinted before widening in shock.
Mikaela spun to face the bar. "I'm gonna need something stronger than this." She pointed at her abandoned cup of beer. "Bourbon? Can you do that here?"
"Absolutely." The bartender nodded with a grin.
A minute later, Mikaela glanced over her shoulder again. Cameron was beginning the near-glacial shuffle past all the other people seated in his row.
"Could we make it a double please? Neat." Mikaela put the plastic cup to her lips as soon as the bartender handed it over.
"Imagine seeing you here of all places." Cameron cast a shadow over her. His baritone, as mellow as the bourbon, was a familiar stab in the heart. "For the second time in a week, wow."
Mikaela paused midswallow, her eyes tracing Cameron head to foot as he reclined against the bar. He wore a gunmetal-blue dress shirt that disastrously—for her—matched his eyes. It was open at the collar and neatly tucked into a pair of dark slacks. He was not dressed for the ball game any more than she was.
Throwing an elbow onto the bar, he motioned to the bar­tender with a finger, his face breaking into a full-out grin.
It was that smile she had dreaded most.
"I don't know how I missed that you were here." He wagged the finger at her, tutting.
"I wasn't hiding. I didn't see you either." Mikaela glanced around, making sure no one was watching.
She backed up as he straightened to his full height.
"Guess you were always a little bit wily though, weren't you?" He leaned in slightly to intimate. "Hard to pin down."
That was a jab.
She sighed. "Let's dispense with—with whatever it is you think you're doing right now. New York is a very big city. So, I'm asking you nicely, please stay away from my side of it."
Cameron raised his arms, palms up, falling back as if in de­fense, before reaching for a beer the bartender pushed his way.
"Now, excuse me, please."
For some reason, she waited for any sort of response from him. But only his eyebrows and those piercing, frosty blue eyes of his seemed to react at all. He didn't even move or speak when, with a sigh, she just took her drink and walked away.
Still, a flush from the encounter heated Mikaela.
"Mikaela? Are you okay?" Mr. Proctor asked as she re­joined the group.
"I'm fine," she said, lips curving into an unconvincing smile. "What were we saying?"
But as much as Mikaela wanted to stay focused, she just couldn't. She'd been able to maintain her composure, see­ing Cameron there, completely out of any reasonable context after not having laid eyes on him for nearly fifteen years. So, she supposed, she was doing well, reaction-wise. But having Cameron there, mingling among her coworkers and others—for reasons he hadn't even bothered to say—rattled her.
"You know what, gentlemen?" Mikaela spoke up after standing there for a long while, only halfway engaged in the conversations happening around her. "I'm sorry but I think I might have to duck out a little early. I know I should hang around till at least the top of the ninth to support our boys, but I have faith the Yanks will pull this one out without me."
A few of the men chuckled.
Art frowned with concern. "You sure?"
Mikaela nodded. "Do you mind?"
In unison, they all shook their heads, murmuring various consolations, the way men did when they didn't know what was wrong with a woman.
She took Mr. Proctor's hands in her own, giving them a farewell squeeze. "We'll talk tomorrow. Enjoy the rest of the game." She smiled as everyone said their good nights.
"Do you need me to call a car for you?" Art asked anx­iously, as he took her by the elbow, walking her toward the entrance of the suite.
"No, of course not. This isn't the dark side of the moon. It's The Bronx." She approximated a chuckle for him.
Art was always at his chivalrous best when he thought there was a damsel in distress. Mikaela struggled to control her ir­ritation. She hated seeming weak in his eyes…and sometimes even seeming female.
"I'm so sorry," she said again. "But I'll follow up with Mr. Proctor in the morning."
"I'm sure you will," he said although his face didn't change from the previous concerned expression. "This Yankees box was deliberately chosen, Mike. You're our Mariano Rivera, you're our closer. You'll bring it all home. I have no doubt."
She was glad at least he believed it.
Mikaela stood waiting for the elevator for a few minutes before deciding to just make her way to the wide cement staircases general admissions used. Unfortunately, wearing her usual five-inch heels, she wasn't nearly as nimble as she thought she'd be heading down. A seeming eternity later, after rounding the final set of stairs to the ground level, she nearly ran directly into someone standing there.
"The elevator is faster than you think," he said, smirking.
"Cameron." She sighed, weary of continuing what started upstairs.
"I just wanted you to know I didn't follow you here, if that's your concern."
Mikaela's eyebrows rose. "You didn't just follow me down here?"
He grinned. "Well, what I mean is, after I saw you last week, I didn't follow you. I didn't know where you'd gone. And I still don't know how to reach you…"
"Good."
He stopped short for a second, speechless at her response.
"I'm still fairly certain I was the injured party the last time we saw each other, unless you remember something I don't."
"That depends on—" Mikaela began to rebut before catch­ing herself. "No, you know what? I'm not going there with you." She shook her head. "I don't know what you were doing up there."
He opened his mouth, but Mikaela cut him off before he had a chance to speak.
"And I don't want to know! Just do as I ask and stay out of my way."
She recognized that request was unnecessarily frantic as her heart raced somewhere near her throat.
"O-okay." Cameron nodded.
"Okay?" She said, regaining her composure as she stepped around him headed toward the exit to that gate. "Great."
"It was nice seeing you, Kaela! It's been too long," he called over his shoulder.
Not long enough, she thought, pushing her way through the heavy glass doors and into the muggy night air.
Excerpted from Long Past Summer by Noué Kirwan. Copyright © 2022 by Noué Kirwan. Published by arrangement with Harlequin Books S.A.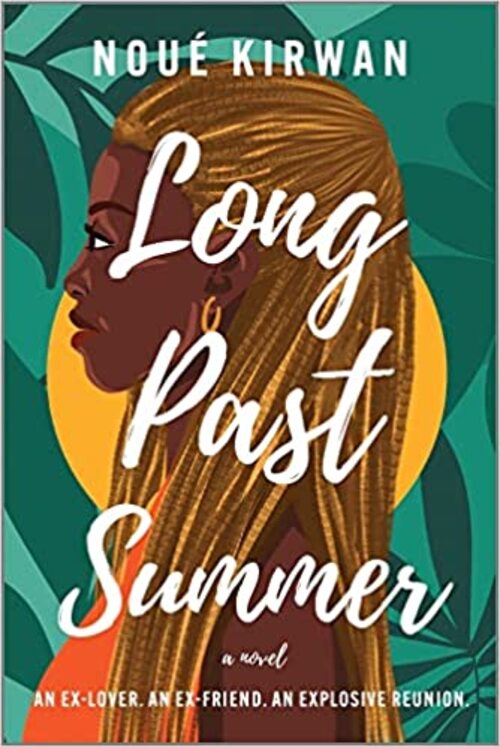 A Novel
Mikaela Marchand is living the polished life she always planned for: a successful New York lawyer, with a promotion in her sights and a devoted boyfriend by her side. She's come a long way from the meek teen she was growing up in small town Georgia, but the memory of her adolescence isn't far—in fact, it's splashed across a massive billboard in Times Square. An old photograph of Mikaela and her former best friend, Julie, has landed on the cover of a high-profile fashion magazine advertised all over the city. And when Julie files a lawsuit, Mikaela is caught in the middle as defense lawyer for the magazine.
Not only will she have to face Julie for the first time in years, Mikaela's forced to work closely with the photographer in question: the former love of her life--and Julie's ex-husband--Cameron Murphy. Mikaela needs to win the case to get her promotion--and as a junior partner, she has no margin for error. But unresolved feelings still exist between Cam and Mikaela, and jealousy always made Julie play dirty…
Women's Fiction [HQN, On Sale: August 2, 2022, Paperback / e-Book, ISBN: 9781335448828 / eISBN: 9780369720719]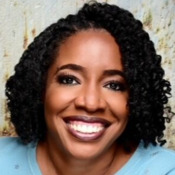 Noué is a Bronx, NY native, raised bicoastal. A UMass-Amherst grad, who currently lives in Harlem, New York. When she's not consuming copious amounts of media: binging TV shows, devouring movies, hoarding comic books, and inhaling romance novels, she's writing, dreaming up all sorts of interesting lives and passionate loves.
No comments posted.