1--What is the title of your latest release?
THE GUNSLINGER'S GUIDE TO AVOIDING MATRIMONY
2--What's the "elevator pitch" for your new book?
A gunslinger on the run stumbles across a criminal retirement community and breaks his most cardinal rule by accidentally marrying the first woman he meets.
3--How did you decide where your book was going to take place?
It's book 2 in the series so the location was a given – we're back in Desolation, Colorado!
4--Would you hang out with your heroine in real life?
Absolutely! Nora's a hoot. She's a towering tall, strong, independent, sassy woman who secretly just really wants a hug and I love her to death.
5--What are three words that describe your hero?
Unlucky, overthinker, loyal (once you've earned it)
6--What's something you learned while writing this book?
Hmmm, I did a lot of research on the marriage laws and rules about licenses in nineteenth century Colorado
7--Do you edit as you draft or wait until you are totally done?
A bit of both. I try to wait to the end, but I tend to edit my first several chapters as I go. I can skip around as I write, but I like having those first four or five chapters squared away so I do tend to fiddle with them until I'm happy with them before moving on. Then once I hit a certain point, I just crank it out and fix it all later.
8--What's your favorite foodie indulgence?
I really love a good chicken fettucine alfredo and something decadent and chocolate for dessert. Like a warm brownie with vanilla ice cream and fudge sauce. Or a lava cake.
9--Describe your writing space/office!
I need one with doors LOL The ground floor of my house consists of the kitchen/dining room, a family room, and this weird room in between them that I believe was the original family room (our house was built in 1901). So this weird in between room has become my office. I have my desk in one corner separated from the rest of the room by a wall of bookshelves and the rest of the room is pretty much more bookshelves and a fireplace. But it's open – and everyone must walk through it to get from the kitchen to the tv room or to get to the stairs. So….it's a bit of a high traffic area and noise cancelling headphones can only help so much!
10--Who is an author you admire?
Oh wow, so many! I love Katee Robert. As a reader, I just really love her books, and as an author, I love how she's been able to build her career as both a traditional and self-published author. Plus, she just seems like a fun person to be around!
11--Is there a book that changed your life?
Probably my first Victoria Holt gothic romance. It started my whole love affair with romance fiction, especially historical romance. I devoured that first book and romance novels have been a big part of my life ever since.
12--Tell us about when you got "the call." (when you found out your book was going to be published)
Well, this will be my twenty-fifth published book and is part of a series so I knew this one was coming. But when I got the call ten years ago that my first book had sold and was going to be published…the feeling is truly indescribable. Overwhelming excitement and happiness with a healthy dose of anxiety lol We don't call them book babies for no reason! One of the best days of my life.
13--What's your favorite genre to read?
Romance, hands down. And I tend to read a lot of paranormal/urban fantasy romance. I also really enjoy a good biography, especially about historical queens. Cleopatra, Catherine the Great, Isabella of France, Emma the Viking Queen…they are fascinating!
14--What's your favorite movie?
Oh, I love far too many to have just one! A few favorites = The Philadelphia Story with Cary Grant and Audrey Hepburn; Father Goose (another Cary Grant lol); The Holiday with Jack Black, Kate Winslet, etc.; Fool's Gold with Matthew McConaughey and Kate Hudson. As you can probably tell, I really enjoy a good laugh and a lot of romance.
15--What is your favorite season?
Fall. Love the weather that is crisp but not cold. The gorgeous leaves. The start of the major holidays. And yes, the pumpkin spice!
16--How do you like to celebrate your birthday?
I love just hanging out with my family and friends with good food and fun.
17--What's a recent tv show/movie/book/podcast you highly recommend?
I really enjoyed The Adam Project with Ryan Reynolds.
18--What's your favorite type of cuisine?
Depends on the day LOL But I'm always happy with a good Italian pasta.
19--What do you do when you have free time?
Read. I also enjoy working on a diamond painting while watching a good movie or show.
20--What can readers expect from you next?
I have a new Regency series coming, with the first book, FOUR WEDDINGS AND A DUKE, releasing in November. There will be more books coming in my Victorian series, and hopefully more Gunslingers coming your way! On my contemporary side (as Kira Archer), my new rom com series beginning with I DUCKING LOVE YOU releases in February.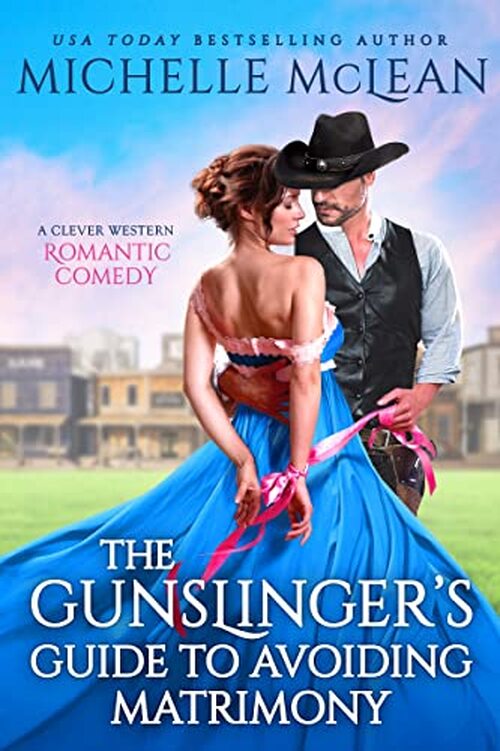 At the ripe old age of twenty-eight, desperate-to-retire gunslinger Adam Brady has exactly two rules. And one of them is never, ever get married. So he'll be danged when his dreams of permanently avoiding the bounty hunter on his tail in Desolation, the only town where notorious men like him can find respite, comes with one helluva string attached. The town has a new rule: gunslingers welcome—if they get a job…or marry.
Without realizing it, Adam stumbles into a big town wedding and accidentally marries Nora Schumacher, a sassy-mouthed mountain of a woman with legs as long as his wanted poster. So what's a gunslinger to do but get himself unhitched and find a job. Any job. Except Adam keeps getting fired, one odd circumstance after another. And he's running out of options.
Desolation was supposed to be his safe haven. Except, he's not only running from his past but from the irresistible woman he married. And worse, he's finding that he rather likes the enticing, if damnably independent, wife of his. But some men just aren't the marrying kind. Only, if he leaves, his own life won't be worth living. If he stays, he puts the lives of his newfound family and the woman he loves on the line. So much for Desolation being the answer to all his problems.
Romance Historical | Romance Western [Entangled: Amara, On Sale: July 26, 2022, Mass Market Paperback / e-Book, ISBN: 9781649372123 / eISBN: 9781649372260]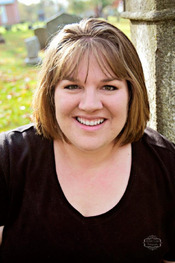 Michelle McLean is a jeans and t-shirt kind of girl who is addicted to chocolate and Goldfish crackers and spent most of her formative years with her nose in a book. She has a B.S. in History, an M.A. in English, and loves her romances with a little heat, a lot of humor, and always a happily ever after.
When Michelle's not working, reading, or chasing her kids around, she can usually be found baking or diamond painting, which she accidentally got addicted to while bored one day. She resides in PA with her husband and two teens, the world's most spoiled dog, and two cats who absolutely rule the house. She also writes contemporary romance as Kira Archer.
No comments posted.