We've all heard that age-old wisdom—write what you know. Personally, I've always rebelled against this advice and opted for a different philosophy—write the book you want to read. This always ended up having little to do with the life I knew.
So it was really interesting when I found myself writing my ninth novel, "No Funny Business", about what I know—stand-up comedy, cross country road trips, classic rock music, and dead relatives (but don't worry, it's a comedy).
Because of where I was in my life (trying to survive a global pandemic), I knew I had to reach into the depths of my life to bring this book alive. Sprinkling in my real-life experiences had to be part of the recipe.
Here are five story elements in "No Funny Business" that were inspired by my real life . . .
For as long as I can remember, I've loved to laugh. My dad was a stand-up fan, and we'd listen to comedy specials on vinyl. I awaited weekly sketch comedy shows like "In Living Color", then snorted laughter in my teens watching stand-ups like Chris Rock, Judy Gold, and John Leguizamo. It was my happy place, and I prayed I'd end up with a man who'd laugh at all the same jokes I loved. And I did! It's been twenty years, and my favorite pastime is still watching a new (or old) stand-up special with my husband (who's funny enough to be a comedian himself).
Over the years, I've come to appreciate both a comedian's punchlines and perspective. They're truthtellers who ease the pain of reality by injecting humor. I have such reverence for stand-ups. Writing "No Funny Business" was an opportunity to pay homage to an artform that's enriched my life so much.
My husband and me at the Comedy Cellar in New York City.
A Navy Brat Visits Graceland
I'm what they call a navy brat. I'm not so sure I was a brat (well, maybe during my hormonal teen years) but I was certainly subjected to military life. That meant my family was stationed to the opposite coast every few years. And since we didn't have a lot of moolah, we drove. Oh, yeah . . . I've road tripped 3,000 miles across this great land five times! While I was always devastated to leave my friends behind, I'm grateful to have experienced this vast and diverse country first hand. How could I write "No Funny Business" and not highlight places from my travels? That's how Graceland got a cameo.
I had zero interest in Elvis Presley when we pulled up to the Graceland gates at the smug age of 11. After touring the property with its elaborate '70s decor, gold plated sinks, gun-shut TV set, and private plane, I was fascinated and fell in love with the King of Rock and Roll. That family trip was one for the books! Creating a Graceland adventure for Olivia and Nick in the middle of their comedy road tour was a blast. It's one of my favorite stops in the book that will give readers a good giggle.
The Lisa Marie at Graceland (1997)
During the '80s and '90s, there wasn't much to do on a road trip other than sleep, snack on sunflower seeds until my mouth was raw, and listen to good music. My parents are music buffs, and when I think back on those road trips, I hear "Landslide" by Fleetwood Mac, "Take the Money and Run" by Steve Miller Band, and "More Than A Feeling" by Boston—all classic rock songs. So of course I made sure Olivia & Nick had a killer road trip playlist. Since I was obsessed with '80s metal when I wrote this (still am), I chose to highlight those classics like "Don't Stop Believin'" by Journey, "Sweet Child 'O Mine" by Guns N' Roses, and "Photograph" by Def Leopard.
There was one cross country road trip where I listened to one album and one album only—"Middle of Nowhere" by Hanson. Yes! It was 1997, I was 11 (try not to calculate my current age), and my Discman batteries were brand new. Do you have any idea what it's like to listen to a boy band of brothers for 3,000 miles non-stop? I do! And I was sure it got a mention in "No Funny Business". See if you can spot it.
If you want to hear all the hits from Nick and Olivia's Road Trip Playlist, you can listen here on Spotify: https://open.spotify.com/playlist/5vx8Ixb4onpKTLWfYrJhCJ?si=58ca0eca0b1d44ea
Okay, now we're about to get really personal—artist's soul personal. In "No Funny Business", Olivia is a comedy artist—a writer and performer. She was a good girl, got her education, and works a "big girl" job as an attorney. But her heart's in comedy, one of the riskiest businesses one can venture into. Want to know what other business is risky? Writing novels.
While Olivia and I are on our own respective journeys, hers is very much a reflection of mine. It's the battle of maintaining what's safe and chasing a dream with absolutely no guarantee. I love writing stories. But the truth is this path has broken my heart over and over and over again. But it's mended emotional wounds too. Expressing this struggle through Olivia's story was equally heavy-hearted and heavily healing.
My canine daughter keeping me company when I was writing my first book, "The Man Test" back in 2012.
Earlier I mentioned my dad introduced me to comedy as a child. But there was nothing funny about losing him before I was old enough to rent a car. When I came up with this idea, I wanted to honor his memory in some small way. So I gave Olivia his name—Vincent. Initially, I struggled to finish the first draft. It wasn't until I found an old photo of him that the story came to life. In "No Funny Business", Olivia finds a similar photo of her deceased father, only he's on stage holding a mic at a comedy club. Something he never told her about. WHAT?!!
From there, fragments of his memory found themselves between the pages of this book. The most notable of which was his beloved Jeep (which outlived him). It's a Jeep that takes Olivia from New York to L.A. on a ride that allows her to confront her painful past and step into the spotlight of her bright future. That's why I dedicated this book to him and The Jeep.
If you want to find out how it all plays out, you'll have to read it.
Dad & The Jeep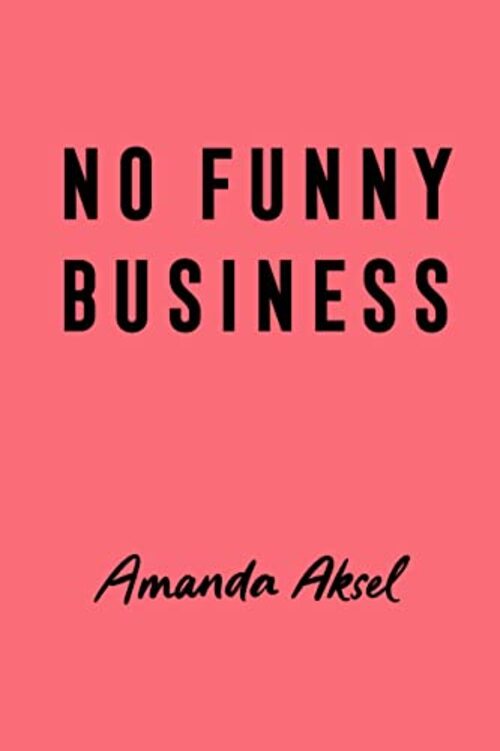 Olivia Vincent dreams of stand-up comedy stardom. Bustling around a busy Manhattan office by day and hustling from club to club by night, she can't catch a break. Work is falling through the cracks, and after ditching a major client to make a performance, Olivia gets the boot.
Determined to pursue her dreams, she snags an audition in Los Angeles for a coveted spot on late-night TV. But the only way to get there is to join Nick Leto, a seasoned stand-up, on a cross-country road tour. She agrees on one condition—no funny business.
Icky comedy condos, tiny smoking nightclubs, and Nick's incessant classic rock radio are a far cry from life on the Upper East Side. Reality sets in, and Olivia wonders if she can hack it in showbiz or if she's just a hack. As Nick helps Olivia improve her act along the way, sparks begin to fly and ignite what they thought was an impossible flame. Maybe being stuck with Nick in a Jeep isn't so bad. As long as it doesn't get in the way of Olivia's actual funny business.
Romance Chick-Lit [Berkley, On Sale: July 12, 2022, Trade Size / e-Book, ISBN: 9780593201633 / eISBN: 9780593201640]
Amanda Aksel is a west coast transplant whose curiosity about people led her to earn a bachelor's in Psychology. Instead of pursuing a career as a couples counselor, she wrote about one in her first novel. You'll often find her writing stories about fabulous, independent heroines, pretending to be Sara Bareilles at the piano, watching reruns of Sex and the City, or sprinkling a little too much feta on her salad.
Amanda calls Virginia Beach home but loves to travel the world with her high school sweetheart husband any chance they get.
No comments posted.