When I first heard about your book THE MISSING GIRLS OF ALARDYCE HOUSE, I was intrigued because it sounded like the kind of historical gothic mystery I adore. What inspired you to write this book, and why a trilogy? Does each book pick up where the previous one left off? Does each book focus on the same characters? Is each book told from the same character's perspective?
I was inspired to write this series by a clip from Downton Abbey. I'd never actually watched the program before, but I saw a snippet of it on Harry Hill's TV Burp of all things. It was a scene where the family were gathered around the table for dinner and I saw the character Thomas, played by the lovely Rob James Collier. This inspired the character of Matthew. He sprung to life in my mind very vividly and quickly. I wrote the first book in just three weeks and that was handwritten in a notebook, not even on a laptop. The book just poured out of me so quickly my hand could barely keep up with my brain. It was the most intense writing experience I've ever had. Each book in the series focuses on the same family, the Alardyces, and it does flick from different characters' perspectives. It doesn't just stick with one.
Would you describe THE MISSING GIRLS OF ALARDYCE HOUSE as a psychological thriller?
I would describe The Missing Girls of Alardyce House as a psychological thriller as it involves crime, mental anguish, intense situations and very dark themes and characters.
I see that you've written a lot of contemporary suspense novels. Is this your first book with a historical setting? If so, did you have to do any research?
This isn't my first historical novel. I've also written books set in the Georgian era, the 1920's, the early 1900's and one that spans the time period from World War 2 until the modern day. I also wrote another novel set in the Victorian era about a mesmerist, which is connected to one of the characters in the second book in the Alardyce series. I have a particular fascination with the Victorian era, so I did have a bit of background knowledge already, but a lot of research was still required. Fashions changed a lot during this era, so I needed to make sure I got that right, as well as researching carriages, trains, artists, to name but a few things. There was a fascination in this era with seances and the supernatural and this is an element that I bring into the books too.
In these kinds of stories, the house almost takes on a life of its own and becomes like another character. Would you say that's true for Alardyce House? How would you describe the relationship between the house and the characters?
I think this becomes more of a theme in the second book in the series, where the house takes on a bit of a life of its own, influenced by its darker inhabitants. In the first novel, the action shifts from place to place a bit more, although the house definitely has a large presence all of its own.
If you could only pick one of your books, other than this one, to a romance reader unfamiliar with your work, which one would you pick? And why?
All my books have a strong romantic theme running through them, even though they may not be classed as romance novels. My latest release, BLOOD PACT, is the final book in a gangland series and plenty of the reviews comment on how much they loved the romance between two of the characters that ran right through the series. However, I do recommend my book Winter's Sun for the very intense and passionate romance between the two main characters. This is also one of my gentler books.
Other authors I've interviewed have told me that the kinds of books they enjoy reading are different from the kind of books they enjoy writing. What do you like to read? Favorite books? Favorite author?
This is very true! I write a lot of gangland but I don't read that genre. My favorite authors are Agatha Christie, Anne Rice, Edgar Allan Poe, Daphne du Maurier and the Brontes. It's hard for me to choose one as my favorite but I really love reading dark, gothic themes, which is something I want to explore a lot more in my own writing as it's a genre very close to my heart. I'm currently reading The Witching Hour by Anne Rice and I've just purchased a beautiful copy of Sheridan Le Fanu's short stories from a local bookshop, an author I haven't read in years but whom I'm enjoying becoming reacquainted with.
What are you currently working on?
I'm currently writing a prequel to my Gallowburn series, which is published by Boldwood Books, as well as the final book in the Dividing Line series. This series is very close to my heart as it kick-started my self-publishing career. I am also working on another gothic novel set in the Victorian era, which I intend to release in November as it's set at Christmastime.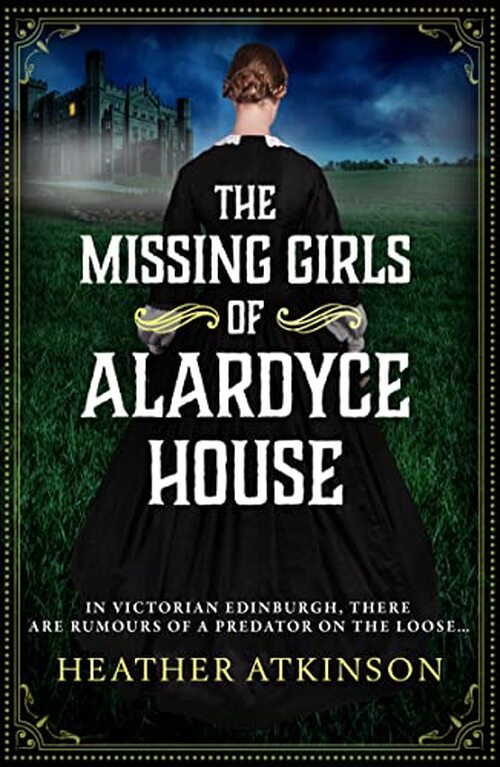 Edinburgh 1880. When Amy Osbourne's parents are lost at sea, she is forced to leave her London home and is sent to live with her aunt and uncle at the opposite end of the country.
Alardyce House is depressing and dreary, her aunt haughty and cruel. Amy strikes up a friendship with her cousin Edward but his older brother Henry is just as conceited as his mother, and a mutual loathing develops between him and Amy.
As her weeks of mourning pass, the realisation begins to dawn on Amy that her aunt has designs on her inheritance and the candidate she favours to be her neice's husband fills Amy with horror. Struggling in this strange, unwelcoming environment, Amy begins to suspect that something isn't right at Alardyce House.
There are rumours below stairs of a monster on the loose, local women are being brutally attacked and her cousin Henry is the prime suspect. Alardyce House is full of dark secrets and Amy isn't sure who she can trust…
Suspense Historical [Boldwood Books, On Sale: June 15, 2022, Paperback, ISBN: 9781804157855 / ]
Heather lives on the gorgeous west coast of Scotland with her twin girls and husband Paul, although she is originally from Lancashire in the north of England. Before she started to write, she worked as a medical secretary for a few years, both in the medical and surgical departments.
With over sixty books now available on Amazon Kindle, Heather is fortunate enough to write full-time. Writing is her passion and never feels like work.
No comments posted.