Even though there are a gazillion or so paranormal romances out there nowadays, it still surprises me when I read stories about supernatural beings that work a regular job or are some type of performer. Stereotypes can be a hard thing to shake. Part of me still expects a vampire to have a castle and be shrouded in shadows and be all dark and mysterious. The books I'm going to discuss here are full of vampires, orcs, demons, and all kinds of paranormal hotties who would be amazing to have as a showstopper at any party.
The first paranormal romance I remember reading was DARK PRINCE by Christine Feehan. I can think of a few characters from her Carpathian series who would make my list for must-have entertainment. I know, I know. These two series have different versions of "vampires", but I think it would be cool to have Savannah from DARK MAGIC by Christine Feehan perform her magic act for Laurell K. Hamilton's Circus of the Damned. Of course, her honey Gregori wouldn't be thrilled about having her around all that paranormal eye-candy.
Four bands that would make an electric musical combo would be the Dark Troubadours from DARK CHALLENGE by Christine Feehan, Axebender from HIS HARD ROCK RHYTHM by Flora Dare and Josie Kell, demon band Black Moon from SINGING WITH THE DEVIL by Cassandra Rose Clarke, and Rage of Angels from Brooklyn Ann's Brides of Prophecy series.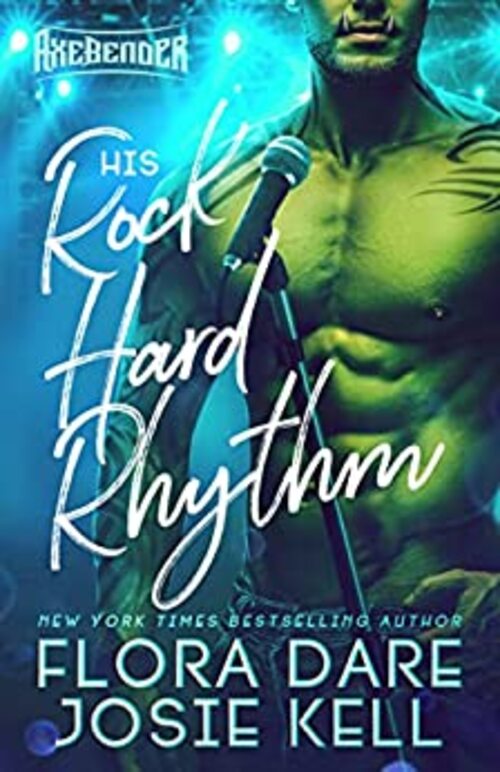 DARK CHALLENGE is one of Christine Feehan's earlier Carpathian books, and one of my favorites. It's just very sensual with Julian Savage calling out to his fated mate songstress Desari. Julian has been a loner for many years and believes himself damaged from his connection to a vampire. When he hears Desari perform with her band, the Dark Troubadours, he is hopelessly entranced by her. He recognizes her as his lifemate. Although Desari has a similar heritage to Julian, she's lived a comparatively sheltered life with her bandmates who are her family. Meeting Julian and hearing his voice in her mind is strange but thrilling, and it's exciting meeting him for trysts after sneaking away from her ever-present family. Her family is something for Julian to win over and work with in order to have the woman of his dreams. Christine Feehan spins an erotic tale of danger, music, and family that is compelling.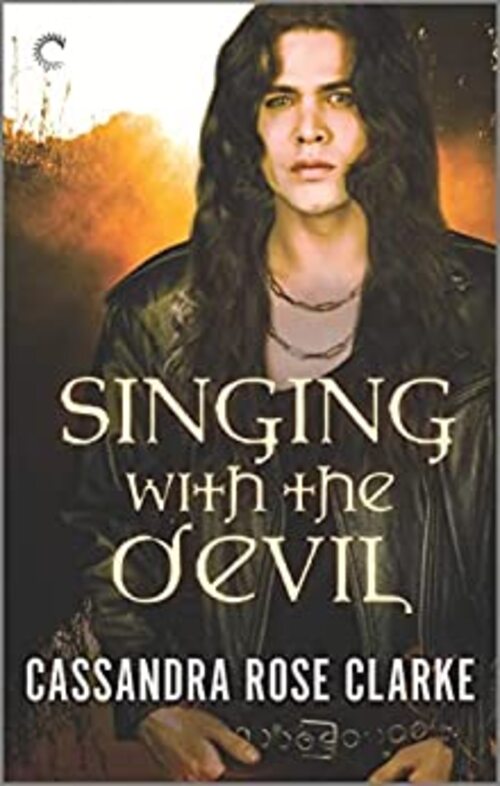 Black Moon and Rage of Angels are both supernaturally led metal bands, their books involve things like prophecies and biblical themes, and the band members are hunted down or persecuted by government or supposed do-gooder types. In SINGING WITH THE DEVIL, Helena is a reviewer of heavy metal bands by night, and a mild-mannered accountant by day. She's mostly discounted and ignored by her demon hunting zealot family. One day she's thrown in the path of Black Moon lead singer (and demon) Aleksi Haakanen. Initially, Aleksi just seems like your average cool guy enigmatic rock star, but Helena and the reader eventually learn that he is more than he seems. Some aspects of this story remind me of the classic anime DEVILMAN. As the reader, you're a little disoriented at times in the same way Helena is after having one wild thing after another thrown at her. Aleksi is seductive for Helena because of his attitude with her more so than because of his looks. They have the love of music and their type of magic as a common bond, and he shows her more acceptance than her family ever has. It's a little more intense than most of the paranormal romance I normally read, but it held my interest over the course of the book, and I couldn't stop reading it. The second book in the series will pick up with Aleksi and Helena as they work through their new normal, and battle new threats.
Although I've read other series by Brooklyn Ann, I've never tried any books in her Brides of Prophecy series until now. Where do I begin? WRENCHING FATE is the first book in the series and introduces many of the main characters and tells the love story of Akasha Hope and Silas McNaught, Lord Vampire of Coeur d'Alene. Later down the road, the members of the band Rage of Angels evolve a bit and take on more supernatural qualities. At the opening of WRENCHING FATE, the story starts out with Silas becoming Akasha's guardian. As a romance nerd, I was struck by how Akasha's life story compares to Cat's from Jeaniene Frost's Night Huntress series – especially as told in the first book HALFWAY TO THE GRAVE and DESTINED FOR AN EARLY GRAVE. Because I'm a fan and have read those books in the Frost series, I was really uneasy when Silas first takes in Akasha. I was reminded of Gregor's evil manipulations described in DESTINED FOR AN EARLY GRAVE. Both Silas and Gregor got or were told of prophecies or visions of women who would be instrumental in their lives. Thankfully, Silas is a sweetie and not a psycho. It also helps that part of the story is told from Silas' perspective, so the reader knows his intentions are good and his developing feelings for Akasha run deep. With different characters in this similar scenario, this story could have taken an especially dark turn. I loved Silas. Although he is very powerful, he doesn't push Akasha in any respect, and he's easy to like. Being an unofficial protector of Akasha's friends and bandmates was not something he foresaw, but he takes it in stride and supports them in their goals. Even though he (like me), doesn't really dig the kind of heavy metal Rage of Angels enjoys, he's still supportive and positive. Silas looks even better when compared to his fellow vampire Razvan. Razvan eventually becomes a supporter and mentor to Rage of Angels when it comes to their music, but he is just not my cup of tea. I kinda enjoy the scene when Akasha roughs him up some. This group of young musicians form tight friendships that last throughout the series.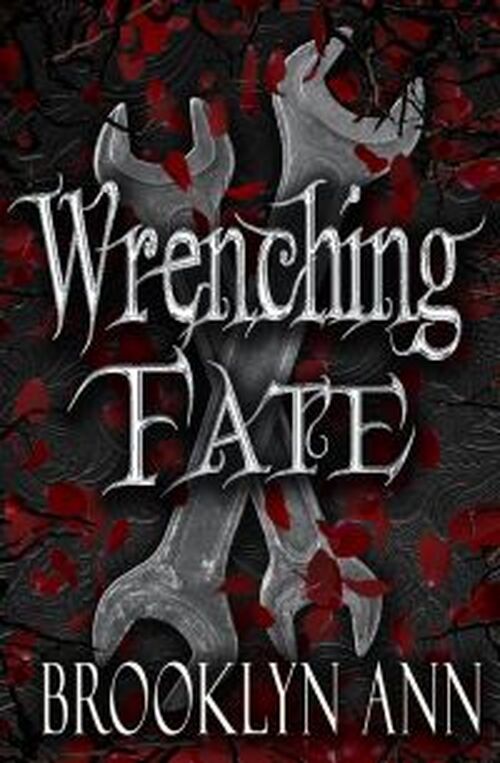 Axebender from HIS HARD ROCK RHYTHM by Flora Dare and Josie Kell is an "Orc Rock band". They may not play my kind of music, but this is definitely my kind of fun and flirty book. Unlike the three previous books with slightly heavier themes dealing with fate and prophecies, HIS HARD ROCK RHYTHM is about a witch tour manager and orc lead singer who fall for each other, even though it may be inconvenient. Alexis is hesitant about acting on her attraction to Mace. She worries any romantic entanglement with somebody she's working with will only end badly. It's a losing struggle to keep away from him because their chemistry together is too strong. Mace is more sensitive than you might first suppose. He recently had a bad breakup with a woman who was just using him. Although he and Alexis both have a history of failed relationships, I think Mace has a little more perspective and self-awareness. All the bandmates are like family and often live close to each other – for artistic as well as personal reasons. Alexis begins to appreciate their music the more she gets to know them. Of course, Mace winds up declaring his love via a romantic song at some point. Swoon.
Finally - if I were planning a mega party of paranormal powerhouse entertainment, I think I'd cap off the evening with the dancers from Guilty Pleasures. If I could mix and match characters from different books and different authors, I'd totally make the rock stars from Olivia Cunning's Sinners series vampires and add them to the roster at Guilty Pleasures. They'd blend right in. The guys from Magic Mike are a snooze-fest compared to these sexy supernaturals created by Laurell K. Hamilton. These strippers from Hamilton's Anita Blake series are seriously hot and some of them are serious about dance. One of Anita's main sweeties, Nathaniel, is often dismissed as just a sexy piece but over the course of the series, he's shown a dedication to his career almost as strong as his dedication to the people he cares about. He plans his routines and watches his diet while striving for perfection. In BULLET, the story opens with a recital and Nathaniel and Jason can show off their classical dance skills. I like how the author treats her characters with respect and there is no judgment about one type of dancing versus another. In DANSE MACABRE we see a vampire ballet company, but in that story, the dancing takes on a more ominous quality.
Miranda Owen is the Editorial Manager as well as a senior reviewer at Fresh Fiction. You can find more of her articles and reviews here.
1 comment posted.