Brooklyn Ann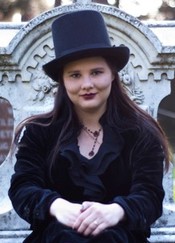 Blogging at Fresh Fiction
Brooklyn Ann: Taking the Internet by Storm
February 27, 2018
Author to Watch Brooklyn Ann is keeping busy through March with a blog tour in Read More...
Brooklyn Ann | Bite at First Sight
April 23, 2015
I am so excited to be here to celebrate the release of BITE AT Read More...
Brooklyn Ann | 10 Quirky or Offbeat Vampire Movies
August 7, 2014
Most of us are familiar with classics like The Lost Boys, Salem's Lot, Fright Night, and my favorite Read More...
Brooklyn Ann | Sneak Peek at ONE BITE PER NIGHT
April 10, 2014
I think the wait for ONE BITE PER NIGHT has been even more nail-bitingly Read More...
Brooklyn Ann | From a Quirky Idea to a Book Contract
December 17, 2013
I'd lost my career and my mother (that part was the worst) in five month's time and my attempts to query an earlier Read More...
Brooklyn Ann | 12 Horror Movie Recommendations
October 6, 2013
In honor of the Halloween Season, I thought I'd share a few favorites. The Addams Family & Addams Family Values Read More...
Brooklyn Ann | Angelica Winthrop: A Love / Hate Relationship
April 11, 2013
As the reader responses for BITE ME, YOUR GRACE come in, I see a common Read More...
A lover of witty Regencies and dark paranormal romance, Brooklyn Ann combines the two in her new vampire series. The former mechanic turned author lives with her family in Coeur d' Alene, Idaho.
Interviews for Brooklyn Ann
Brooklyn Ann chats 'Tempting Beat,' sexy drummers, and her love of movies so bad they're good
Tempting Beat
June 29, 2018
Brooklyn Ann | The Vampire Interview: Historical and Contemporary
Tempting Beat
April 18, 2016
Log In to see more information about Brooklyn Ann
Log in or register now!
Series
Scandals With Bite | Brides of Prophecy | Hearts of Metal | B Mine
Books:
Her Halloween Party, September 2021
B Mine #4
Paperback / e-Book
His Scream Queen, April 2020
B Mine #3
Paperback / e-Book
His Final Girl, May 2019
B Mine #1
e-Book
Heart Throb, November 2018
Hearts of Metal #7
e-Book
Tempting Beat, June 2018
Hearts of Metal #6
Paperback / e-Book
Forbidden Song, January 2018
Hearts of Metal #5
e-Book
The Highwayman's Bite, December 2017
Scandals With Bite #6
e-Book
Pleading Rapture, June 2017
Brides of Prophecy #5
e-Book
Wynter's Bite, February 2017
Scandals with Bite #5
e-Book
Metal and Mistletoe, December 2016
Hearts of Metal #4
e-Book
Rock God, September 2016
Hearts of Metal #3
e-Book
Unleashing Desire, August 2016
Brides of Prophecy #4
e-Book
With Vengeance, May 2016
Hearts of Metal #2
e-Book
His Ruthless Bite, April 2016
Scandals With Bite #4
e-Book
Conjuring Destiny, November 2015
Brides of Prophecy #3
e-Book
Kissing Vicious, August 2015
Hearts of Metal #1
Paperback / e-Book
Bite At First Sight, April 2015
Scandals With Bite #3
Paperback / e-Book
One Bite Per Night, August 2014
Scandals with Bite #2
Mass Market Paperback / e-Book
Ironic Sacrifice, June 2014
Brides of Prophecy #2
e-Book
Wrenching Fate, February 2014
Brides of Prophecy #1
e-Book
Bite Me, Your Grace, April 2013
Scandals with Bite #1
Paperback / e-Book