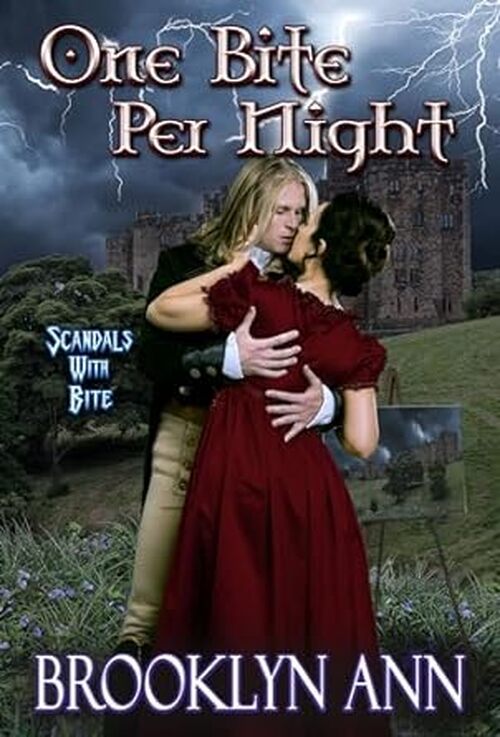 Purchase
Scandals with Bite #2
Sourcebooks Casablanca
August 2014
On Sale: August 5, 2014
Featuring: Vincent Tremayne; Lydia Price
384 pages
ISBN: 1492604917
EAN: 9781492604914
Kindle: B00KM5F8IM
Mass Market Paperback / e-Book
Add to Wish List

Paranormal Historical | Romance Paranormal | Romance Historical
He wanted her off his hands... Now he'll do anything to hold on to her ...Forever.
Vincent Tremayne, the reclusive "Devil Earl," has been manipulated into taking rambunctious Lydia Price as his ward. As Lord Vampire of Cornwall, Vincent has better things to do than bring out an unruly debutante. American-born Lydia Price doesn't care for the stuffy strictures of the ton, and is unimpressed with her foppish suitors. She dreams of studying with the talented but scandalous British portrait painter, Sir Thomas Lawrence. But just when it seems her dreams will come true, Lydia is plunged into Vincent's dark world and finds herself caught between the life she's known and a future she never could have imagined.
Scandals With Bite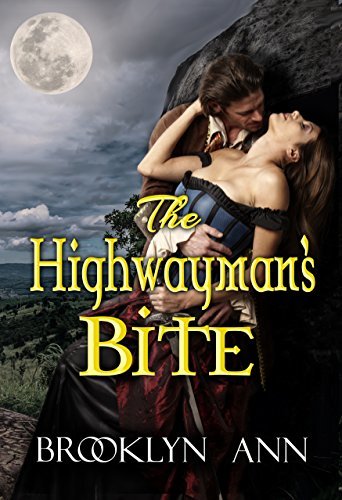 The Highwayman's Bite
#0.0
Kindle | BN.com | | |
Comments
17 comments posted.
I cannot wait to try this series! It is on my TBR pile, and
has been for awhile.
(Karin Anderson 7:04pm April 10, 2014)
Thanks! I cried a little both times that it was delayed. I
hope you enjoy it when it's finally here!
(Brooklyn Ann 7:15pm April 10, 2014)
I would love to read this book.
(Kimberly Woodall 7:27pm April 10, 2014)
I enjoyed Bite Me, Your Grace and have been looking forward
to One Bite Per Night.
(Janie McGaugh 10:08pm April 10, 2014)
Thanks so much!
(Brooklyn Ann 11:12pm April 10, 2014)
Yay! Count down time for One Bite Per Nite!! Wonderful
excerpt! Thanks and Congratulations!
(Glenda Martillotti 11:21pm April 10, 2014)
If I read your book, it would be the first time that I read
anything of this genre. I must say that I was really
surprised after reading the excerpt from your book. I got
swept away after reading it, and wished that I had the book
in front of me, so that I could see how the story unfolded.
The covers of both books are beautifully done, and I can see
why you're so proud of them!! Congratulations!!
(Peggy Roberson 9:59am April 11, 2014)
Wow! I am touched! Thanks, Glenda and Peggy!
(Brooklyn Ann 10:37am April 11, 2014)
Congrats on the first book and now getting the second one
done.. It must be a relief for you. As for comparing it to a
"bratty kid" now that just made me want to read it more. Best
wishes on your books..
(Tina Ullrich 11:49pm April 11, 2014)
I can not wait to get this book for my daughter! She loves this kind of novel and yours sounds very appealing!
(Linda Barrier 10:26am April 12, 2014)
The book sounds great. Thanks for the excerpt.
(Pam Howell 10:39am April 12, 2014)
the book sounds really good thanks
(Denise Smith 12:08pm April 12, 2014)
I'm loving this!!
(Mary Preston 5:40am April 13, 2014)
Congratulations on the publication of your second book! Bite Me, Your Grace sounds exciting. Thanks for sharing the great excerpt.
(Bonnie H 1:33pm April 28, 2014)
I have this on my must-read list! I loved your first book in
this series, Bite Me, Your Grace! Congrats on your new
release!
(Linda Townsend 6:35pm August 7, 2014)
I'm not one for movies, unfortunately, because my life is a
bit busy at the moment, but a classic that I remember from
years ago is - Love at First Bite. George Hamilton starred
in it, and I don't remember who else was in the cast, but it
was a humorous and a bit of a romantic film. I use the word
romantic loosely. I love the cover of your book, and would
love to read it, even though it's not my normal genre.
There's something about your postings that just urge me to
want to try your books. You have that fun, quirky, side, to
such a deep genre for your chosen writings. Congratulations
on your book!! I'm sure you have a great following!!
(Peggy Roberson 12:50pm August 8, 2014)
I haven't seen any of these vampire movies, but vampires and
zombies are getting more popular.
(Alyson Widen 4:07pm August 10, 2014)
Registered users may leave comments.
Log in or register now!