1--What is the title of your latest release?
2--What is it about?
Wren Roland has never been kissed, but he wants that movie-perfect ending more than anything. Feeling nostalgic (and drunk) on the night of his twenty-second birthday, he sends emails to all the boys he crushed on before he came out. The next morning, he finds a response from Derick Haverford, his #1 pre-coming out crush. Through the exchange, Wren learns that they are going to be working together at their struggling hometown vintage drive-in movie theater. What ensues is a hazy summer consumed by a special project that draws the pair closer together. As they work to save the drive-in, they might just get a second chance at that perfect-kiss-before-the-credits Wren has always dreamed about.
3--What do you love about the setting of your book?
NEVER BEEN KISSED takes place mostly at a fictional drive-in movie theater called Wiley's Drive-In. I love the nostalgic, summery vibes it casts over the whole book. It's both fun and cinematic. I'll never stop picturing Danny Zuko singing "Alone at a Drive-In" from Grease, clearly a pivotal moment in my early childhood obsession with love stories and movies.
4--How did your hero surprise you?
Wren, the main hero of NEVER BEEN KISSED, surprised me with his plucky self-determination. He starts out the book as an indecisive hopeless romantic and ends the book as a self-assured hopeful romantic. I enjoyed writing this because through his quest to save the struggling drive-in theater and earn his second chance at first love, Wren blossoms into his identity and, by extension, adulthood.
5--Why will readers love your hero?
Readers will love Derick, the second hero of Never Been Kissed, because he's a soft-hearted hottie. Just kidding! He does have cinematic good looks, but he's also driven, compassionate, and talented. As a photographer and social-media intern, he's adept at seeing the big picture in most situations. I think readers will really root for Derick as he navigates family-ties and his newfound feelings for Wren.
6--What was one of your biggest challenges while writing this book (spoiler-free, of course!)?
One of my biggest challenges while writing this book was making it feel as much like a classic rom-com film as possible. I used a screenwriting craft book to outline this story because Wren understands the world through his favorite movies. I wanted the book to move in the way a film does—short scenes, lots of dialogue, interesting set pieces—while still having all the juicy, first-person interiority readers love in novels.
7--Do you look forward to or do you dread the revision process?
It depends on the project! Drafting is by far my favorite part of writing a book because I get to let my imagination run wild, but I do enjoy shaping the story and characters throughout the revision process. Revision is when I feel like I really get to know what makes my characters tick in a more exciting way.
8--What's your favorite snack to have on hand while writing?
Dark chocolate is always a good incentive system when I'm writing. I'm a big "write this scene and you can reward yourself" type of author. Dove is my go-to brand!
9--Where would you go for an ideal writer's retreat?
My ideal writer's retreat would be at a beach-front property in Provincetown, Massachusetts. I love writing outside when the weather is nice so the ocean would provide the perfect scenery, and the lovely, LGBTQ-centric town would provide tons of inspiration for more queer love stories.
10--What's the best piece of writing advice you've received?
"Your voice is your superpower."
11--Who is the fictional character you want to hang out with the most? (anyone in literature!)
I'd love to hang out with Luc from Boyfriend Material by Alexis Hall. I think he'd bring his unique brand of chaotic-muppet energy to any outing! It would make for lots of fun and good stories.
12--What's one of your earliest book memories?
One of my earliest book memories was ravenously devouring the Series of Unfortunate Events books in elementary school. I was asking my mom to take me to the library every few days just to get the next book. It was the first time I consciously remember being like, "Wow! Books can really transport you." I'll always have a special place in my heart for the Baudelaires.
13--If you had to write in a different genre, what would it be and why?
I would like to write thrillers/horror. I have a deep love of slashers. In a way, they have a lot in common with romances. They both explore themes like coming-of-age and sexuality, but horror has that added high-stakes element of "Oh no! We might die!" I think that could be fun to play with. *insert evil laugh here*
14--What song will automatically put you in a good mood?
"Teenage Dream" by Katy Perry. A pure serotonin rush...every...single...time!
15--What is your favorite way to practice self-care?
I love taking long walks while listening to music or an audiobook. It's my favorite way to clear my head, get my blood pumping, and enjoy nature.
16--What can you eat and never get sick of?
I'm a candy fiend. I'll never pass up an opportunity for SweetTarts.
17--Will you share a favorite, recent-ish book you recommend?
I highly recommend The Charm Offensive by Alison Cochrun. I read it for the first time in 2021 and was blown away by the chemistry between the heroes, Charlie and Dev, and fully whisked into the reality show setting throughout. I've been listening to the audiobook on long drives recently, and I'm just as enamored with it as I was the first time.
18--Do you have any hobbies?
I love taking dance classes and doing theater. Acting and dance are two other passions of mine.
19--Are you an early bird or a night owl?
I'm more of a night owl. I love staying up late watching movies and reading!
20--What can readers expect from you next?
My second queer rom-com YOU'RE A MEAN ONE, MATTHEW PRINCE comes out October 4, 2022. It's an enemies-to-lovers, forced proximity holiday romance. It's a little snarkier and a little steamier than NEVER BEEN KISSED. Think Schitt's Creek meets Home for the Holidays with a dash of spice for good measure.
Boy Meets Boy #1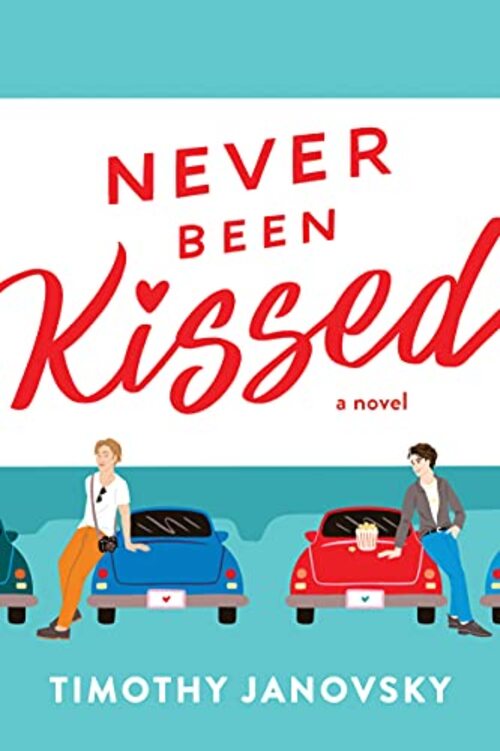 Dear (never-been-quite-over-you) Crush,
It's been a few years since we were together,
but I can't stop thinking about the time we almost...
Wren Roland has never been kissed, but he wants that movie-perfect ending more than anything. Feeling nostalgic on the eve of his birthday, he sends emails to all the boys he (ahem) loved before he came out. Morning brings the inevitable Oh God What Did I Do?, but he brushes that panic aside. Why stress about it? None of his could-have-beens are actually going to read the emails, much less respond. Right?
Enter Derick Haverford, Wren's #1 pre-coming-out-crush and his drive-in theater's new social media intern. Everyone claims he's coasting on cinematic good looks and his father's connections, but Wren has always known there's much more to Derick than meets the eye. Too bad he doesn't feel the same way about the infamous almost-kiss that once rocked Wren's world.
Whatever. Wren's no longer a closeted teenager; he can survive this. But as their hazy summer becomes consumed with a special project that may just save the struggling drive-in for good, Wren and Derick are drawn ever-closer...and maybe, finally, Wren's dream of a perfect-kiss-before-the-credits is within reach.
A feel-good summer LGBTQIA+ New Adult RomCom, perfect for fans of Red White & Royal Blue, Boyfriend Material, and What If It's Us.
Romance LGBTQ [Sourcebooks Casablanca, On Sale: May 3, 2022, Trade Size / e-Book, ISBN: 9781728250588 / eISBN: 9781728250601]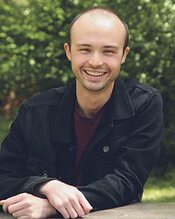 Timothy Janovsky is a queer, multidisciplinary storyteller from New Jersey. He holds a Bachelor's degree from Muhlenberg College and a self-appointed certificate in rom-com studies (accreditation pending). When he's not daydreaming about young Hugh Grant, he's telling jokes, playing characters, and writing books.
No comments posted.