1--What is the title of your latest release?
2--What's the "elevator pitch" for your new book?
When Alaskan business mogul Parker Hall comes looking for investment opportunities in the small town of Paradise, Alaska, he runs afoul of local bush pilot Hailey Barosse. Parker's suave sophisticated takeover approach reminds Hailey of her wealthy cutthroat family back home. To save Paradise businesses, she sets out to thwart his plans.
3--How did you decide where your book was going to take place?
STRANGERS IN PARADISE is Book #3 in the Paradise, Alaska series. I moved to the far north from a major metropolitan center, and I'm fascinated by the contrast in the two lifestyles.
4--Would you hang out with your heroine in real life?
Absolutely. Hailey is smart and feisty with a great sense of humor.
5--What are three words that describe your hero?
Hardworking, protective, loyal.
6--What's something you learned while writing this book?
I'm married to a northern bush pilot, and he answered a whole lot of technical questions about bush flying. I only used about a quarter of what I learned. But I still ended up with so much detail that my editor asked me to trim it down.
7--Do you edit as you draft or wait until you are totally done?
Both. I edit as I go but then do a more comprehensive edit once I have a complete draft.
8--What's your favorite foodie indulgence?
Anything with pastry cream, especially something drizzled with chocolate.
9--Describe your writing space/office!
I live in a rural area with an office on the second floor overlooking the forest. It's a very quiet, picturesque setting, and I feel quite spoiled by the amazing location.
10--Who is an author you admire?
I think Susan Elizabeth Phillips is brilliant.
11--Is there a book that changed your life?
Annie's Wild Ride by Alina Adams inspired me to start seriously writing romance back in 1998.
12--Tell us about when you got "the call." (when you found out your book was going to be published)
My agent had approached Berkley with the three-book series, and we had a conference call with the editor. A couple of days later, my agent called with the happy news!
13--What's your favorite genre to read?
Romantic comedy.
14--What's your favorite movie?
There's a very long list, but I still laugh during Romancing the Stone.
15--What is your favorite season?
Summer in the north is wonderful—with hours and hours of daylight.
16--How do you like to celebrate your birthday?
Something lowkey with my husband or my sisters. I'm not much for big parties.
17--What's a recent tv show/movie/book/podcast you highly recommend?
Downton Abby
18--What's your favorite type of cuisine?
I'm a big fan of casual pizza and a movie.
19--What do you do when you have free time?
I'm very excited to get back to doing lunch with friends.
20--What can readers expect from you next?
More romances. I'm currently working on a cowboy series, and I'd love to write something else set in the far north.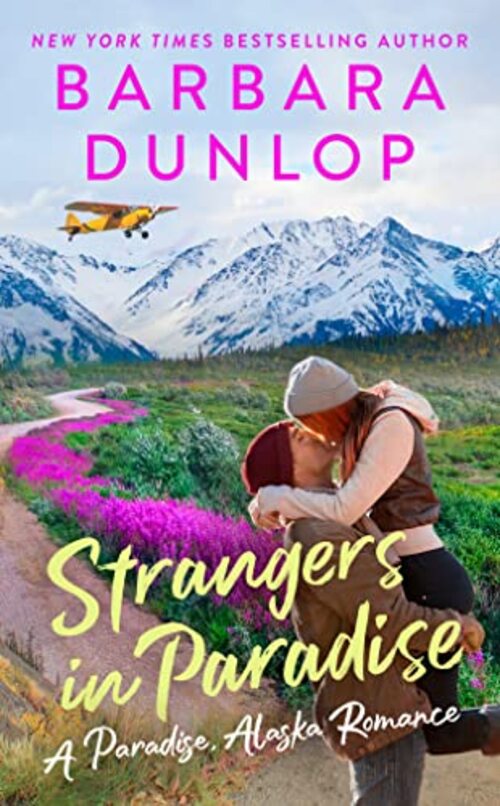 Hailey Barosse always knew what her wealthy family expected of her: marry an affluent Georgia man, run a charitable organization, and provide her parents with two or three grandchildren. But Hailey rebelled. Instead, she moved far away from that suffocating life, and for six years she's built her independence by flying bush planes in the tiny town of Paradise, Alaska. Then a suave, handsome businessman arrives, shaking up her world and reminding her of her controlling family. Parker Hall wants to invest in her boss's airline, but Hailey doesn't trust him at all. He might be confident and charming, but she knows all about self-centered cutthroat industrialists—and Parker is one of them.
Parker Hall prides himself on being a self-made entrepreneur. He earned his fortune by working day and night, expanding his gold mine and investing in new businesses that support his growing dream. His next opportunity is in Paradise, but his plans are quickly derailed by a fierce, beautiful pilot who both fights and fascinates him. The closer he gets to the feisty Hailey, the more she pushes him away. But Parker's not giving up, not on Paradise and not on Hailey. He's come a long way in life by being laser-focused on his passions, and this time is no different…
Fiction | Romance Sports [Berkley, On Sale: May 24, 2022, Mass Market Paperback / e-Book, ISBN: 9780593333006 / eISBN: 9780593333006]
Barbara Dunlop penned--well pencilled, actually--her first major work of fiction at the age of eight. It was entitled How The Giraffe Got His Long Neck and was released to rave reviews. Unfortunately, the print run of one copy hindered distribution. But the experience whet her appetite for celebrity and acclaim. Three years later she became a reporter for the venerated publication, The Berry Street Times. With a circulation of eleven, this forum allowed Barbara to reach even more faithful readers. Several years after that, she began writing romantic comedy. Barbara is now an award winning and best-selling author, writing for several Harlequin and Silhouette imprints. Her work is available in ten languages and in dozens of countries around the world.
1 comment posted.