1--What is the title of your latest release?
2--What's the "elevator pitch" for your new book?
Sleeping with the enemy has never been such fun! The Davies and Montgomery families have been locked in an ancient feud for centuries, but it's a thin line between love and hate. When fiery Carys Davies and wickedly proper architect Tristan Montgomery make a scandalous enemies-with-benefits agreement, the sparks of passion really begin to fly . . .
3--How did you decide where your book was going to take place?
All three books in my Ruthless Rivals series take place on the border of England and Wales. The Davies and the Montgomerys have been neighbors-and adversaries-for generations. Think Hatfields and McCoys, but in the Regency. All of which, of course, leads to forbidden passions, teasing rivalries, and plenty of snarky, enemies-to-lovers shenanigans.
4--Would you hang out with your heroine in real life?
Absolutely. Carys is my favorite type of heroine – a badass in a bodice! She's daring, witty, brave, and incredibly loyal. She's making the best of a bad situation and hiding a secret that could ruin her family, but she can't resist needling her old nemesis, Tristan Montgomery. He's the ice to her fire, and these two enemies fall into a most indecent proposal. . .
5--What are three words that describe your hero?
Cool. Controlled. Passionate.
6--What's something you learned while writing this book?
Carys is an animal lover and has a menagerie full of rescued creatures, including a male spectacled bear named Buttercup, whom she saved from a London street vendor, and two very naughty ravens named Huginn and Muninn. I did quite a bit of research on animal habits to make sure I was describing them accurately. I now know more than is useful about Peruvian Spectacled bears.
7--Do you edit as you draft or wait until you are totally done?
I edit as I go, which makes for slow writing, but a pretty clean first draft.
8--What's your favorite foodie indulgence?
I can't say no to a macaron of any flavor. And I could eat an entire box of Jaffa Cakes if left to my own devices.
9--Describe your writing space/office!
Organized chaos? I mean, I know where everything is. A casual observer might think my office has been ransacked by thieves. I have my big Mac computer on my desk, (I can't write on a laptop), and lots of pens, notebooks, calendar etc. Monty, my toy poodle, is usually lounging about on a big pillow behind me as I write, and I have a big wall of bookcases filled with all my romance 'keepers' and reference books. There's always a hot cup of tea in front of me, too.
10--Who is an author you admire?
Laura Kinsale. I think her writing is beautiful, and she's taken some amazing risks in her choices of heroes and heroines. Her characters are all wonderfully flawed, complex, and utterly original.
11--Is there a book that changed your life?
Having studied English literature at University, I've been influenced by a lot of books, but the one that really sticks in my mind is Ransom by Julie Garwood. I was commuting to London by train at the time (ironically temping in publishing for Macmillan, who are now my publishers!) and I grabbed a random book at the train station. The cover had a vague country house and gates on it and I didn't really know it was a historical romance (no Fabio cover, sigh!) but I started to read and after the first chapter I was hooked. WOW! After years of reading depressing 19th century literature where the woman invariably dies (Yes, I'm looking at you, Tess of the D'Urbervilles, Anna Karenina, and Madame Bovary!) HERE was a book with the historical settings I loved and all the romance-y swooniness I was craving. It was history with all the good bits! My eyes were opened to an entirely new genre and it's fair to say I was hooked from that moment on. I quickly devoured all the classics – Kinsale, Woodiwiss, McNaught, Coulter, Lindsay, and years later, when I decided to try my own hand at writing, historical romance was always going to be my true love.
12--Tell us about when you got "the call." (when you found out your book was going to be published)
This is going to sound awful, but I honestly can't remember where I was! I did things a little backward to most authors in that I got the publisher before I got an agent. My first book had won a writing contest and the finals judge, an editor at Random House, had requested the full manuscript. She'd got back to me saying she was interested in publishing it, and did I have an agent for her to call? I did NOT have an agent, (I'd had several rejections!) but I contacted the two at the top of my list and asked if they'd represent me, since I already had interest from one of the 'Big Five' houses, and luckily one of them said yes! My new agent promptly did her bit and negotiated a three-book deal. (I was just thrilled at the thought of publishing ONE book, so this was incredible to me!) When I got THAT phone call, I'm pretty sure I celebrated with a very large gin and tonic!
13--What's your favorite genre to read?
Historical Romance. Yes, still! I can't read other authors when I'm writing my own books, because it messes with my head and I start writing like them, so I save up all my 'To Be Read' books and give myself two weeks to read non-stop after I finish my own manuscript. It's my well-earned reward.
14--What's your favorite movie?
For sheer fun and adventure I'd watch Indiana Jones and the Last Crusade, or something snarky-but-romantic like The Cutting Edge or A Good Year. Pretty much any version of Pride & Prejudice would do, too.
15--What is your favorite season?
Summer. I love being nice and warm!
16--How do you like to celebrate your birthday?
With a nice meal, some drinks, and a few friends and family.
17--What's a recent tv show/movie/book/podcast you highly recommend?
I've been enjoying L'Agence (The agency) on Netflix recently, which is a French subtitled show about a family of luxury property realtors based in Paris. It's a fantastic peek into not only some jaw-droppingly gorgeous properties around the world (Why can't I afford a chateau in Gascony?!) but a lovely insight into the close-knit family of four good-looking French sons, their partners, and their hard-working parents. It's like a classy, Parisian version of Keeping Up with The Kardashians.
18--What's your favorite type of cuisine?
Anything someone else has cooked! Especially if it's Italian, Spanish, or Indian food.
19--What do you do when you have free time?
Apart from reading, I love taking walks and hiking with my family, visiting museums, auctions, and garage sales. As an ex-auctioneer I'm always on the lookout for a hidden gem! How else am I going to afford that Chateau / vineyard?
20--What can readers expect from you next?
A WICKED GAME, the third book in my Ruthless Rivals series, will be coming out in very early 2023. It's Harriet and Morgan's story, and it involves a kissing bet that goes deliciously awry. If you like snarky banter, enemies-to-lovers pining, off-the-charts chemistry, random cartography, and a really ridiculous foot race, this one won't disappoint!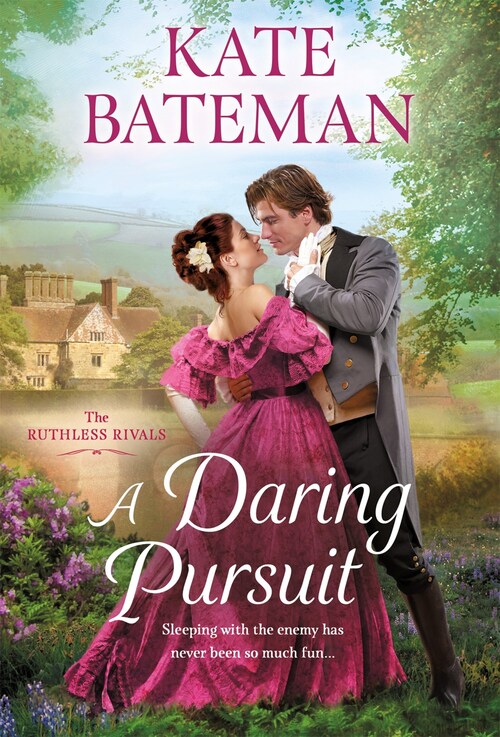 The Davies and Montgomery families have been locked in an ancient feud. But it's a thin line between love and hate in Kate Bateman's A Daring Pursuit.
TWO ENEMIES
Carys Davies is doing everything in her power to avoid marriage. Staying single is the only way to hide the secret that could ruin her—and her family—if it was revealed. For the past two seasons she's scandalized the ton with her outrageous outfits and brazen ways in a futile bid to deter potential suitors. Outwardly confident and carefree, inside she's disillusioned with both men and love. There's only one person who's never bought her act—the only man who makes her heart race: Tristan Montgomery, one of her family's greatest rivals.
ONE SCANDALOUS BARGAIN
Wickedly proper architect Tristan needs a respectable woman to wed, but he's never stopped wanting bold, red-headed Carys. When she mockingly challenges him to show her what she's missing by not getting married, Tristan shocks them both by accepting her indecent proposal: one week of clandestine meetings, after which they'll go their separate ways. But kissing each other is almost as much fun as arguing, and their affair burns hotter than either of them expects. When they find themselves embroiled in a treasonous plot, can they trust each other with their hearts, their secrets…and their lives?
Romance Historical [St. Martin's Paperbacks, On Sale: May 24, 2022, Mass Market Paperback / e-Book, ISBN: 9781250801609 / eISBN: 9781250801616]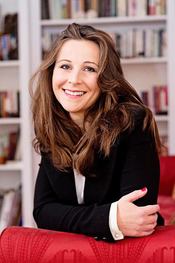 Kate Bateman, (also writing as K. C. Bateman), is the #1 bestselling author of Regency, Victorian, and Renaissance historical romance. Her Renaissance romp, The Devil To Pay, is a Romance Writer's of America 2019 RITA Finalist, and her Regency-set A Counterfeit Heart (Secrets & Spies series) won the 2018 Book Buyer's Best contest for Best Historical Romance.
Kate wrote her first historical romance in response to a $1 bet with her husband who rashly claimed she'd 'never finish the thing.' She gleefully proved him wrong. Her books feature her favorite intelligent heroines, (badasses in bodices!) wickedly inappropriate banter, and heroes you want to both strangle and kiss.
When not traveling to exotic locations 'for research', Kate leads a not-so-secret double life as a fine art appraiser and on-screen antiques expert for several TV shows in the UK, each of which has up to 2.5 million viewers. Before writing romance, Kate was director and valuer at her own UK Auction House, Batemans in Stamford, Lincolnshire. She currently splits her time between Illinois and her native England and writes despite three inexhaustible children and that husband. . . who still owes her that dollar.
No comments posted.