Your female protagonist in BAD GIRLS DRINK BLOOD, Lane Callaghan, is described as being "the only hybrid fae in existence". What made you choose a fae connection for your main character?
Funny story! The idea for this book first came about as my way around the "no vampires in traditional publishing" trend a few years back. I love mythology and I decided to create a fae race that drank blood. While this is my take on the fae, I wavered between elves and fae. Ultimately, I wanted to bring in more characters and creatures from a Celtic background (though, there is a nod to Norse Mythology in the story).
How would you describe your Blood Fae Druid series to readers? What's the focus?
Lane is forced by her long-time enemies to hunt down monsters while proving she isn't one herself or accepting that she is.
How would you describe Lane? The book description says that she has family but, other than that, is she more of a tough loner? Or does she have any friends for added support?
Aside from her adopted sisters (who she is fiercely loyal to), Lane is a loner. As the only hybrid fae in existence, she wasn't accepted—to put it mildly—so she's not one to open up or trust. She's learning, and she's got a hot, wolfy bartender to teach her!
Is there any reason you chose Las Vegas as a setting?
I used to live near Las Vegas and made regular weekend trips. I really like it there! While Lane and her sisters live "Vegas adjacent" in this story, I thought the bright lights and exuberant, crazy side of the city would be a great place to show paranormals living their best lives.
BAD GIRLS DRINK BLOOD is a paranormal novel. Do you think you'd ever try writing in a different genre at some point?
Urban fantasy and paranormal romance have my heart. While I do have a second world fantasy knocking around in my brain, I don't see myself going that way anytime soon.
As an author, what inspires you?
Anything. It sounds cliche, but it's true. The original version of this story started out as one line that came to me while I was driving down the road. That version and what ended up as BAD GIRLS DRINK BLOOD are very different, but it all started from that first line that just popped into my head on a drive.
A few previous authors I've interviewed have surprised me by saying that the kind of books they enjoy reading are different than the kind of books they enjoy writing. What kinds of things do you like to read? Favorite titles or authors?
I like many genres, and I go through phases. Ultimately, my favorite is and will probably always be urban fantasy/paranormal romance. I just love the pace, the grit, the snark…
Favorites? Woo boy! My GOAT UF authors are Kim Harrison, Patricia Briggs, Faith Hunter, and Ilona Andrews. There are MANY more, and I hate not mentioning them, but these amazing authors were my introduction to Urban Fantasy.
What are you currently working on?
At this very moment, edits on the second book in the Blood Fae Druid series! I'll take a short break from the Bad Girls world to finish a little something I've been working on with roots in Norse mythology (it's not about elves lol)!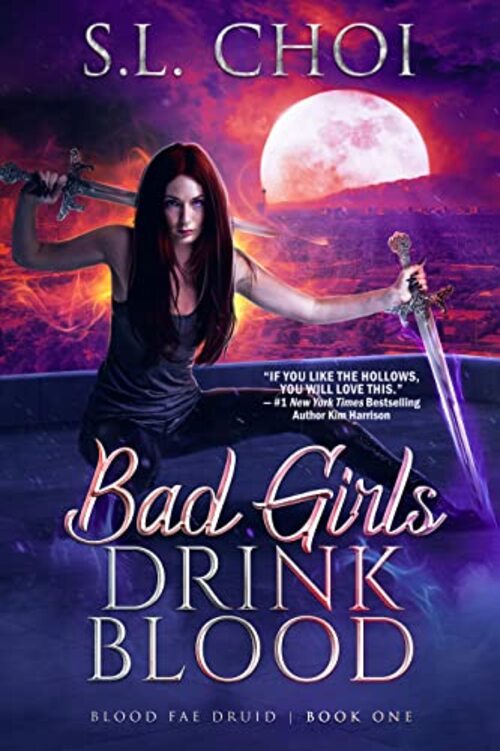 Part sun fae, part blood fae, all abomination.
After a life spent dodging slurs, threats, and assassination attempts, Lane Callaghan gave her past the one finger salute and ditched her former fae home for good.
The detective agency she and her sisters run on the edge of Las Vegas continues to limp along, with Lane doing more debt collecting and intimidating than investigating, but anything to pay the bills. Between working for low-lifes to bring down even lower-lifes, eating cheesy poofs by the bucket, and flirting with the criminally attractive bartender where she conducts business, life is good.
That ends when a routine job goes sideways leaving Lane with a sack full of stolen sun shards—the source of sun fae power. Without the shards, the sun fae face giving up their magic completely, or risk death if they use their power.
As far as Lane's concerned, good riddance, considering they would rather see her dead—except her father and adopted sister are sun fae. Lane must choose to return home to save the fae bastards that almost killed her…or let them burn.
Fantasy Urban [City Owl Press, On Sale: May 17, 2022, Paperback / e-Book, ISBN: 9781648981470 / ]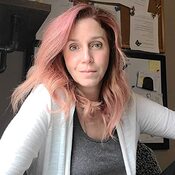 S.L. Choi is an urban fantasy author with a deep love for humor, fast-paced action, and hit-you-in-the-heart feels. She grew up imagining goblins living in the rocks outside her bedroom window, while fairies flew through the flowers. Now she puts those stories to paper. When not writing, she is either photographing the beautiful New England area, hiking, gaming with her equally nerdy husband, or attending to the small furry overlords who rule them both.
No comments posted.