1--What is the title of your latest release?
HOW TO BOOK A MURDER (Starlit Bookshop Mysteries #1)
2--What's the "elevator pitch" for your new book?
A recent Ph.D. becomes a literary event planner to save the family bookstore, but when a murder mystery party turns murderous, she takes on the role of amateur sleuth to protect her beloved aunt, a famous author accused of the crime.
3--How did you decide where your book was going to take place?
I imagined my dream bookstore, which turned out to be in the middle of an artistic community on a riverwalk.
4--Would you hang out with your heroine in real life?
Yes, especially if she would give me a discount in the bookstore.
5--What are three words that describe your hero?
Bookish, curious, determined.
6--What's something you learned while writing this book?
Although I worked for a short time in a bookstore, it was decades ago, so I was very lucky to have some booksellers who were willing to talk to me. All of them said that working with customers was their favorite part of the job.
7--Do you edit as you draft or wait until you are totally done?
For the first draft, my goal is to get to the end as soon as possible. I call it "joyful keyboard pounding." If I notice something along the way, I'll edit a bit, but typically that comes after the deep revision phase (which is where the heavy lifting—and hopefully some magic—happens).
8--What's your favorite foodie indulgence?
Love a cheese-and-fruit plate with extra grapes, along with a cold glass of red wine. Which I guess is more grapes. So basically: grapes.
9--Describe your writing space/office!
When the schools closed during the pandemic, my sons were doing distance learning and my husband was teaching his high school science classes via Zoom. The office was very busy, so I moved out of the office to the couch with my laptop. It's a big four-seater that we created by hitching two loveseat pieces together, so there's plenty of space for spreading out manuscript pages or holding whatever comes in handy. Like grapes.
10--Who is an author you admire?
There are many authors I admire—mystery community friends who write terrific stories and academic colleagues who write about fascinating topics. So all of them, but I'll name the first author I ever admired: L.M. Montgomery. Both the Anne of Green Gables and Emily of New Moon series made me want to be a writer.
11--Is there a book that changed your life?
I loved mysteries early on, but it wasn't until graduate school, when I discovered the Kate Fansler series written by Amanda Cross (pseudonym of Professor Carolyn Gold Heilbrun, Columbia University) that I fell in love with academic mysteries and decided to write one. Death in a Tenured Position is the first Cross novel I read, then I went back to the beginning of the series and read my way through them in order.
12--Tell us about when you got "the call." (when you found out your book was going to be published)
Oh my goodness. It was surreal. I was trying to be professional and take notes, but afterwards they didn't make any sense because it was mostly cryptic half-phrases and exclamation points and little drawings of books!
13--What's your favorite genre to read?
Mysteries, especially humorous ones.
14--What's your favorite movie?
Chicago. Film AND soundtrack. Brilliant on so many levels.
15--What is your favorite season?
Fall: adore the beautiful leaves, cool temperatures, and general coziness of the season.
16--How do you like to celebrate your birthday?
It's on a holiday so I don't have much say in how we celebrate it, and that's fine by me. Just want to be with loved ones. And ice cream cake.
17--What's a recent tv show/movie/book/podcast you highly recommend?
Julia is absolutely delightful, and Severance is wonderfully strange.
18--What's your favorite type of cuisine?
Anything with melted cheese.
19--What do you do when you have free time?
Honestly can't remember the last time I had free time…hold please…just asked my husband and he said, "watch movies." True story.
20--What can readers expect from you next?
I'm working on book two in the series, called IN THE EVENT OF MURDER. Some Hollywood celebs come to town for a gala…and chaos ensues!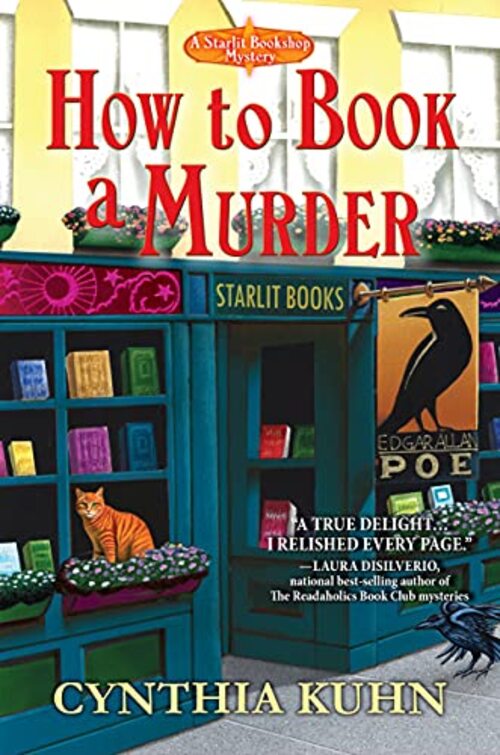 Perfect for fans of Jenn McKinlay and Kate Carlisle, in Agatha award-winning author Cynthia Kuhn's series debut, small-town bookseller and literary event planner Emma Starrs is out to close the book on a killer intent on crashing the party.
To help save her family's floundering Colorado bookstore, Starlit Bookshop, newly minted Ph.D. Emma Starrs agrees to plan a mystery-themed dinner party for her wealthy, well-connected high school classmate Tabitha Baxter. It's a delightful evening of cocktails and conjecture until Tabitha's husband, Tip—hosting the affair in the guise of Edgar Allan Poe's detective C. Auguste Dupin—winds up murdered.
In a heartbeat, Emma and her aunt Nora, a famous mystery writer, become suspects. Emma is sure the party's over for Starlit events, until celebrated author Calliope Nightfall, whose gothic sensibilities are intrigued by the circumstances, implores the bookseller to create a Poe-themed launch event for her latest tome. Throwing a bash to die for while searching for additional clues is already enough to drive Emma stark raven mad, but another shocking crime soon reveals that Silvercrest has not yet reached the final chapter of the puzzling case.
Someone in this charming artistic community has murder on the mind, and if Emma cannot outwit the killer, she and her beloved aunt will land behind bars, to walk free nevermore.
Mystery Cozy | Mystery Book Lover | Mystery Woman Sleuth [Crooked Lane Books, On Sale: December 7, 2021, Hardcover / e-Book, ISBN: 9781643858593 / ]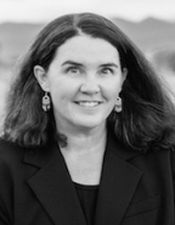 Cynthia Kuhn writes the Agatha-Award-winning Lila Maclean Academic Mysteries and the Starlit Bookshop Mysteries. She lives in Colorado with her family, where she is professor of English at Metropolitan State University of Denver and serves on the national board of Sisters in Crime.
No comments posted.