For a while I found excuses to be in the common areas of the apartment, hoping Art would come back out and I could mount a solid defense about my mad romance skillz, but he stayed holed up in his room and since I couldn't hear his music, that probably meant he had on noise-canceling headphones and couldn't hear me conspicuously walking down the hall­way, or washing the dishes, or, uh, moving the couch so I could sweep under it, which I'd never done before and was so gross I might never do again.
There was no point if he wasn't coming out to see what I was doing so I could triumphantly brandish my disgusting dustpan like a…like a very passionate-about-cleaning hero out of a romance novel? That was probably a thing, right? I'd interned under the romance editor, Adams, and I was pretty sure I could sell her on cleaning as a romantic gesture. Well. Maybe. Adams was kinda hard-core. Let's just say, if it was a thing, she'd probably seen it already and could cite every in­stance of it in every romance novel published in the last fifty years.
I finally gave up and went in my own room, restlessly troll­ing the internet for Interesting Things To Look At and finding nothing but the usual badly behaved celebrities, sympathetic children either dying of things or fixing world problems, and politicians screwing over everyone.
None of it mattered. Gah. Why couldn't he see that I was totally capable of romance? Okay, maybe in the past I hadn't lived up to my potential or whatever, but it was there! I mean, I probably wouldn't have killed a bunch of roses and then thrown their corpse-petals all over a bed because that sounded kind of messed up, but I could do something just as good. Or better! I could be romantic. And if Art wouldn't let me prove that, since apparently even the idea of dating me was too funny for words, I'd just have to find some other way of showing him how wrong he was. And the very second I figured out what that was, I would do it, too.
In fact, I bet I could think something up right now. It was, after all, my writing time. The time of day when I stopped being the person everyone else saw, and started being the person I was in my head, which okay, it sounded slightly sad when I said it like that, but whatever. The larger picture was NEWSFLASH: I could be romantic. I'd read the books. I had taken many dates to rom-coms, and not grudgingly. I liked rom-coms. Want to know my top five on Netflix right now? I could list them for you.
I opened a Word document and titled it PEAK ROMANCE.
Yeah. There. Good start.
PEAK ROMANCE
BY PRESTON KINGSLEY HARRINGTON III
After another second I deleted the III. Probably not nec­essary.
And y'know, maybe…maybe I'd just leave it at PEAK RO­MANCE for now. It's not like I was showing anyone, and I knew I'd written it, so yeah. Good enough.
I wasn't exactly a novel writer. I had a lot of almost-novels, near-novels, middles-of-novels, beginnings-of-novels. I just didn't have any, y'know, endings-of-novels. I'd written short stories in college, which people liked, and kept plugging away at essays and novelish-type things since then. I'd always sort of assumed eventually I'd write something really good, some­thing that captured people's attention and made them think. An On the Road for a new millennium, maybe. Or The Great Gatsby but I'd update the style and gender-flip the characters.
Anyway, since I was like fourteen or something, writing had been the place I went when reality let me down, and dis­covering that in terms of Art dating me, I wasn't just starting at zero, but in the negatives, was definitely a letdown. Since haphazardly trolling the web hadn't helped, I might as well funnel some of my frustration into words.
I watched the cursor blink for a few seconds, trying to fig­ure out what I wanted. I wanted… Art. To be with him. To kiss him. I wanted him to understand that I was more than just a guy with a spare room. More even than a friend. How could I put that on paper, though?
You painted your nails with my purest hopes and dreams…
Okay, maybe I was rusty when it came to writing roman­tic stuff, which I'd sworn off of during The Roman Times because it was too sad.
Ugh, maybe I couldn't do this. "This" being anything re­motely resembling, like, something Art could relate to. I could scrap it. Maybe I was in the mood for something all beat-poet-like. Or something very roaring twenties. I could go dark like Vonnegut. Twisty like Heller. If I had some drugs I could really dive into some kind of nutty stream of consciousness Hunter S. Thompson thing, but to tell the truth, I never re­ally found a place in my world for drugs. I know it makes me a square, but I really only did drugs when other people were doing them, and didn't do them when they weren't.
But it wasn't enough to do what I usually did, just stream some stuff off the top of my head into whatever story I was haphazardly working on. I needed to write down all the things I couldn't actually say out loud. A place to put all the ways that I was better than the Romans of the world, and even the Wades of the world (though Wade had actually been a decent guy in the end I guess).
NOT AS BAD AS SOME OTHER GUYS
BY PRESTON KINGSLEY HARRINGTON
Right, no, scratch that, keep Peak Romance.
Except what came out was…something else. This real/not-real thing about being in love. Not that I was in love or any­thing, just, when you're writing you fictionalize people and events and…and things. And I definitely didn't think the idea of me being in love was as hilarious as Art seemed to find it.
The day I saw your nail polish matched your sweater was the day I fell in love with you.
And I thought to myself, how many times have you done that, and how many times haven't I noticed?
And if I'd never met you, I would never have known.
I would never have known about electric tangerine. And rasp­berry sundae. And cerulean dreams. And electric storm.
There's so much I wouldn't know.
But most of all, I wouldn't know how to be in love.
And you know what? I was pretty happy with that, so I kept going. At first it was just this character, and then it sort of coalesced into a story. About this guy who was in love with his roommate and tells them how amazing they are and the roommate's surprised but also not surprised? Like maybe they sort of knew there was something there and weren't sure how to deal with it.
In walks the guy and he's ready with candles and their fa­vorite Korean takeaway and also a new nail polish he knew his crush would love. And then they kiss and live happily ever after. Or anyway, they go to bed and cuddle because: totes romantic.
When I was done I reread it and it was pretty awesome. Also it was way too close to life (the nail polish and the roommate working at a bookstore and also I'd given them Art's favorite bibimbap dish from the place we used to go to in college). I definitely couldn't actually let him read it.
Who was I kidding? It was like one tiny condensed bite of a much, much bigger meal, a more complicated one, with different courses, and different forks for things, and the kind of dessert that definitely looks delicious but is also super in­timidating because how do you even eat it? That's what this scene was. A morsel. I couldn't let anyone read it like this. But I was already wondering what would happen next, and what had happened before. How did they meet? How long had they known each other? How long had the main character known he was in love and how did he figure it out? Was there some kind of checklist? A semi-related Buzzfeed quiz? Are you in love with your best friend? Take this quiz to find out which of TV's Friends you are!
Maybe I'd give him a quiz. The character. You know. If I was going to write more. Because say a guy—any random guy—did take a quiz. And say the results came back You are totally bonkers in love with your best friend, dummy. What would that (random) guy do then? What's the next step after he finds that out? Was there a flow chart?
Whatever. I could be romantic. I had the Romantic Dinner bubble on the flow chart all filled out. Actually, just be­cause I didn't want to be creepy about it, I swapped out the bibimbap for Korean barbecue, which Art never ordered. And I changed the bookstore to, uh, graphic design. Which (purely coincidentally) Art might have almost minored in at college. It's not like I was writing Art into the story. Just someone who kind of related to the main character the way Art kind of related to me. It was an, um, literary analogy, like on the SATs.
ART : PK
LOVE INTEREST : MAIN CHARACTER
Umm. Huh. I don't…that was so…blatant. Maybe it wasn't that. Maybe I should stop thinking about relationships and analogies and just…everything.
So instead of thinking, I started working on another chap­ter. An earlier chapter. A chapter in which the main charac­ter searches the internet for a quiz that would let him know if he was in love. Because: relatable. Not, y'know, that I needed something like that. But I could see it being a very confusing thing so it'd be nice if there was an objective way to know for sure.
I'd laid the groundwork for the eventual romantic take­away scene and gotten in some good besotted pining before I realized A) I had to get up for work in five hours and B) this story was the most fun I'd ever had writing.
I had no idea what to make of that, but as for the first point—yeah. Time for bed. Plus, you never knew about stuff you wrote in the middle of the night. When I read it over in the morning the story might be terrible.
Spoiler alert: it wasn't.
(c) Kris Ripper, Carina Press, 2022. Shared with permission from the publisher.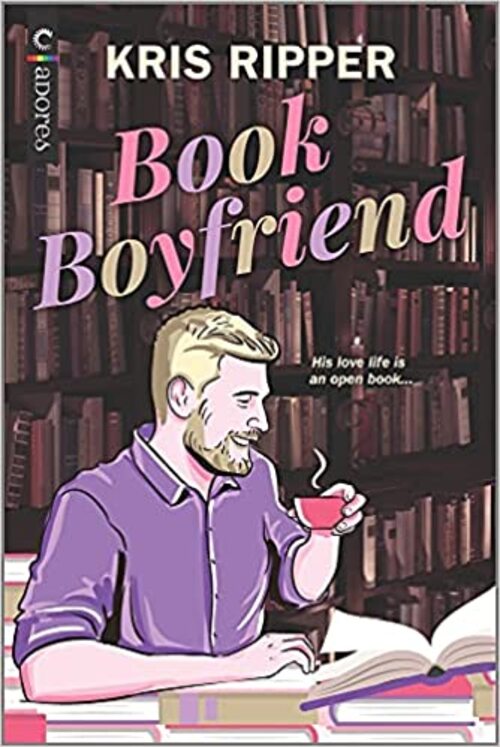 A secret crush leads to not-so-secret romance in this delightful romantic comedy from Kris Ripper
There are three things you need to know about Preston "PK" Kingsley:
He's a writer, toiling in obscurity as an editorial assistant at a New York City publishing house.
He is not a cliché. No, really.
He's been secretly in love with his best friend, Art, since they once drunkenly kissed in college.
When Art moves in with PK following a bad breakup, PK hopes this will be the moment when Art finally sees him as more than a friend. But Art seems to laugh off the very idea of them in a relationship, so PK returns to his writing roots—in fiction, he can say all the things he can't say out loud.
In his book, PK can be the perfect boyfriend.
Before long, it seems like the whole world has a crush on the fictionalized version of him, including Art, who has no idea that the hot new book everyone's talking about is PK's story. But when his brilliant plan to win Art over backfires, PK might lose not just his fantasy book boyfriend, but his best friend.
Romance Comedy | LGBTQ [Carina Adores, On Sale: April 26, 2022, Trade Size / e-Book, ISBN: 9781335517173 / eISBN: 9780369717948]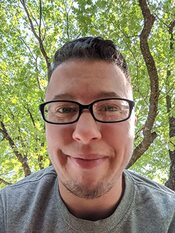 Kris Ripper lives in the great state of California and zir pronouns are ze/zir. Kris shares a converted garage with a kid, can do two pull-ups in a row, and can write backwards. (No, really.) Ze has been writing fiction since ze learned how to write, and boring zir stuffed animals with stories long before that.
No comments posted.