I'm curious about the world these Dangerous Damsels stories take place in. Is it a real time and place in history, but with a magical twist? Or is it set in some alternate, yet similar to our own, world?
It's real Victorian England, with the twist that a magical incantation was discovered many years before and a small group of people have access to it. Despite the fantasy element, the general setting is firmly established in historical reality - and yet, I also had to consider what that reality might look like under the circumstances of pirates in flying houses!
How does the Wisteria Society crime sorority of the first book in this series compare to The League of Gentlewomen Witches?
The Wisteria Society and the Wicken League are remarkably similar to each other, although they would not agree with this. Both groups make claims in a decidedly resolute manner (ie, using guns, sharpened hat pins, and snubbing each other at parties) as to their superiority, but the fact is, even these powerful and dangerous magic-wielding women still find themselves conforming to the essential norms of Victorian culture. I'm interested in showing how women in a prevailingly patriarchal environment are vulnerable to absorbing sexist beliefs despite being themselves an independent, potent force - and indeed how some women can press those beliefs on others as a way of giving themselves more power.
What, for you as a writer, makes a compelling hero and heroine?
For me, I am strongly drawn to characters who have two things at the start of the story: a strong sense of self-assuredness or belief in their own competence, and some kind of block, external obstacle, or internal defense. It's so much fun watching those two influences break apart against each other to eventually expose the truth within.
How would you describe the dynamic between Charlotte and Alex in THE LEAGUE OF GENTLEWOMEN WITCHES? From the description, it sounds very fiery – very reminiscent of the film Romancing the Stone.
Romancing the Stone was one of my absolute favorite movies when I was young, and definitely an inspiration in the back of my mind, along with other similar adventure romcoms. So I'm delighted you see a resonance between it and TLOGW! Alex is one of those too-strong-for-his-own-good kind of men, and I initially thought he needed a gentle, patient woman to soften his toughness. But Charlotte came blazing in and put paid to that idea! The two of them spark from their very first meeting. I would describe their dynamic as intense and sometimes incendiary. Wherever they go, fire alarms and explosions and storms and brawls and red-hot flames seem to occur.
Would you say there is a fairly even mix of adventure and romance in this book?
Yes, I would agree with that. There's more action in this book than in Wisteria, and more romantic scenes also - basically, TLOGW is Wisteria Plus!
Do these books end on cliffhangers?
No, each book in the series is a unit with its own couple and its own HEA.
What are you currently working on?
I'm knee-deep in a secret project which I can't really say much about except that it contains possibly my most fun-to-write heroine thus far. Dangerous Damsels book 3 has been handed in and I'm looking forward to being able to tell people more about it in the months to come. I'll you a tiny sneak peek: cufflinks, aerial battles, handholding, an exploding cake.
Where can readers find out more about your books?
My website is indiaholton.com or people can visit me on twitter (twitter.com/IndiaHolton) and instagram (instagram.com/india.holton) I love hearing from readers, so do come and say hi!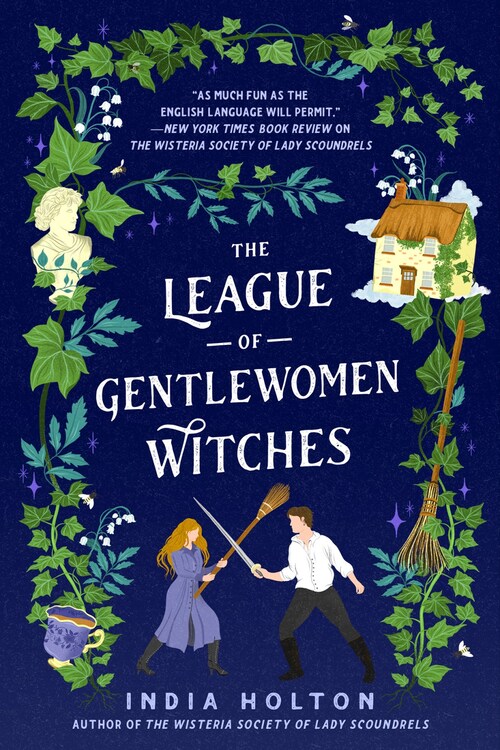 Miss Charlotte Pettifer belongs to a secret league of women skilled in the subtle arts. That is to say—although it must never be said—witchcraft. The League of Gentlewomen Witches strives to improve the world in small ways. Using magic, they tidy, correct, and manipulate according to their notions of what is proper, entirely unlike those reprobates in the Wisteria Society.
When the long lost amulet of Black Beryl is discovered, it is up to Charlotte, as the future leader of the League, to make sure the powerful talisman does not fall into the wrong hands. Therefore, it is most unfortunate when she crosses paths with Alex O'Riley, a pirate who is no Mr. Darcy. With all the world scrambling after the amulet, Alex and Charlotte join forces to steal it together. If only they could keep their pickpocketing hands to themselves! If Alex's not careful, he might just steal something else—such as Charlotte's heart.
Romance Historical | Romance Paranormal [Berkley, On Sale: March 15, 2022, Trade Size / e-Book, ISBN: 9780593200186 / eISBN: 9780593200193]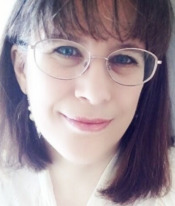 India Holton is the author of The Wisteria Society of Lady Scoundrels, a fantastical romcom set in an alternate Victorian era. She lives in coastal New Zealand, where she grew up running barefoot around islands, following ghosts through forests, and messing around in boats. She spent several years teaching and now writes about plucky girls, unconventional women, and the men who love them. India's writing is fuelled by tea, buttered scones, and thunderstorms.
No comments posted.