1--What is the title of your latest release?
2--What is it about?
Arthur Humphries, Duke of Osborn, made a vow he would never marry; Beatrice, the widowed Marchioness of Castleton, vowed never to wed again, having been married to a feral lupine Shifter. Threats to the wellbeing of both ensure they carry out George's plan, but as they work together to put Arthur's home place back to rights, will they be able to resist their growing attraction? (Nope.) Touchstone tropes are grumpy/frosty (my own spin on grumpy/sunshine) and found family.
3--What do you love about the setting of your book?
I am crazy about home renovation shows and the chance to write about a fixer-upper was so much fun. Given the time period, though, there is neither shiplap nor subway tile.
4--How did your heroine surprise you?
Beatrice has a bawdy sense of humor, aided and abetted by her sister-in-law Charlotte. She is slightly naive and doesn't always get the saucy jokes Charlotte and her husband Ben make, but they make Beatrice want to laugh out loud — which, as a refined lady, she struggles against!
5--Why will readers love your hero?
Arthur is a big, burly, growly bear and has the biggest heart of any MMC I've written yet. He is a good brother, he loves his busybody of a sister-in-law, he lets his nieces and nephew wrestle him to the ground... and he instinctually takes supreme care of his initially unwanted, and on her part, initially unwilling, wife.
6--What was one of your biggest challenges while writing this book (spoiler-free, of course!)?
This is my first series, and I hadn't made a style sheet — hadn't even known to — so I had a heck of a time making sure I kept all the Shapeshifter lingo consistent with the first book in the series, A WOLF IN DUKE'S CLOTHING, I thought I'd made notes and taken screenshots and all that... and I had, but there was inevitably something I'd forgotten about. (Happily, my copyeditor at Sourcebooks made one, so it was plainer sailing for book three, A DUKE AT THE DOOR.)
7--Do you look forward to or do you dread the revision process?
I love it. I feel like it's when the writing really happens when the term 'craft' really enters into it. I've got down everything I wanted to get down, which then allows me to find connections I hadn't known I'd made, and cultivate little seeds of characterization I'd hadn't known I'd planted. I love being edited and adore editors and copyeditors unconditionally.
8--What's your favorite snack to have on hand while writing?
I don't eat while I write. That may be weird? I got a water carbonator this year and I drink loads of water while I work. Ugh, that sounds so boring. I will start keeping a dish of macadamia nuts on my desk...
9--Where would you go for an ideal writer's retreat?
Somewhere in the countryside near the sea, and with access horses (see questions 13 and 18) during warm weather season. Long walks on the shore and horseback riding every day to clear my head, and all my meals prepared. And maybe it's place with more than one cottage and there's a main house and everyone meets for dinner. Actually, forget it as a retreat, I'd like to live there!
10--What's the best piece of writing advice you've received?
Read your work aloud. It is painstaking and can be painful, but it is the best way to catch all sorts of mistakes that the eye glosses over. I usually wait until my third draft before doing this, and it is invaluable for polishing dialogue, catching clashing words (like using sighed/sighed in two concurrent sentences), and refining prose. Even better-slash-worse: using a computerized reading site to read your manuscript to you. It is so so so terrible to hear a fake voice reading my words but I've caught many mistakes and discovered passages that need clarity, it is worth it. I'll never again submit a book without doing both.
11--Who is the fictional character you want to hang out with the most? (anyone in literature!)
I adore Grace Burrowes' Windham series and would spend endless happy afternoons calling on the sisters (Sophie, Louisa, Jenny, Maggie, and Eve), drinking pots of tea, and gossiping.
12--What's one of your earliest book memories?
Being in kindergarten and leaving the classroom to see a row of tables stretching down the corridor, covered in books. It was my first Scholastic books sale, only I didn't know you had to pay for them, and I ordered ten books! This did not go down well, when the bill came due! I am happy to say I have not changed one bit—except I can pay for my own books now.
13--If you had to write in a different genre, what would it be and why?
I wish I had the brain to do the sort of intricate plot that's required for cozy mysteries, because I love them and wish I could write one. I love mysteries and I adore the settings for cozies, I'd maybe set mine in an Irish village on the west coast of the country, near the Cliffs of Moher and the FMC would be a transplanted American. Not that I've given this much thought...
14--What song will automatically put you in a good mood?
'Magic' is a 70s classic by Pilot and it never ever fails to lift my spirits. In terms of this century, 'Tilted' by Christine and The Queens is an absolute banger. Also: anyone interested in Irish rock bands will be thrilled to discover Pillow queens, if they haven't already.
15--What is your favorite way to practice self-care?
A bath, with bubbles or a bath ballistic, plus candlelight and a very chill playlist.
16--What can you eat and never get sick of?
New York Chinese food. I live in Ireland and while there is much to recommend it, the Chinese take out is not the same. I could probably eat General Tso's Chicken every day forever.
17--Will you share a favorite, recent-ish book you recommend?
The latest in Julie Anne Long's The Palace of Rogue's Series, AFTER DARK WITH THE DUKE, which is my favorite of them all so far, and my one of my fave tropes, grumpy/sunshine, figures largely.
18--Do you have any hobbies?
I ride horses: I took it up as an adult, never having been near a horse in my life. I love it and go at least twice a week for lesson. Fun fact: a mare I knew played a big part in A WOLF IN DUKE'S CLOTHING; I'm happy to say she'll be back in Volume 3.
19--Are you an early bird or a night owl?
I am whatever bird thrives between noon and 5pm. Like, a hawk, maybe? Ooh, I just googled it and I am a diurnal raptor whose best time of day is late morning/early afternoon. So I am a hawk, coasting on the warm air currents of midday.
20--What can readers expect from you next?
A DUKE IN THE DOOR, the third book in my Shapeshifters of the Beau Monde series: Alwyn, Duke of Llewellyn is lion Shifter only recently liberated from a traveling menagerie where he was held captive for years. Prince George decides the only one capable of bringing the Welsh duke back to full health is the lady apothecary, Miss Tabitha Barrington, whose free spirit has been fettered by a return to England after years of traveling the Continent. You can read all about them in August 2022.
Shapeshifters of the Beau Monde #2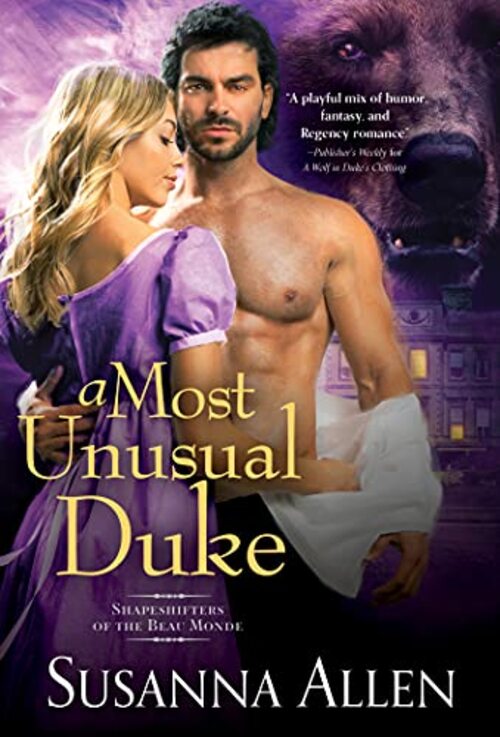 Bridgerton meets Werewolves Within in this sparkling shapeshifter Regency romance mixed with humor, steamy chemistry, and fantasy.
The Duke said he'd never get married...
The Prince Regent insists his cousin and fellow bear shifter Arthur Humphries, the Duke of Osborn, take a mate to ensure the continuation of their species. After all, Arthur is an Alpha, so he must set a good example. The duke would very much prefer to continue his comfortable bachelor lifestyle, but the Prince Regent is not a bear to be poked.
Beatrice, the widowed Marchioness of Castleton, is in possession of a powerful secret. She knows all about Shifters, her horrible late husband being one of them. At any moment, Beatrice could reveal the secrets of the Prince and those like him—unless the Prince can make sure she marries another Shifter.
A marriage between the Duke of Osborn and Beatrice is far from ideal for either one, but at least they won't fall in love...right?
Witty, fantastical, and entirely unique, A Most Unusual Duke is perfect for readers looking for:
A delicious Regency romp with a paranormal twist
A devilishly handsome Alpha hero
A marriage of convenience
A magical world to sink your teeth into
Praise for Allen's A Wolf in Duke's Clothing:
"Sparkling wit, scrumptious chemistry!"—Grace Burrowes, New York Times and USA Today bestselling author
"A playful mix of humor, fantasy, and Regency romance conventions, this genre-bending novel introduces a well-constructed world filled with distinctive and endearing characters."—Publishers Weekly
"Sparkling dialogue and steamy chemistry...Regency romance meets shape-shifters, to great effect."—Kirkus Reviews
Romance Paranormal [Sourcebooks Casablanca, On Sale: January 1, 2022, Mass Market Paperback / e-Book, ISBN: 9781728230399 / eISBN: 9781728230412]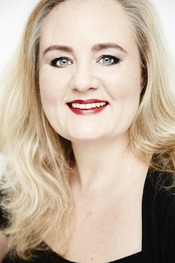 Born in New Jersey, Susanna Allen moved to Ireland for twelve months — in 1998. Susan is living her life by the three Rs: reading, writing, and horseback riding, and can generally be found on her sofa with her e-reader; gazing out a window and thinking about made-up people; or cantering around in circles. She loves every minute of it!
No comments posted.