Cade Callahan stood in the hospital gift shop staring at the colorful display of get-well tokens. A fluffy white unicorn with a purple horn and a glittery pink-and-purple mane caught his eye. Allie had loved unicorns as a little kid—she'd called them "Princess Ponies." But he was wrestling with the notion that now she might be too old for a stuffed animal.
If she was, she could always toss it. At least he was trying, he thought as he snagged the unicorn from the shelf. He considered a card but figured that might be a little too much. Besides, he doubted he'd find a card that read, 'Sorry I was a shitty dad. Get well soon'. For now, the unicorn would have to do.
He grabbed two bottles of water and threw a couple of Reese's peanut butter cups onto the counter, thinking they might want them on the drive up the mountain. He was already dreading the trip. His back hurt from sleeping in the chair next to her hospital bed, and between the two of them, they were grumpier than a grizzly who'd stepped in a hornet's nest.
I'm the grown-up, he reminded himself. Which meant he needed to be the better person, no matter how many of his buttons his thirteen-year-old daughter pushed. And if there were an Olympic event for pushing one's parent's buttons, Allison Raye would take home the gold and the silver.
As the teenage cashier rang up the items, his eye caught on the shelf of paperbacks behind her. He gestured to the books. "Do you have any YA?" he asked, recalling the conversation he'd had earlier with his daughter about the Kindle app on her phone. It was probably the longest one they'd had yet. Even though she'd rolled her eyes at his lack of knowledge of the young adult genre, he'd still gleaned three important pieces of information from the conversation: one, her phone was at home on the charger; two, her Kindle took the place of any real friendships she might have; and three, she was still a bookworm who loved to read.
The cashier turned to peruse the shelf and pointed to three books along the bottom. "It looks like we only have these three."
"Okay, I'll take them."
"Which ones?"
"All three."
"Sure." She added the books to his total, then slid them into a bag.
Allie was asleep when he got back to her room. He paused in the doorway to look at her and had to swallow back the emotion burning his throat. He and her mother had had their share of struggles, but he couldn't believe Amber was gone. And the thought that Allie could have died in that car accident too hit him like a punch to the gut.
He blinked back the sudden burn of tears as he peered at the dark purple bruises around her eyes and along one of her cheeks. A thin line of stitches ran next to her hairline—they weren't sure if she'd hit her head or something in the cab had flown by and cut her when the car rolled. Her right arm was bandaged and secured in a cream-colored splint, and her left leg was constrained in a blue boot, only sprained and thankfully not broken.
She looked so small, so young, like the little girl he remembered. He hadn't seen his daughter in almost a year. He'd contacted Amber a few years back, told her he wanted to try to see Allie more often, but she'd stalled and always seemed to have some excuse for why it wouldn't work. When Allie got a cell phone, he'd tried to call her, but the few times they'd talked had been stilted and awkward with neither of them knowing exactly what to say.
That's bullshit, he thought as he forced himself to step into the room. I should have tried harder.
Her eyes fluttered open, and a hard knot tightened in his chest as he saw the array of emotions flash in her eyes with each blink. They changed from almost glad to see him to confused to angry, then to agonizingly sad as the realization of her mother's death must have hit her again.
She winced as she tried to push herself up in the bed with her good hand but waved Cade off as he took another step toward her. "I got it."
He stayed where he was, not sure how to help her and knowing she wasn't ready to accept his help yet anyway. It used to feel like walking on eggshells around each other—now it felt more like land mines.
The nurse had said she'd be able to leave before lunch, and she'd changed into the shorts and one of the T-shirts his cousin Bryn and neighbor Elle had bought for her when they'd come down to Denver after they'd heard about the accident. The T-shirt was red and yellow and referenced being a Gryffindor on the front.
"Nice shirt," he said.
"Thanks. Cousin Bryn and your other friend Elle bought it for me. Apparently, they stalked me on Insta and figured out my size and that I love Harry Potter."
"I don't know what Insta is, but I'm glad you like the things they brought." He held out the unicorn. "Here, I got you something too."
"What's this?" she said, peering down at it.
"A peace offering. And an apology, I guess. And just something I thought you'd like."
"Wow. That's a lot of mileage to get out of one stuffed animal."
He shrugged. "I like to consolidate. I also mix my peas into my mashed potatoes and gravy."
She wrinkled her nose. "Gross."
"What? It keeps them from rolling off the plate." He'd been trying to make her smile—just one instant of her lips curving up—and he thought he might have had it. But then her face shut down again as she pushed the unicorn into the tote bag with the rest of her things. "They gave me a bag with my stuff in it, but I don't know if I want it anymore."
The hospital had given him a bag with his ex-wife's things as well. He'd taken a quick look inside—enough to see some clothes, a pair of sneakers, and a streak of blood across the front of Amber's purse. Being on the rodeo circuit, he was no stranger to blood, but it was different when it belonged to the mother of his child who had been alive and breathing less than twenty-four hours ago. He'd twisted the bag closed and stowed it behind the seat in his truck.
***
Excerpted from How to Cowboy by Jennie Marts. © 2021 by Jennie Marts. Used with permission of the publisher, Sourcebooks Casablanca, an imprint of Sourcebooks, Inc. All rights reserved.
Creedence Horse Rescue #3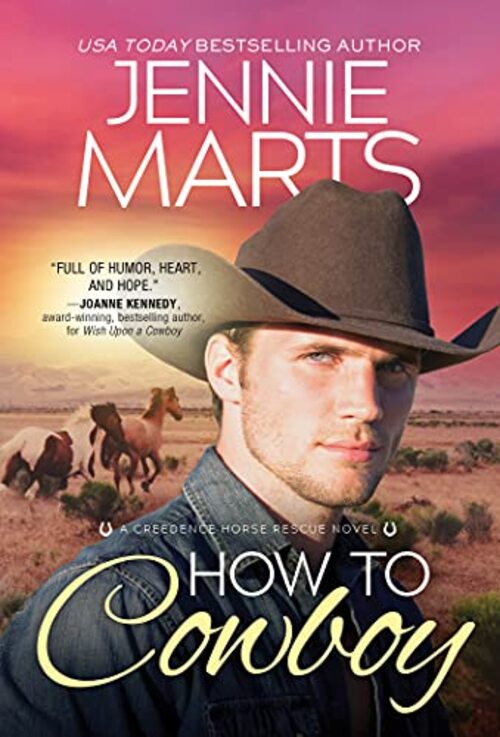 For fans of Carolyn Brown, Maisey Yates, and Jennifer Ryan, this steamy, emotional cowboy romance has all your favorites:
A hunky single dad showing his daughter the ropes
A heroine looking for a fresh start
Leaning on each other through hard times
Irresistible attraction
Rescue horses and ranch animals with lots of personality
How do you go about healing a broken heart?
After one injury too many, Cade gave up the rodeo for a simpler life working at his cousin's horse rescue ranch. But his life turns upside down when his estranged daughter is placed in his custody after a tragic car accident. Wanting nothing to do with her father, thirteen year-old Allie struggles to adjust to her new life.
Nora Fisher never thought her last relationship would leave her empty-handed and empty-hearted, back home in her mother's basement. Taking a job as a physical therapist for an injured young girl seems like a sound plan. Except she isn't prepared for the girl's hunky cowboy dad to be so involved.
Cade and Nora are both in way over their heads, but must find a way to work together to help Allie and the horses on the rescue ranch. And as they lean on each other, they just might heal their hearts and find a way to love again.
Praise for Jennie Marts:
"Funny, complicated, and irresistible. Sometimes a cowboy isn't perfect but you got to love him anyway."—Jodi Thomas, New York Times bestselling author, for Caught Up in a Cowboy
"Pulled me in from the very first page... a steamy, heartfelt romance."—Romance Junkies for A Cowboy State of Mind
"A fun, charismatic, and extremely engaging read."—Harlequin Junkie for It Started With a Cowboy
Romance Western [Sourcebooks Casablanca, On Sale: January 1, 2022, Mass Market Paperback / e-Book, ISBN: 9781492689706 / eISBN: 9781492689713]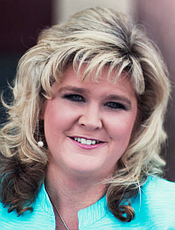 Jennie Marts is the USA Today bestselling author of award-winning books filled with love, laughter, and always a happily ever after. She is living her own happily ever after with her husband, two dogs, and a parakeet that loves to tweet to the oldies, in the mountains of Colorado.
No comments posted.