Instead of trying to find your perfect match in a dating app, we bring you the "Author-Reader Match" where we introduce you to authors as a reader you may fall in love with. It's our great pleasure to present Julie Hamilton!
Writes:
I write contemporary romance with heat, humor, and heart. My debut novel, JUST FOR SHOW, is about an airplane meet-cute that goes viral and sparks a fake relationship for social media. Luke is a home renovation TV star and Audrey is a photographer launching her own business. His producers want him to keep posting about Audrey, and she's desperate to get attention for her business. Fake dating is the obvious solution. But keeping things fake proves harder than either of them thought…especially when they go away for a weekend and there's only one bed. When their temporary fling turns into real feelings for each other, they have to decide if an actual relationship is worth the risk to their hearts.
About:
I'm originally from Pittsburgh and now live near Chicago. I love watching TV (my favorite shows are Ted Lasso, House Hunters, and the many iterations of the Real Housewives franchise), listening to podcasts, doing the New York Times crossword and Spelling Bee every day, and adding more romance novels to my TBR. When I'm not doing any of those things (or working at my day job), I'm writing romance.
What I'm looking for in my ideal reader match:
My ideal reader match for JUST FOR SHOW must love:
Kind, patient heroes who know their way around a set of tools
Ambitious heroines who go after what they want
Home renovation shows
Humor in their romances
Steamy scenes
What to expect if we're compatible:

Strong friendships and close family relationships
Characters who support each other's personal and professional goals
Make-your-heart-pound chemistry between the main characters
Vibrant city settings
Hot dudes in Henleys
#TwitterBae forever…
They'll fake a relationship for the social media exposure, but can they be more than a hashtag?
Here's how things are going so far for me in Chicago:
1) Messed up my attempt at asking out the gorgeous woman next to me on the plane.
2) Couldn't catch up to her at O'Hare.
3) I'm hoping she finds me on Twitter.
4) Maybe if she sees this, we can split another cheese plate some time.
It doesn't take long for Luke Murphy's tweet to go viral. So it also doesn't take long to reconnect with Audrey. Nailed it. But at what cost? His network has put his whole career as a TV home renovations carpenter on the line. A midair meet-cute is exactly what they want.
After recovering from the shock, Audrey Whitaker can see the benefits of faking a relationship for social media exposure. She'll get the publicity to launch her photography business—her lifelong dream—and she'll get to spend time with a man who can, as his fans say, "really fill out a plaid shirt."
Luke and Audrey agree to spend the summer together to get what they each need, then say goodbye. And to keep it professional, they'll follow all the rules…except the "no kissing" one. And maybe the "no sex" one, too! But with so much on the line, they definitely can't fall in love.
Romance Contemporary [Carina Press, On Sale: December 28, 2021, Mass Market Paperback / e-Book, ISBN: 9781335475244 / eISBN: 9780369720221]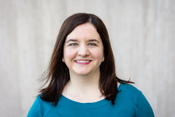 Julie Hamilton has been writing stories for as long as she can remember. She fell in love with romance novels during the summer between quitting her newspaper job and starting grad school, when she realized she was looking for a love story in every book she read. She writes contemporary romance with heat and humor that features characters chasing after their dreams—and finding happily ever after along the way. Originally from Pittsburgh, she now lives near Chicago.
No comments posted.