We settled into a silence that was less awkward than I'd worried it would be. Colin played with his phone—he'd discovered a daily crossword puzzle app that could keep him occupied for hours. I thought about sketching, but decided I had a better way to spend the time. I pulled up a website I'd scoped out earlier on my phone.
"Hey, Col?"
"Yeah?"
"Can I ask you some questions?"
"I guess. Why?"
I shrugged. "Oh, I dunno. To get to know you better."
"Sure, shoot." He turned his attention back to his game.
"Would you like or dislike inspecting a roof for leaks?"
"Considering I have no idea how I'd do that, dislike."
"No, but, pretending you did know how to do it, would you like doing it?"
He looked off into the distance for a moment, and I took the opportunity to make sure Evelyn's house remained still and inactive. "Yeah, I guess if I had the skills, I'd like it. It would get me outside."
I clicked like on the form. "Okay, cool. What about analyzing the structure of molecules?"
"What? No. I'd be in a lab all day." He shuddered.
Dislike for sure, then. "Coordinate a business conference."
"Um, fuck no."
"Plan a marketing strategy for a new company."
"No. What the hell kind of 'get to know you' questions are these?"
"Twenty-first century ones. How about giving a speech in front of a crowd?"
"I'd rather have my teeth pulled without anesthesia, thanks."
I ran down the other questions on the screen between looking up at the house I was supposed to be watching, and pressed submit.
"That was an aptitude test, wasn't it?" Colin arched a brow at me.
"Uh, n-no," I stammered, then sighed. "How'd you know?"
"There's no way in hell 'get to know you better' questions give a shit if I'd like to build things. What're the results?"
A graph appeared on my screen and I frowned at it. "It says you're a caretaker."
"Sounds about right."
"How do you figure?"
"Do you think I got into firefighting because I like fire?"
Okay, good point. "I hoped it would give me a list of careers that might be good for you, and then we could go through them and find one you'd like to pursue."
Colin put his phone facedown on his thigh. "I know what I want to do with my life. Be a firefighter."
"Yeah, but—"
"It's not possible right now. I know. But, eventually…"
"Are you sure? You could do anything else. Hell, you could get your PI's license and—"
"Oh, with all due respect, fuck no." He chuckled softly. "My brain doesn't work like yours. I'm not strategic, at least not like you are. Watching you do your thing is neat, but I don't want it to be my thing. You know?"
Yeah. Kinda, sorta. Everyone had their own ambitions.
All thoughts of our conversation fled as Evelyn Alfonso—her ash-blond hair pulled back into a low ponytail, an oversized cardigan covering an equally voluminous T-shirt and the jeans stretching over her generous hips—stepped out of her front door. Everything she wore, other than her blue jeans, was bland in color, blending in with her ecru skin. I leaned forward and brought my camera to bear, zooming in and snapping pictures, trying to capture whether there was a golden class ring on one of her fingers. I searched through the viewfinder, but other than a glint of a pair of thin rings on her wedding ring finger, there was nothing.
Shit. Evan, you idiot, of course there isn't. Gabriela said that Stanley wore his ring on his index finger. So, presumably, it would've been too big for Evelyn to wear it on hers. But maybe as a pendant…
I focused the camera on her neck and sure enough, hanging from a golden chain, was a ring that couldn't be any other than Stanley's. It was gold, big, bulky, clearly a man's ring, and it sported a large sapphire.
"Bingo." I held down the camera button and it triumphantly whirred through a dozen shots. "Got her."
"Uh, Evan?"
"Yeah?"
"Isn't this Tommy?" Colin held out his phone. "In the video."
"Ugh, another one?" A few weeks ago, the paranormal community had been the target of a mind-control plot—for reasons we couldn't determine—and one of our bandmates had fallen victim to it. Tommy had roamed the Distillery District in full vamp mode, snarling at random humans, until we'd managed to snap him out of it. Afterward, we'd found at least a half-dozen videos online that had captured the incident. It hadn't worried me too much, since the restaurant-goers who'd posted them were convinced it was publicity for a vampire movie being filmed in the area.
Of course, there was no such thing. Movie, I mean—there were definitely vampires.
"This one's…a little different." He jiggled his phone in invitation.
I'd gotten what I needed for Gabriela—and god, I loved it when cases were nice and easy to solve—so I put down my camera and took his phone. Restarting the video, I saw the familiar scene of the Distillery, with its multiple restaurant patios, rough red brick walls, fairy lights strung up around the tables, all paired with jovial conversation and laughter. The person holding the camera zoomed in on tall, blond Tommy. He looked like an all-American college football player, with his wide shoulders and athletic build. You know, except for the vampire stuff.
I'd actually seen this particular angle in another video, and I was about to point out that it was a repeat, when text appeared on the screen.
THIS IS NOT SPECIAL EFFECTS
It switched back to the video, to a closer zoom. There was no mistaking Tommy's glowing eyes or the fangs jutting from his upper gums.
THERE IS NO VAMPIRE MOVIE FILMING ANYWHERE IN THE GTA
Shit. I'd been hoping no one would do their research on that. The video zoomed in on Tommy's hands, capturing his claws.
WATCH CLOSELY
The video focused in on the dark figure trailing Tommy around the Distillery—Jonah, his best friend and complete opposite. Jonah was night to Tommy's day, embracing the entire goth mystique. They were both vampires, but of the two of them, only Jonah looked the part. Jonah hadn't been able to stop Tommy, as much as he'd tried, but he'd laughed it off, told people it was special effects. I'd known he was terrified for his best friend—he'd called me in desperation, needing help, and we'd finally corralled Tommy and woken him from his stupor.
In the video, Jonah's dark eyes flared yellow.
"Shit," I gasped.
The video showed the split-second again, and again. It was a momentary slip of Jonah's control, brought on by stress and fear for his friend. Totally expected and, if it hadn't been filmed, no one would have noticed it. Or, if they did, they would have chalked it up to a swaying light on one of the strings surrounding the restaurant patios. But in conjunction with Tommy's glowing yellow eyes…
THEY ARE ALL AROUND US
The video faded to black.
(c) Jenn Burke, Carina Press, 2021. Shared with permission from the publisher.
Ashes and Dust #2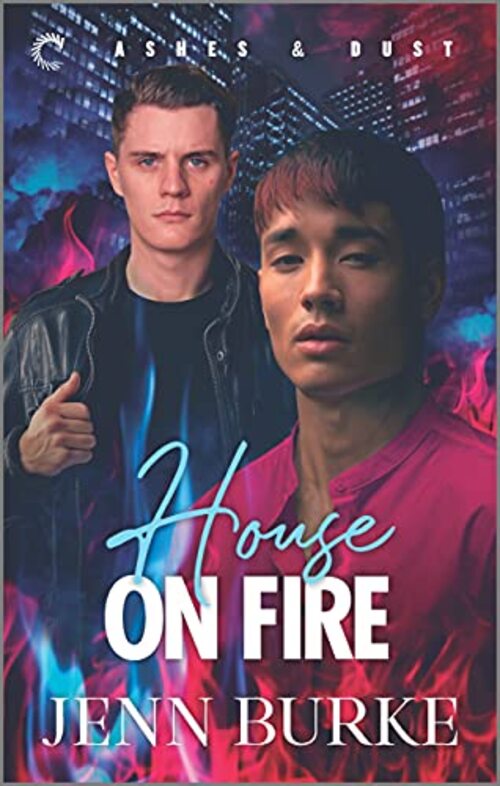 A Fated Mates Romance
He's done fighting his attraction to the sexy vampire…
To say former firefighter Colin Zhang is struggling to accept his new life would be a vast understatement. He's bound to a vampire he didn't choose, living in a house filled with creatures better left to the imagination—there's a lot to resent. As much as he tries, he doesn't resent Evan—far from it. But he needs to know that what he feels is real and that requires breaking their bond. No matter the cost.
Vampire private investigator Evan Fournier is more than willing to explore his connection with Colin, but the crisis at hand keeps getting in the way. Their bond makes it dangerous for them to be apart, so he's forced to put the other man at risk while he investigates the latest in a series of murders. If he doesn't find the killer soon, the paranormal community will seek retribution on all humans, not just the guilty ones.
As the tensions escalate, Evan and Colin find solace in each other and their growing attraction. But if their bond is broken, attraction—even love—might not be enough to keep them safe.
Romance LGBTQ | Romance Paranormal [Carina Press, On Sale: September 16, 2021, e-Book, / eISBN: 9780369701848]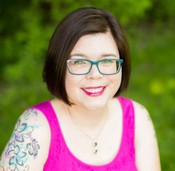 Jenn Burke has always been drawn to weird and wonderful stories, particularly those juxtaposed with our normal, boring world. Her love of the written word prompted her to get a Bachelor of Arts in English Literature from the University of Ottawa, and she's spent the years since working in corporate and web communications—and dreaming up weird and wonderful stories of her own. A self-confessed geek, Jenn loves spending time in the worlds of video games, surfing her favorite websites, reading all the romance novels she can get her hands on, and accumulating an impressive collection of nerdy t-shirts. She currently lives outside of Ottawa, Ontario, with her husband, two kids, and her writing helper, Alenko the husky.
No comments posted.