"That is, without question, the most beautiful creature I've ever seen."
Ruby gave a start of surprise at the unexpected voice so close behind her and jerked the leash in her hand. Predictably, the dog on the other end—­a poodle shaved and trimmed into a series of white puffs like a Q-­tip—­didn't move. Ruby had been holding on to her for over five minutes, and she had yet to see the dog do anything but blink. Her owner had commanded her to stay, so stay was what she intended to do.
"I shouldn't say that," the voice continued in a low, flirtatious rumble. Its owner, a tall, well-­built stranger with shoulders like a linebacker, smiled as he stepped close. "I'm not supposed to play favorites, but you've obviously put a lot of time and effort into this dog. What's his name?"
"Her," she said. "It's a girl dog."
"Well, she's got something special, that's for sure." The man extended a hand, his eyes smiling down into hers. They were gorgeous eyes, so dark they were almost black and ringed with the kind of long, curling eyelashes that Ruby had regularly pasted on when she was kid. "I'm Spencer Wilson, by the way. In case you can't tell, I'm one of the judges."
In studded jeans and a faded T-­shirt that stretched a little too tight for Ruby's tastes, he didn't look like much of a dog-­show judge, but she knew better than to be deceived by appearances.
"Ruby," she said, shaking his hand. "Ruby Taylor. Only there's been a mistake. I'm not—­"
At the sound of her voice, the only other dog in the room sent up a howl of dismay. They were in a hallway of sorts, waiting to submit their entry to the West Coast Canine Classic, and the golden retriever wasn't happy with the delay. He wasn't happy about anything, especially the fact that Ruby was giving all her attention to the perfectly poised poodle that had been left in her care. The poodle's owner had forgotten some papers in the car and dashed out to grab them, begging Ruby to keep an eye on her precious darling in the meantime.
Unfortunately, Wheezy wasn't a dog who shared. Wheezy wasn't a dog who did much of anything except make Ruby's life difficult.
"Yikes," the man—­Spencer—­said as he took in Ruby's actual charge. It didn't help that Wheezy had met with an accident on the way in, which mostly involved the discovery of a mud puddle and a determined effort to reach the bottom of it. "What happened to him?"
"It rained this morning," Ruby said, feeling defensive. Okay, so Wheezy didn't look his best right now, but the competition hadn't technically started. They were just here to drop off their paperwork and pay the entrance fee. There were still a good two months until the actual dog show. "There are puddles all over the parking lot."
"And yet you managed to get your dog inside without falling into any." Spencer grinned at her. It was a good grin, the kind that started in his eyes and crinkled into laugh lines around his mouth, but something about it felt off. Probably because the man was mocking poor Wheezy before they'd even managed to get a foot in the door. That didn't seem like very professional dog-­show-­judge behavior to her. "I'm sure I don't have to tell you how many of these we get every year."
"How many whats you get?" Ruby asked, suspicious.
He heaved a mock sigh. "Everyone with a beloved family pet seems to think they can just roll up here and enter the show. No training, no grooming, no pedigree… I mean, come on. Would you bring an animal like that to the most prestigious dog show on this side of the country? To compete against a gorgeous girl like this one?"
Spencer placed a reverential hand on the poodle's head, but his gaze wasn't focused on the dog. Instead, his wide, obvious smile took Ruby in from top to bottom.
She pretended not to understand him.
"He's not that bad," she said with a nod at Wheezy, who'd given up howling to scratch at an itch on his neck. Enthusiastic flecks of mud splattered all over the white linoleum. "A little rough around the edges, maybe, but he has something this poodle doesn't."
"Fleas?" Spencer suggested with a laugh.
Ruby wasn't impressed. "I was thinking more along the lines of personality."
To be fair, the man wasn't entirely wrong. Wheezy—­a golden retriever of questionable parentage, zero formal training, and the personality of a slug—­was the last animal on earth who should be entering any dog show, let alone the West Coast Canine Classic.
Yet here they were, doing it anyway.
"Why, dear—­don't you think you can help Wheezy win?" Wheezy's owner had asked. Mrs. Orson, who weighed all of a hundred pounds soaking wet, had been in bed at the time, which was Ruby's excuse for giving in so easily. Mrs. Orson always looked her frailest while she was lying down. And she knew it, too, the old sneak. Of all the residents at the retirement community where Ruby worked as a nursing assistant, Mrs. Orson was the wiliest. "I was so sure you could manage, with all your experience in pageants… No matter. It's only a dying woman's last wish. I'll ask Harry if he can do this one small thing for me instead."
Harry, who'd never set foot on a pageant stage in his life. Harry, who'd once thrown Mrs. Dewan's Maltese into the community pool after Ruby had spent two painstaking hours combing the tangles out of its hair. Harry, who'd gladly let Ruby do every bit of work around the retirement community and then proceed to take credit for it.
If Ruby had stopped to think for five seconds, she'd have seen Mrs. Orson's tactics for what they were. The older woman had been threatening to die for as long as Ruby had known her and always rallied the moment she got her way. But Ruby, with her pride on the line and the image of Harry Gunderson in her stead, had ruffled up, hotly defended her ability to claim any crown no matter the odds, and accepted the task set before her: to bring home a dog-­show trophy for the world's most useless animal.
In theory, putting Ruby in charge of a golden retriever's show-­dog debut was a sound plan. For the first eighteen years of her life, she'd been a show dog herself. Okay, she'd technically been a show human, but the idea was the same. She'd been primped and curled and trained to jump through the right hoops. She'd spent hours every day on grooming and deportment. She'd gazed longingly out the window at the other children chasing balls and going for walks.
She'd won, too. Her childhood bedroom—­untouched by time or her mother's hands—­was a testament to all she'd once been and would ever be. The walls were lined with obscenely large tiaras, stacked and organized by size and weight. Should the Big Quake ever hit Seattle and raze it to the ground, no one standing inside that room would survive. They'd be buried under a mountain of Ruby's gilded—­and wasted—­potential.
"Where's his owner, anyway?" Spencer asked with a glance at his watch. "It's past ten. The show's probably closed to new entries by now."
"Probably?" Ruby echoed. "Shouldn't you know? I thought you were one of the judges."
"I am," Spencer was quick to say—­almost too quick, if you asked her. "Which is why you're in luck. For the small price of dinner with me, I'd be willing to fudge the time stamp in your favor."
Every part of Ruby recoiled. Like most women who'd grown up on the stage, she was well aware of the image she presented to the world. Her hair was a tangle of golden-­blond curls that she tamed into submission every morning, her eyes a rich brown that she made the most of with carefully winged eyeliner. Add her mother's fantastic bone structure and years of good skin care into the bargain, and Ruby had all the traditional Eurocentric beauty standards checked.
None of that made interactions like these more palatable. Getting chatted up by strangers was nothing new, but she didn't take well to such heavy-­handed tactics. It was nice when a man at least pretended to be attracted to her personality first.
Before she could tell Spencer what she thought of his methods, the poodle's owner appeared in the doorway, breathless but holding the requisite forms. As Ruby knew from the stack in her own bag, there were a lot of them. You could buy a house with less.
"Thank goodness," the woman said. "I hope I'm not too late. Muffin would be devastated to miss the deadline."
Muffin looked as though she'd never suffered a disappointment in her life, much less a devastation, but the poodle sniffed happily as her owner drew near.
"Muffin?" Spencer asked with a laugh. "Did you name him that because he ate too many of them?"
Ruby stiffened. While there was no denying the golden retriever was somewhat…portly, she didn't appreciate jokes being made at Wheezy's expense. It was hardly his fault that he was carrying a few extra pounds around the middle. Life as the pampered darling of a dozen elderly ladies would do that to a dog.
"Oh dear." The woman took the leash from Ruby's hand and cast an anxious eye over her poodle. "Do you think she's put on too much weight? We switched to organic chicken breast recently, but I didn't think—­"
"Wait." Spencer reared back with a start. He glanced back and forth between the two women and then the two dogs, confusion lowering his brow. "This poodle belongs to you?"
"We've been looking forward to this all year, haven't we, Muffin?" the woman cooed. She swelled with maternal pride. "Muffin comes from a long line of show dogs. Her mother took Best of Breed at the National Dog Show three years ago."
"Come, Wheezy," Ruby said, hoping to put Spencer in his place. It didn't work. Wheezy showed as little interest in her as he did the air around him. He heaved a sigh and dropped to his belly instead.
"We're still working on that one," she explained. They were still working on all of them, but she wasn't about to admit that out loud.
The poodle owner spoke up. "We're not too late to enter, are we? We were both here in plenty of time, I promise. It was only that I left the silly papers in the car, and this woman very nicely offered to wait for me before heading in."
"Weren't you just saying you'd be willing to change the time stamp for me?" Ruby asked, sensing an opportunity. "It's only fair that you'd offer the same to my friend and her poodle."
Hope lit Spencer's eyes. "Does that mean you'll go out with me?"
"Of course not. But I'm sure the AKC would love to hear about how you use dog-­show extortion to trap women into dating you."
For the longest moment, Ruby was afraid she'd pushed too far. It was obvious that this Spencer guy was used to getting his way—­and even more obvious that he felt no remorse at breaking the rules to do it—­but she'd stopped using her physical charms to win pageant judges' approval years ago.
Ten years ago, in fact. And she wasn't about to change that now.
With a good-­natured laugh, Spencer threw his hands up in the air. "Fine. You win. I can't resist a gorgeous woman making threats. Welcome, both of you, to the West Coast Canine Classic."
(c) Lucy Gilmore, Sourcebooks Casablanca, 2021. Shared with permission from the publisher.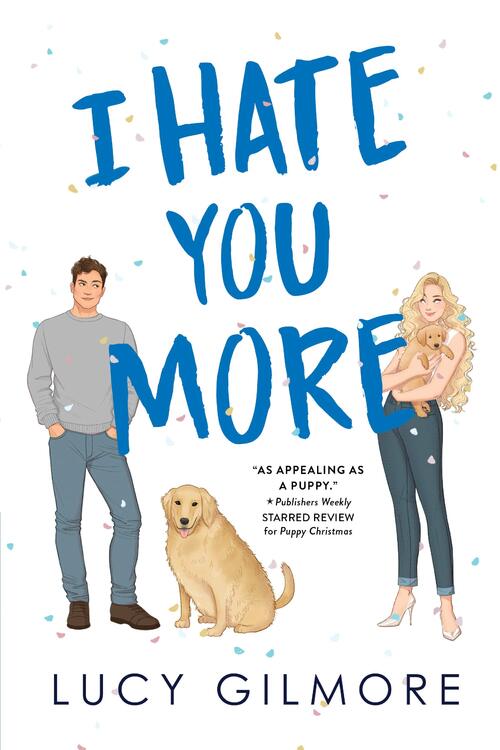 An unforgettably funny enemies-to-lovers romcom about a grumpy dog show judge, a determined former beauty queen, and a Golden Retriever more interested in stealing bacon than winning Best in Show.
Ruby Taylor gave up pageant life the day she turned eighteen and figured she'd never look back. But when an old friend begs her to show beloved Golden Retriever Weezy at the upcoming Canine Classic, Ruby doggedly straps on her heels and gets to work.
If only she knew exactly what the adorably lazy lump of a dog was getting her into.
If there's one thing veterinarian Sam Wilson knows in this world, it's dogs. Human beings are a different story. Especially gorgeous women clearly in way over their heads. As judge for the local dog show, Sam advises Ruby to quit while she still can, but her old fervor for winning has returned--and she wants to show the stern, broody-eyed judge that she's more than just a pretty face. In the end, she'll show him who's best in show.
Romance Comedy [Sourcebooks Casablanca, On Sale: November 2, 2021, Trade Size / e-Book, ISBN: 9781728226002 / eISBN: 9781728226019]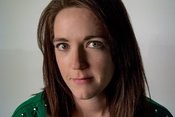 Lucy Gilmore is a contemporary romance author with a love of puppies, rainbows, and happily ever afters. She began her reading (and writing) career as an English literature major and ended as a die-hard fan of romance in all forms. When she's not rolling around with her two Akitas, she can be found hiking, biking, or with her nose buried in a book.
No comments posted.