Hi! I'm Christina Hovland, author of APRIL MAY FALL. I'm excited to be here today to tell you all about the story.
April is a mommy influencer with a Calm Mom brand she's curated to show others how to embrace the serene lifestyle. Unfortunately, life gets pretty hard, and April is caught on a live video feed not being calm. (Not at all.)
Enter Jack Gibson, the fixer from the company that purchased her brand. He's there to help her find her way back to calm. Shenanigans and a love story follow.
A is for April. The heroine of our story.
P is for piping. Piping hot steamy scenes between April and Jack.
R is for Rohan. Rohan and the other children (Harmony and Lola) April is raising as a single mother.
I is for imaginary. Rohan is having a hard time processing his new life with a single mom and he's taken solace in a life filled with imaginary (and real!) frogs.
L is for ladies. April's life is filled with friends ready to help. If only she'd let them!
*
M is for mommy wars. Mommy wars is the name of the series.
A is for animal. The Davis family pet is a geriatric basset hound named Mayonnaise.
Y is for yummy. April's fall chili recipe, margaritas, and… donuts… are all yummy!
*
F is for Fix-It. Jack's job is to "fix it" when things go sideways.
A is for authentic. Authenticity is something April struggles with figuring out.
L is for legendary. Jack and April finding their way together is legendary.
L is for love story. A love story is precisely what you'll get with this book!
Mommy Wars #3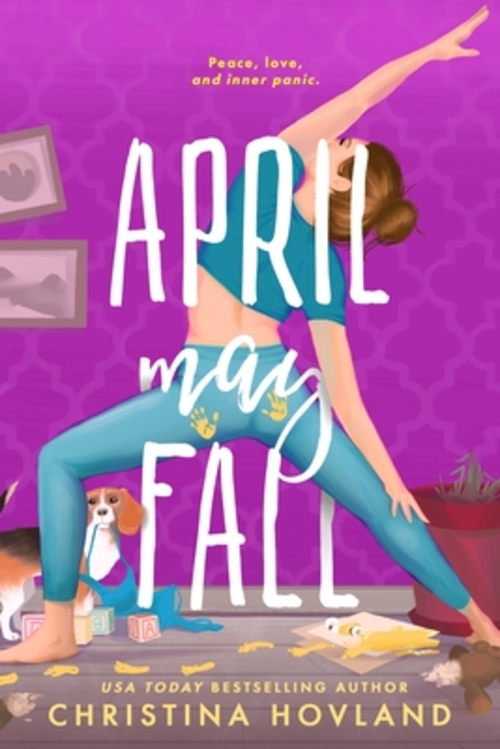 April Davis totally has her life in order. Ha! Not really. Yes, she's the Calm Mom—a social influencer with a reputation for showing moms how to stay calm and collected through yoga—but behind the scenes, she's barely holding it all together. Raising tiny humans alone is exhausting, but that's just the chewed-up cherry on the melted sundae of her life. Her kids aren't behaving, her husband left her for his skydiving instructor, and her top knot proves she hasn't showered in days.
Then a live video of the "always calm" April goes viral...and she's most definitely not. Enter Jack Gibson, April's contact at the media conglomerate that has purchased April's brand. The too-sexy-for-his-own-good Jack will help clean up April's viral mess, and even work with her to expand her influence, but toddler tea parties and a dog with a penchant for peeing on his shoes were definitely not part of the deal.
Now April's calm has jumped ship quicker than her kids running from their vegetables. Not to mention, the sparks flying between her and Jack have her completely out of her depth. Forget finding her calm—April's going to need a boatload of margaritas just to find her way back to herself again.
Romance Comedy [Entangled: Amara, On Sale: October 26, 2021, Trade Size / e-Book, ISBN: 9781649370921 / eISBN: 9781649371102]
Christina Hovland lives her own version of a fairy tale—an artisan chocolatier by day and romance writer by night. Born in Colorado, Christina received a degree in journalism from Colorado State University. Before opening her chocolate company, Christina's career spanned from the television newsroom to managing an award-winning public relations firm. She's a recovering overachiever and perfectionist with a love of cupcakes and dinner she doesn't have to cook herself. A 2017 Golden Heart® finalist, she lives in Colorado with her first-boyfriend-turned-husband, four children, and the sweetest dog around.
No comments posted.