Nash
A new start.
After driving a moving van fourteen hours, putting his stuff in storage, living out of a suitcase for two weeks while sleeping on his best friend Brandon's couch, and finally finding an apartment, Nash had a home.
It was the size of a shoebox…but it was a home.
He closed the door and turned to survey the studio. He didn't have much stuff—­he'd sold most of it before coming up north. The windows behind his couch overlooked Third Street. His bed was pushed up against the left corner of the apartment, a nook where the living space met the outer walls of the bathroom, creating a dedicated sleeping space. The renovated kitchen lined the right-­side wall, conspicuously smaller than any kitchen Nash had ever seen, with a door at the end for a bathroom.
He remembered the nights when the electricity went out and Mom had shouting matches with the electric company about extending their payment period. Memories of his twin mattress against the carpet made him thankful for the fact that he could afford a box spring now. While the walls could have used a new coat of paint, as Brandon so kindly pointed out, the place had character.
The truth was that college, a master's program, and a doctorate were all icing on the cake at a party Nash never expected to be invited to anyway. He was glad to be here, alive and successful.
It took him less than three hours to organize his apartment, and his appointments for utilities had been set up. It was time to explore the neighborhood and see some of the sights. Having a relatively free Saturday would be a rare occurrence after today, and since Nash loved history, perhaps it was time to look some up.
One of the other grad students at Vanderbilt, a Broadway buff named Rhett, had played the Hamilton soundtrack until even Nash was rapping along with every word. Alexander Hamilton was brilliant and a misfit and had moved to New York to change his life.
He didn't have a family either.
There was something about the connection to a great man that Nash loved, and he saw online that the Hamilton-Holly House, a place Alexander's son had owned, was close by. Better yet, there was a bagel place two blocks from there that had opened up again postpandemic to the joy of the neighborhood, according to Yelp reviews.
Nash's belly agreed with this plan by giving a loud grumble.
He tossed his sweaty move-­in clothes into the laundry basket by his bed, took a shower in record time, and was out the door in clean jeans and a tee minutes later.
The sunshine hit him in the face when he stepped out of the building. Brandon had once mentioned that staying indoors wasn't much of a New York thing until the recent pandemic. And now that it was over, people flooded the streets again—­some with masks, but all filled with relief at being able to escape their shoebox-­sized apartments.
"Our apartments are so small, we like to get outside," he'd said.
Nash could see the truth in this observation. Everywhere he looked, people pushed strollers, walked dogs, and carried large bags that probably contained their entire lives.
He loved it.
He loved to watch people, to imagine what their stories could be. He was the example, after all, of not knowing what someone had been through to get where they were, and he often imagined the same of others. Perhaps the homeless person on a bench had been a war hero. Maybe the woman working at Starbucks had once been a corporate honcho who lost her job in a recession and needed to feed her kids.
He strolled up Avenue A and swung by the Hamilton-Holly House a few blocks away for a glimpse. He'd read that a store used to exist on the main floor but had recently been cleared for apartments, so he walked by instead, observing the old brick and the colonial-­style roofline.
His belly gave a giant growl once more.
Time for the bagel place.
It was across from a park, where Nash could have sworn every bench was occupied with old friends chatting over coffee or letting their dogs roam in the vicinity.
He entered the shop, an unassuming narrow spot that deceived passersby by extending its wood floors deep into the building. A bakery bar was set up on the left with desserts and cream cheeses on display, with a kitchen behind it. The smell of bread wafted through the air, and Nash could see cooks mixing dough and placing giant trays of unbaked bagels into the industrial ovens. There weren't many seats, and a line wrapped around the store.
Nash's head spun with options. Birthday-­cake icing with a cinnamon raisin bagel? Olive-­pimento cream cheese?
"What can I get you?" The question came too soon.
"Uhh…"
Eventually, to the relief of the twelve people behind him whose impatient sighs turned audibly thankful when he settled on a sun-­dried tomato bagel with jalapeño and cheddar cream cheese, he got his food at the end of the counter and satisfied his grumbling stomach while walking home.
Nash tilted his face up to the July sun. It was toasty but still cooler than it would have been in Tennessee where his skin browned with only a few minutes of being outside.
He tossed his bagel wrapper in a garbage receptacle out for trash day, took the steps two at a time, pulled the door to his building open, and reached into his pocket to unlock the second set of doors, which gave residents access to their apartments.
Nothing jingled.
Frowning, he fished into the other pocket on his left leg.
In the move, in the middle of the many times he and Brandon had shouted, "Toss me your keys so I can grab the box from the truck," and the unpacking, Nash—­meticulous Nash—­had left his keys on the foot of counter space next to the sink. And his landlord's number wasn't programmed into his phone yet.
He closed his eyes, clearly picturing the keys and cursing himself for handing them over to Brandon so often that he lost track of them.
Dropping his head, his hands on his waist, Nash tried to focus and come up with a solution. He could buzz every apartment in the building and ask someone to let him in. At least he'd be past one set of doors, though it wouldn't solve the issue of getting into his apartment.
He tried it. Not a single person answered his ring.
His lease was in his email! A rush of joy coursed through him. He'd be able to call someone to get him in.
Thank God for technology, Nash thought as he scrolled through hundreds of messages in his inbox. Pulling up the number of his landlord from a scanned copy of the lease, he relished the surge of victory.
Until no one answered his landlord's phone.
"Goddamn! Do you hate me?" he exclaimed, looking up at the invisible being seated above, who he imagined laughing at his efforts.
"Should I give you a moment?" asked a voice from the door to the building.
Nash's head snapped to the door.
An Indian girl, with black hair to her waist, stood at the first set of doors, observing his conversation with…no one.
His blood rushed to his cheeks out of embarrassment, warming them.
"I'm sorry. I'm locked out."
"Are you new?" the girl asked, setting down two plastic bags of groceries that she'd been holding in one hand. "I don't think I've seen you around before."
"No… I mean, yes, I'm new, so no, you haven't seen me around before. I moved in today."
"Well, welcome. I can let you in if you'd like." She rummaged in her black tote and produced a set of keys… Was that a little elephant man hanging from the metal key ring?
Nash stared and she gazed at him expectantly.
"I just moved here from Nashville—­and it's been a scatterbrained few weeks. You'd think I'd remember something like my keys, but nope. Here I am. Keyless. And the landlord won't answer his phone so I can't get him to let me in."
He was rambling and he knew it. Maybe it was the unexpected chaos that blew his typically calm demeanor to smithereens. Maybe it was the realization setting in that he had left his bubble, that he had no friends in the city besides Brandon, and that life was very different here than in the friendly confines of his former home, but it was like he couldn't get his mouth to stop spilling words.
It could also be that this girl was beautiful—­and her expression hadn't become an ounce judgmental at his barrage of words.
Rather than look freaked out at the eruption of explanations, Nash noticed the girl's brown eyes had softened into sympathy. A smile crossed her face. Then she said something Nash didn't expect.
"Would you like a cup of chai?"
"Wait… What?"
"Well, the landlord only answers his phone after seven because he has a day job at the bodega, which he works most days of the week. You've got…" She checked her watch, one with an old-­fashioned black leather strap and a simple face, and glanced up again. "A half hour to kill. And I've found that chai can fix almost anything."
"Like a chai tea latte?" Nash asked with a relieved laugh. "It seems like this city runs on coffee."
"Well…yes, on both counts. But you're also never allowed to say 'chai tea latte' in my presence again."
"Why's that?"
"Because chai is tea. Why do people call it a 'tea tea latte'? Just say 'chai.' And why add in the 'latte'? Chai is meant to be made with milk. It's such a redundancy. In a city that claims that time is money, you'd think they'd stop repeating their words, no?" She looked at him expectantly.
Her smile remained the entire time, and Nash got the distinct impression she wasn't criticizing him. Finally, her words caught up to him.
"Well, then…"
"Kiran," the girl supplied.
"Well, then, Kiran, I'm Nash Hawthorne," he said, extending a hand. "And I would love a cup of chai."
(C) Annika Sharma, Sourcebooks Casablanca, 2021. Shared with permission from the publisher.
Chai Masala Club #1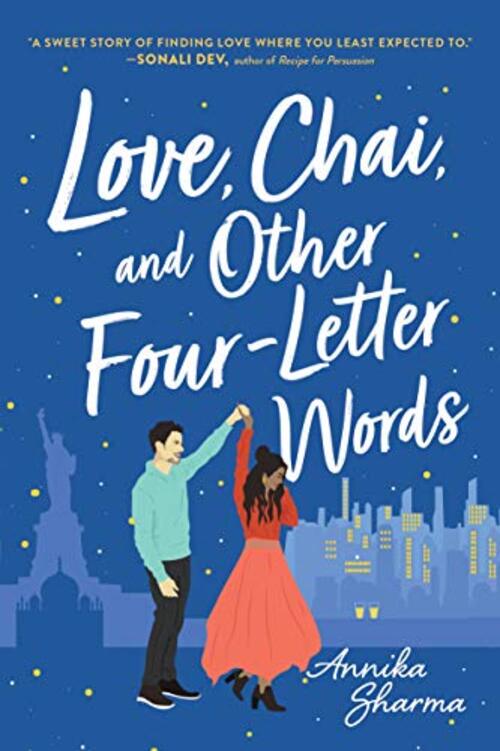 She's determined to be the perfect daughter, until she meets the perfect guy...
Kiran Mathur knows firsthand how dangerous love can be. After all, her sister's marriage in India nearly destroyed Kiran's family. So she's decided to redeem romance herself—by not falling for anyone who might disappoint her parents. That is, until she meets her new neighbor Nash Hawthorne.
Nash is a dedicated psychologist and committed to being alone. His family life has taught him the inevitability of abandonment, and he isn't ready to question his beliefs. But in spending time with Kiran, he starts to experience emotion he's never felt before.
For both, love feels like a risk. But when the future only starts to make sense with each other, it might be time to follow their hearts...
Multicultural Indian | Romance Contemporary [Sourcebooks Casablanca, On Sale: October 5, 2021, Paperback / e-Book, ISBN: 9781492665403 / eISBN: 9781492665410]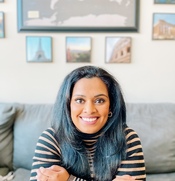 Born in Delhi and raised in central Pennsylvania, Annika Sharma followed her Penn State-loving heart to college in Happy Valley. There, she graduated with two Bachelor's degrees in Biobehavioral Health and Neuro-Psychology. She also holds two Master's degrees from Penn State and George Washington University, respectively, in Early Childhood Special Education and Public Health.
She is a co-founder and co-host of The Woke Desi podcast, one of the largest independently run South Asian podcasts in the world. She currently lives in New York City and works as a health communications manager by day, while juggling her writing and podcasting careers by night. She is a lover of endless conversations, college football, social justice, traveling, books, all things related to England, dancing, superhero movies, and coffee.
No comments posted.