It was quitting time, and Bridgette was shutting down her office when Wade appeared in the doorway.
"Hey, darlin'. Wanna go with me to get a Christmas tree for the store? I'll throw in a snow cone for your trouble."
"Oooh, yes!" Bridgette said.
"Do you want to take your car home first, or leave it here and I bring you back to get it later?"
"Are you going to bring the tree back here to the store?"
He nodded.
"Then I'll leave it here."
She grabbed her jacket and purse and followed him through the store as he locked up access doors and made sure the security cameras were working. Wade noticed the pensive look on her face and stopped long enough to give her a quick hug.
"This was a weird day, wasn't it, honey? Are you okay about everything that happened?"
She sighed. "Yes. Just sorry for Josh's family. I know LaJune and the kids well enough to visit with them when I see them around. This makes me sad for them."
Wade pushed a curl from her forehead, then brushed a kiss across her lips.
"I think Uncle Dub was feeling the same. He called me a couple of hours ago to let me know that he went by Josh's house. He thinks they were having a hard time of it because of Josh's gambling."
Bridgette gasped. "Gambling? Is that why he did it?"
Wade nodded. "Dub thinks this will likely end their marriage. He said she has family up around Savannah. However, that means a family is leaving Blessings."
Bridgette sighed. "People come and people go, and life goes on." Then she gave Wade a quick hug. "I'm just glad you came back to Blessings."
He wrapped his arms around her. "And I'm glad you were still here, even if it did take half a year and me throwing something of a fit to get you to notice me."
Bridgette shook her head. "You are never going to let that go, are you?"
"Maybe, one day," Wade said, and then kissed her. "Now, let's get the rest of this place locked up and go get a Christmas tree. I want to display those ornaments we have for sale, and the best way to do that is decorate a tree with them."
"Oh…I want to help," she said.
Wade grinned. "Oh! You are officially in charge of decorating."
They left the feed store arm in arm, got in the store truck they used for in-town deliveries, and then went straight to the Crown.
"What do you want to do first…snow cone or tree?" Wade asked as he parked.
"Let's do both. Get snow cones to eat while we look at trees. Just let me get my jacket. Eating that shaved ice is going to make me cold, but it will put me in the Christmas mood for sure."
The snow-cone stand looked like a little brown cuckooclock with snow on the roof. The steep slope of the pointed roof had ornate gingerbread trim, and the place where the cuckoo would have come out was the window where the orders were taken.
The workers inside the stand were dressed like elves, with green suits and pointed hats, and the menu of available flavors posted on the wooden sign beside it was straight out of the North Pole.
Rudolph's Nose—cherry flavor
Christmas Tree—lime flavor
Candlelight Bright—lemon-pineapple flavor
Heavenly Blue—raspberry flavor
Starlight White—coconut flavor
Santa Wrecked the Sleigh—combo of all flavors
There were small tables with folding chairs set up around the stand where people sat and visited and a short line at the window.
"What's your poison?" Wade asked as they approached the stand.
"Candlelight Bright!" Bridgette said.
Wade grinned. "Go say hi to your brother. I'll get in line to order."
Bridgette took off across the lot toward the Christmas trees and noticed Junior loading up a tree for Jack Talbot. It would be Jack and Hope's first Christmas as parents. Bridgette shivered longingly. Wade and babies sounded wonderful to her.
As she waited for Junior to finish the transaction, she couldn't help but notice the confidence he had about him now—a drastic change from the way he'd been before. It was a tragedy their mama had to die before the secret that had devastated the family was finally revealed and resolved. But after it all came about, it was as if someone had freed Junior from an emotional prison. He had a steady job now, had finished his GED, and had resurrected his personal life, as well. He'd been dating a sweet little woman named Barrie Lemons who lived in the Bottoms, and had finally moved in with her about five months ago. Barrie had two small children—Lucy who was school age, and Freddy who was still a toddler—and Junior was smitten by all three of them.
And then Junior saw Bridgette and came running to give her a quick hug.
"Hi, Birdie!"
"Hi, Junior. How's it going?" she asked.
"Goin' good, honey, goin' good, but we heard there was some kind of commotion at the feed store today. Cops showed up and everything. What happened? Were you in any danger?"
"No. Someone just stole some money and got caught," Bridgette said.
"Ooh, that was stupid," Junior said, and then changed the subject. "I see you're here with your sweetie. I bet I know what kind of snow cone you're getting."
Bridgette grinned. "And that would be what?"
"That lemon one," he said.
Bridgette laughed. "How would you know that?"
"Even as a kid, you were always sucking on a lemon. Made my jaws hurt just looking at you, but you sure did love 'em."
"Guilty," she said. "And here it comes, delivered by my one and only."
Junior smiled. "It's good to see you happy, Sis."
***
Excerpted from The Christmas Wish by Sharon Sala. © 2021 by Sharon Sala. Used with permission of the publisher, Sourcebooks Casablanca, an imprint of Sourcebooks, Inc. All rights reserved.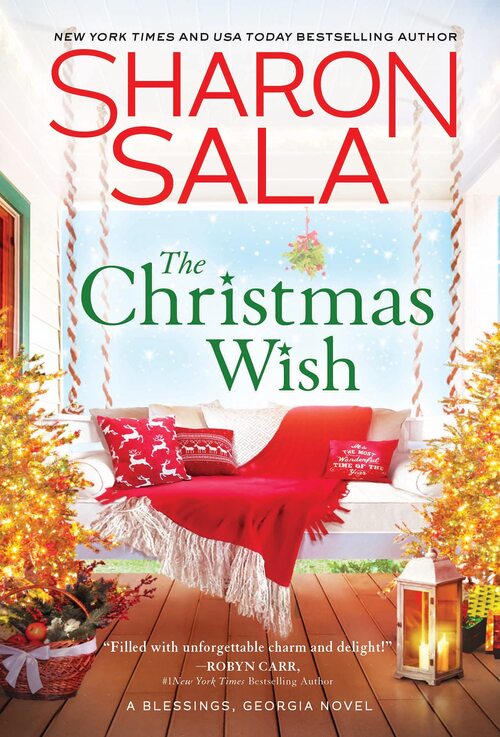 New York Times and USA Today bestselling author Sharon Sala delivers her first holiday romance in the Blessings, Georgia series, where the glow of a small-town Christmas and excitement of a winter love story will warm your heart!
It's been years since Wade Montgomery stepped foot in Blessings, Georgia, but the Blessings Christmas spirit is just like he remembers it. The whole town has come together to help his uncle after a disaster nearly destroyed the family business. Being back in Blessings reminds Wade of everything he's been missing, especially when he runs into his old flame, Birdie Knox.
Bridgette "Birdie" Knox isn't so eager to jump into the holiday season. Every year, she's reminded of the secrets that tore her family apart. But with Wade Montgomery back in town, Birdie is starting to believe in Christmas magic. There's no guarantee Wade will stick around, but if Birdie had her wish, she'd never have to say goodbye to him again.
Romance | Small Town | Holiday [Sourcebooks Casablanca, On Sale: September 28, 2021, Mass Market Paperback / e-Book, ISBN: 9781728206172 / eISBN: 9781728206189]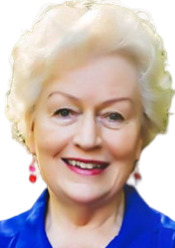 SHARON SALA has over one hundred books in print and has published in five different genres. She is an eight-time RITA finalist, five-time Career Achievement winner from RT Book Reviews, and five-time winner of the National Reader's Choice Award. Writing changed her life, her world, and her fate. She lives in Norman, Oklahoma.
No comments posted.