So many of my friends are non-fiction readers. They don't grasp the true enjoyment of reading. In fact, their idea of "reading" fiction is binge-watching whatever the latest book adaptation is on Netflix. They don't make a connection between the vibrant stories they enjoy and the books that gave them life.
And they are fine with that.
Meanwhile, I scratch my head.
I'm also puzzled by the readers who think Romance is only about sex. Now, let me assure you, I love the pull and verbal sparring of a couple destined to be in bed together (or anywhere else they want to be.). But that isn't the reason I'm a dedicated Romance reader. I knew the moment I was introduced to my first Romance heroine this is where I belong.
Without fanfare, here are the reasons I knew I was a Romance Reader:
I love a book where the woman decides to take control of her destiny, even if it flies in the face of societal norms or puts her in dangerous situations, or encourages her to go after that promotion. I know she is going to triumph and I'm onboard with cheering her on.
I believe love is the only true measure of a well-lived life. It can overcome despair, right wrongs, and lead characters to be better people. Consequently, my faith in the world is reconfirmed.
I can't tolerate male characters who are one-dimensional. A true badass male can think with both lobes of his brain, even when his dick is in play.
I enjoy books that wake me up. The world of Romance is diverse and growing more so. There are stories about people from all walks of life, from every profession, and every culture. Love is love and I feel we are watching the genre just blossom with exciting, profound, and challenging adventures as new writers hit the market. There is literally something for everyone in Romance. There are books that have me rolling with laughter and sometimes crying by the next page, ones that tell me something I didn't know about history, and others that move me out of my comfort zone. All of them share my core belief that love is important. It always has been and it always will be.
Finally, sex is great. But I've been engrossed in stories where the characters never touch and yet, they yearn for the kind of love that makes life worthwhile. I love a Romance novel because it pushes me to see beyond the surface.
There it is—my list of reasons. What are yours?
And because this is my blog post for Fresh Fiction, they asked me to say a few things about my latest book, HER FIRST DESIRE, so here it goes: Gemma has decided to take control of her fate. She trusted men who betrayed her wishes for her life. She isn't going to do that again.
Meanwhile, local doctor Ned Thurlowe doesn't waste his time thinking about love. He is a man of science, he does what is expected of him, he believes he has complete control over his future.
When he meets Gemma with her recipes of folk medicine passed down by the women in her family, he is set against her. Those wives' remedies are what he has been fighting against. When she claims The Garland, the local pub that is the home of the Logical Men's Society. Ned is determined to toss her out of the village . . . except what hero worth the title can resist a strong-willed woman? A true hero doesn't shy away from a few home truths.
HER FIRST DESIRE is the second book of my "The Logical Men's Society's Guide to Dangerous Women." And when does a woman become dangerous? When she knows what she wants, and refuses to let any male stand in her way.
Happy Reading!
Cathy
A Logical Man's Guide to Dangerous Women #2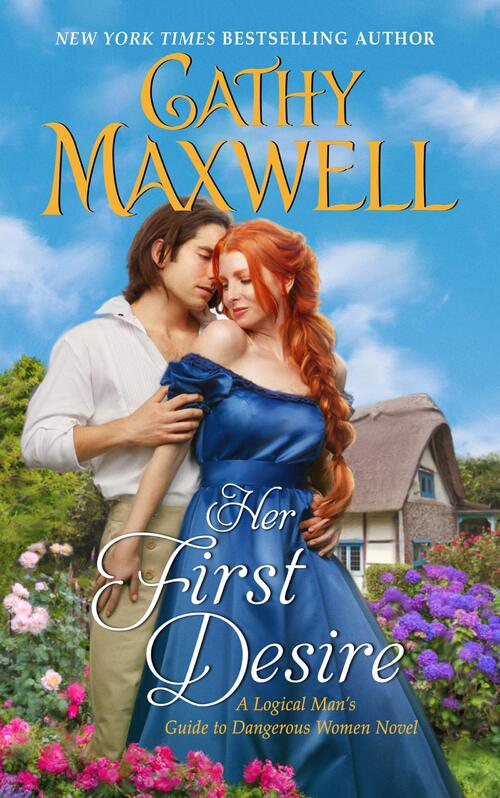 If you love Lenora Bell and Tessa Dare, you'll love the next book in New York Times bestselling author Cathy Maxwell's Logical Man's Society series about a delicious battle of the sexes between a determined woman and a stubborn gentleman.
She arrived in town, beautiful and bold and declaring that she's inherited property that he has already claimed! As a member of the local Logical Men's Society, Ned Thurlowe prides himself on thinking clearly and calmly at all times. And it's clear that the meeting place of the society—a local tavern—is his even if the men have turned it to shambles.
But Ned's claim is challenged Gemma Estep, who's announced she's decided to turn it into some sort of respectable tea garden for the local ladies. Ned challenges Gemma, and in doing so behaves most illogically, for though he wants to dismiss her, he also can't help but desire her.
Gemma has had enough of men telling her what to do, and she's vowed to make her own way in the world. And Ned Thurlowe is ruining her plans. Not only has he laid claim to her property, pitting them in a heated fight for its ownership, he's also arousing in her feelings she's never sensed before.
And although they argue, they quickly discover they have more in common than they'd each ever dreamed—could their disagreement be turning into desire?
Romance Historical [Avon, On Sale: April 27, 2021, Mass Market Paperback / e-Book, ISBN: 9780062897305 / eISBN: 9780062896865]
A Fun Enemies-to-Lovers Tale!!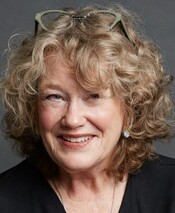 The books you love to read
Cathy Maxwell's enthusiasm for life graces the pages of her books and are the topic of the talks she gives to readers and writers groups about her chosen career.
She is no stranger to the limelight. After graduating from college, Cathy started off as a news broadcaster. She later decided reporting was boring compared to making news and joined the navy. After a successful stint in Naval intelligence, including a tour with the Pentagon, Cathy proceeded to pursue writing. Now, she has over thirty-five published romance novels (and five anthologies) to her credit, many of them spending significant time on the New York Times and USA Today mass market best-seller lists. Several have been nominated for Romance Writers of America's prestigious RITA award and has been honored with RT Book Review's "Love and Laughter" award among others. Recently, the Washington Romance Writers named her a recipient of the Kathleen Gilles Seidel "Legend" award for her service to the chapter. Best of all, she has made some wonderful friends along the way and has had a great time.
Originally from Kansas, she now finds herself in Texas! When not writing she is likely to be busy with one of many local charities or packing her bags to research her next novel. Cathy's motto is "travel light" and she enjoys meeting her fans all over the world.
No comments posted.