Up until a few years ago, I had written off graphic novels as "just comic books" and nothing "too serious." Said the woman who now writes contemporary romance novels (Summer 2022! GET READY). But I remember listening to a podcast or seeing a list on a book review site that said something along the lines of "Graphic Novel Recs for Any Type of Reader" and suddenly, my library hold list was full of requests for books with pictures. And now, if I'm not reading at least a graphic novel or two at a time—in addition to all of the other reading I do—then it's because I just came off of a week-long bender devouring an entire graphic novel series and I need a breather before I start a new one.
There's something in the physiology of reading Graphic Novels that just works for me. I get to see the characters and all the plotlines come to life in front of me. I read dialogue and inner monologues with the added benefit of sometimes having reactions from other characters that would otherwise go unsaid or a glimpse of foreshadowing from a literal shadow in a scene. The attention to detail is astounding, and I love how a writer, illustrator, letters designer, and colorist collaborate and make a fully fleshed-out story.
Graphic Novels have also become a place where I'll take a risk with what I'm reading. I'm more likely to read science fiction and fantasy stories in Graphic Novel form because I get a sense of the world-building immediately through the visuals and what the characters are staying. Graphic Novels have also been the place where I've read the most LGBTQAI+ literature, too, and there is such amazing, important work being done in this space for this community. I seek out BIPOC authors and illustrators regularly, but I have made an extra effort to do so here because, as with many parts of the publishing industry, these creators are vastly underrepresented, and their work is paramount to moving forward.
Here are some old favorites, some new/new-to-me releases I have recently enjoyed:
Saga Series by Brian K. Vaughan and Fiona Staples
I re-read the entire Saga series from start to finish at least once a year (sometimes [usually] more than that). It's a sweeping space opera with star-crossed lovers (it's steamy!), robot overlords, everchanging alliances, philosophical romance novels… Fair warning—this current strain ends on a major cliff-hanger, and no one quite knows when the series will start up again. Even still, this is EXCELLENT.
Black Widow (2014) Series by Nathan Edmonson and Phil Noto
This is the nuance and action-packed storyline that Natasha Romanov has deserved in the Marvel Cinematic Universe (and my fingers are crossed for the new live-action movie to do her justice because we definitely did not get that in Endgame). She's complicated and stealthy, relentless in her pursuits, and even a little insecure about most of her life choices. This text is mostly focused on Natasha, with brief appearances from the Avengers, S.H.E.I.L.D., and other Marvel characters.
Laura Dean Keeps Breaking Up with Me by Mariko Tamaki and Rosemary Valero-O'Connell
Ah, young (perceived) love. Another one of my favorite Graphic Novels to re-read! Freddy, a young queer woman is trying to survive high school and has been broken up with and subsequently gotten back together with Laura Dean, an update on the high school heartbreaker. Freddy also has to navigate changing friendships, family expectations, and so much more. The portrayal of self-discovery and self-worth, along with self-doubt and learning resilience is so heartfelt. Also, the color palette of the illustrations is stunning!
Black Panther: World of Wakanda by Roxane Gay, Yona Harvey, Ta-Nehisi Coates, Rembert Browne, Afua Richardson, Alitha Martinez, and Joe Bennett
First of all, can we talk about the list of talent involved with this volume? This entry in the new Black Panther comics focuses on the Dora Milaje, the royal Wakandan guards who are all women. Two of these warriors start out as rivals and slowly come to admire each other, and fall in love in a genuine way when faced with a dangerous occupation. There's the intrigue and action of a Marvel comic, but quiet moments that let this love story shine, too. I'll admit I was a little lost on some of the continuing plot points, but the main story in this was so intriguing I couldn't put it down. And I plan on reading more in this series!
The Tea Dragon Series by Katie O'Neill
The first book in this series, The Tea Dragon Society, was a book that I picked up for my daughter to read (she also loves Graphic Novels), but I was so enchanted by the cover and drawing style that I decided to read it for myself. I was so pleased by this book—it's nonchalantly diverse and inclusive, magical without being twee, and felt special. And don't just take my word for it—my almost-7-year-old highly recommends this series to all of you ;-)
Pretty Deadly Series by Kelly Sue DeConnick and Emma Rios
All right, I'll be upfront about this—I'm not 100 percent sure I understand what is going on in this series, but I do know I am immediately pulled into a world of mythology and history and magic. There's a decidedly Old West feel to the Pretty Deadly Series, and an oral storytelling element that I could practically hear being read to me as I followed along for a wild ride. The illustrations are arresting and often quite graphic, but still beautiful.
The Prince and the Dressmaker by Jen Wang
The story of a prince who likes to wear gorgeous dresses and take on a different personality at night while avoiding his royal duties and the dressmaker who makes the prince's amazing clothes is such a lovely book. The prince learns to accept his own personality and how to tell his family who he really is, and the dressmaker figures out what she wants out of life and her potential career. This is another book that comes vetted by my daughter, who says she wants to dress up like Lady Crystallia!
Y: The Last Man Series by Brian K. Vaughan and Pia Guerra
Soon to be an FX/Hulu series, Y: The Last Man tells the story of Yorick, the only man to survive the sudden death of all Y-chromosome carriers on Earth. He and his pet monkey, Ampersand, set out on a journey to get from New York to Australia, where Yorick's girlfriend Beth had recently gone. Along the way, however, he has to keep his identity a secret, figure out if his politician mother knew something like this would happen, and stay alive, with the help of a secret agent and a genetic scientist. First published in 2003, some of the themes and situations haven't aged well, but the core story is strong and I'm curious to see how this gets adapted for TV. Also, I think it's safe to say I'm a Brian K. Vaughan fan, and will be reading all of the comics he's written.
March Series by John Lewis, Andrew Aydin, and Nate Powell
I remember reading that Congressman and Civil Rights activist John Lewis had written a graphic novel autobiography and knew I had to get my hands on it. This series isn't an easy read—Lewis goes into great detail about the injustices that took place during the early Movement and how he and his friends and colleagues survived the brute force of racism in the South (and elsewhere). I loved that the historical parts of the books are framed with the 2009 presidential inauguration of Barack Obama, a truly full-circle moment for Lewis and the other activists. A must-read series that should be required reading for all ages.
Nimona by Noelle Stevenson
Another one of my favorite Graphic Novels to re-read. Nimona is the story of an evil villain who is trying to take down the establishment, as evil villains are supposed to do. But every villain needs a sidekick, and when the mysterious shapeshifter named Nimona starts following our "villain" around and helping him with his dastardly deeds, everything changes. Is the establishment really good? Is the villain actually bad? (I bet you can guess!) Additionally, Nimona is a great character study on someone—or some type of being—being misunderstood, taken for granted, and trying to control their own fate. At times hilarious, sad, poignant, and even a little romantic, Nimona is one of my favorite books, not just Graphic Novels.
--
This month, the Boozy Book Broads (Angelina M. Lopez, Melonie Johnson, and myself) have a very special guest—St. Martin's Press editor, Jennie Conway. Jennie is Melonie's editor and we're going to chat about all things editorial: author/editor relationships, what she's looking to acquire right now, and so much more. The best part is we're leaving a TON of time for an AMA-style Q&A session, so if you've ever wanted to pick the brain of a traditional publishing editor, this is your chance! Submit questions in advance to boozybookbroads@gmail.com or join us for the LIVE discussion on Friday, July 16 at 7pm CT on Love Sweet Arrow's YouTube page. You can also sign up for a free ticket and reminder on LSA's Eventbrite page.
--
Speaking of Love's Sweet Arrow, our most recent guests on the Fresh Fiction podcast were Marissa and Roseann, the mother-daughter owners of LSA! We had so much fun catching up with them and checking in on how things are going at the store. We hope you'll check it out!
--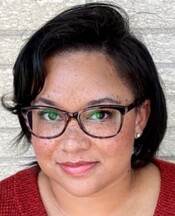 Danielle Jackson Dresser is a contemporary romance author (her debut novel with Berkley will be out in 2022!), avid reader, lackluster-yet-mighty crafter, and accomplished TV binge-watcher.
Once upon a time, she was a publisher publicist and continues to cultivate her love of books and reading by chatting with the best authors in the business as the Editorial Manager of Fresh Fiction and co-host of the Fresh Fiction podcast. Danielle is one of the Boozy Book Broads, a monthly author chat show streamed live on YouTube. She also moderates panels, interviews authors, and hosts a book club at Love's Sweet Arrow, the romance-focused independent bookstore.
Danielle lives in Chicagoland with her very own romance hero husband, darling daughter, and two tempestuous cats. Follow her on Twitter and Instagram, @DJacksonBooks.
No comments posted.