You know the fairy tale: a hero who's tall, dark and handsome, coming to the rescue of a damsel in distress. The hero is usually physically imposing, a perfect specimen, a "prince" of a guy (sometimes literally!). But I like a hero who feels more real. He's not perfect, physically or otherwise, and even if he helps the heroine out, he's willing to accept help in return too (even if it takes him some time to realize he needs to!).
In my K-9 Alaska series, I've created a set of heroes who each have something that makes them seem – at least in their own eyes – less than perfect, and maybe even less worthy of love.
It starts with Colter Hayes, a former Marine hiding out in the remote town of Desparre, Alaska, in K-9 DEFENSE. Severely injured when his team was ambushed, Colter's leg is held together with rods and screws. He'll never be a Marine again and when the heroine is in trouble and he wants to help her, his physical limitations hold him back in ways they never used to do. But his physical injuries are only part of the reason he doesn't want to help Kensie Morgan when she comes to Alaska searching for her long-lost sister. He and his Combat Tracker dog, Rebel, were the only ones to make it out of the ambush alive. It's been a year, but Colter's sense of survivor's guilt hasn't diminished. As the story progresses, he finds himself drawn to Kensie, but he doesn't think he deserves a happy ending. When it becomes clear Kensie is getting too close to a truth she isn't supposed to find, Colter realizes he has two choices: rejoin the world he wants to leave behind or risk losing her forever.
In the second book in the series, ALASKA MOUNTAIN RESCUE, Peter Robak is a rookie police officer who has been trying to fit in with his fellow officers since he joined the force. His partner seems to accept him, but most of the others are wary of working with someone who has lost some of his hearing. It doesn't matter that Peter made it through the police academy; what his colleagues focus on is that the chief bent the rules to bring him onto the force. He's determined to prove himself, to make it in his new career after giving up his job as a war reporter, and he's certain Alanna Morgan is the key. She claims the woman who kidnapped her as a child – and who recently escaped from jail – will come back to Desparre, and that she can help them bring her in. But everyone knows Alanna's story: she lived with the couple who kidnapped her (and the other children, the "siblings" who were also kidnapped) for fifteen years before turning them in. And Peter doesn't trust her motives – even if she's here to help, when it comes right down to it, he doesn't believe she'll be able to turn in the woman she called "Mom" for so long. But when the kidnapper does come to Desparre, he forms a wary alliance with Alanna (and her therapy dog Chance). Trusting her is dangerous, but he knows it's his best chance to find the newly kidnapped kids. Still, if he's wrong, that will be the end of his new career, and the end of proving he can be just as good of a police officer as his colleagues.
The chief of police in the first two books in the series, Keara Hernandez, is a tough woman. She was a detective for years in Houston, before her husband's murder sent her to Alaska looking for a new start. From the moment FBI Victim Specialist Jax Diallo meets her in K-9 Cold Case, he's intrigued. He's there to do a job – he and his therapy dog Patches have to help the victims and families of a recent bombing. But as it becomes clear the bombing is connected to Keara's past – and the death of her husband – he wants to help her, too. He knows his psychology background can help him see connections where others might not. But when it comes to the danger that keeps getting closer, he's less prepared. He might go to the shooting range and even work out with the agents he works with, but he's not in law enforcement. And watching Keara run toward danger when he's supposed to be running away from it is one of the hardest things he's ever done. If he wants to win her love, she needs closure on her past. But the more she pursues this bomber, the more the criminal fixates on her. There's only so much Jax can do from the sidelines; if he wants a future with her, he'll have to figure out how to use each of their strengths and bring down the bomber for good.
In K-9 HIDEOUT, Peter Robak's partner Tate Emory has finally convinced the department to let him become their first K-9 handler. And when Sabrina Jones – who he's admired from afar since she moved to town – admits she's being stalked and her stalker has found her again, he's committed to ending the threat to her. As he works closely with her, he realizes she's attracted to him, too. It's the perfect chance to act on his feelings, but he can't, because Peter knows he's a fraud. He came to Desparre under an assumed name himself and he's never allowed himself to get too close to anyone because at any time, his past could become a threat again. So, he tries to convince himself that giving Sabrina her life back – even if he'll never be in it – will be enough. But the more he gets to know her, the more he realizes how much he's given up. The more he sees what a similar position they're in. And he'll have to decide: what kind of life does he really deserve? And what's the line between keeping someone safe by keeping them in the dark and really opening up to someone by telling the truth?
Creating all the heroes of my K-9 Alaska series was a lot of fun. I loved giving each of them challenges that felt insurmountable. I also wanted to have heroes who defied traditional ideas about what makes a real "hero." He doesn't have to be physically perfect or even the one in the relationship best suited to run into physical danger. He doesn't need to have a straightforward past or sweep the heroine off her feet. But he does need to be genuine, to really care about her, and to confront his own demons before he tries to dive into a happily ever after. And in that respect, all of my K-9 Alaska series heroes are imperfectly heroic!
You can get the first two books in the series right now; the second two books are coming in Spring and Summer 2021! And you can enter for a chance to win a copy of Alaska Mountain Rescue at Fresh Fiction!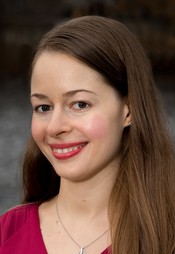 Publishers Weekly bestselling author ELIZABETH HEITER likes her suspense to feature strong heroines, chilling villains, psychological twists, and a little bit (or a lot!) of romance. Her research has taken her into the minds of serial killers, through murder investigations, and onto the FBI Academy's shooting range. Her novels have been published in more than a dozen countries and translated into eight languages; they've also been shortlisted for the HOLT Medallion, the Daphne Du Maurier award, the National Readers' Choice award and the Booksellers' Best award and won the RT Reviewers' Choice award.
The heroine of Elizabeth's Profiler novels was called "one of the most amazing characters created in print" by Fresh Fiction. Her novels have received praise from Lee Child, J.T. Ellison, Jeffery Deaver, Tess Gerritsen, R.L. Stine, Allison Brennan, Laura Griffin, Suzanne Brockmann, Hank Phillippi Ryan and Zoë Sharp.
2 comments posted.