In fiction, every detail matters. Every sentence is a chance to connect with readers, every description an opportunity to pull them into the story. One of the best ways to do it is to become knowledgeable about your topic, your location, your characters' jobs and life experiences.
It can be a lot of work. Luckily, I love doing research for my books. For my latest series, K-9 Alaska, some of the big pieces I needed to research were the K-9s in my stories, the roles of their handlers/owners, and the remote Alaskan location. Since I jump at the chance to do in-person and hands-on research even when the topic area isn't necessarily connected to a current book, I was already off to a good start.
Before I started writing any of the books in this series, I'd already been to the FBI Academy and the New York field office. I'd been to a police academy and a writer's police academy (a conference that takes place at an actual police training facility, but has experts teach writers how to write accurate law enforcement characters). These trips came in handy as I wrote several police officer characters, plus a police chief, and an FBI Victim Specialist for this series. I'd also been to several military facilities, which was useful when I created my injured former Marine. And I'd had the chance to meet multiple kinds of K-9s across a range of roles, including search and rescue and tracking.
Long before I had the idea for this series – back before I was even published – I'd taken a trip to Alaska that stuck in my mind. Even back then, I knew I wanted to set a book there one day. My family and I spent two weeks traveling across the state, going from large cities to tiny, tiny towns remote enough that they were hard to reach except by plane. The remote town of Desparre, in the northern interior of Alaska, is fictional. But it's informed by that visit, and by many hours of additional research looking at pictures, looking up what types of bears you'll find in which areas, what could set off an avalanche, and where you might get trapped by massive snowfalls.
All of the research I'd done before I ever planned to write the K-9 Alaska series got me off to a good start. But it was only the beginning. When my editor asked if I wanted to write a book featuring a hunky guy and a dog, I didn't immediately agree. The hunky guy was easy, since this was going to be a romantic suspense! But although I grew up with all kinds of animals, I wanted to be sure I could do something different with a K-9 character before I said yes.
So, the first thing I did was research types of K-9s. At the time, I didn't know the first book would ultimately turn into a series. But when I came across Combat Tracker Dogs – military K-9s who can track back from the site of an explosion to the person who set it – I knew there was a story I wanted to tell. I spoke to several people who'd been in the military to find out about their experiences with the K-9s. Then I did a lot more research about Combat Tracker Dogs specifically and military K-9s more generally.
As I neared the end of writing the first book in the series, K-9 Defense, there was another character whose story I wanted to tell. So, I approached Harlequin about writing more books in the series. When they said yes, that meant more research! For the next three books, I dug deep into the roles of therapy dogs helping victims of trauma, as well as how police K-9s work. I read books, I went to official sites like the FBI and various police departments and K-9 training organizations. I also went to youtube, where I could watch videos of everything from a chat with the first FBI therapy dog and her handler, police officers and their dogs on training courses working to become certified, and police K-9s actively on duty.
The research is fascinating – and can be endless! The more I researched, the more possibilities I found for the stories in my series. But at some point, the research needed to (mostly) end and the writing begin. And if there's one thing I love more than researching the books, it's writing them!
The K-9 Alaska series started with K-9 Defense (featuring ex-Marine Colter Hayes and his Combat Tracker Dog Rebel) – that book is also available in a special duo with a K-9 story from Elle James as Valiant Tracker. It continues with Alaska Mountain Rescue in January (featuring the character from K-9 Defense who demanded her story be told and her St. Bernard therapy dog Chance). The third book will hit stores in April; that's K-9 Cold Case (featuring FBI Victim Specialist Jax Diallo and his Labrador Retriever FBI K-9 Patches). Then, in July, K-9 Hideout arrives (featuring police K-9 handler Tate Emory and his police K-9 Sitka). You can find out more about the dogs in the series at my website. And you can enter to win a signed copy of Valiant Tracker right here at Fresh Fiction!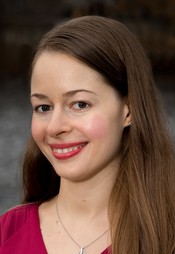 Publishers Weekly bestselling author ELIZABETH HEITER likes her suspense to feature strong heroines, chilling villains, psychological twists, and a little bit (or a lot!) of romance. Her research has taken her into the minds of serial killers, through murder investigations, and onto the FBI Academy's shooting range. Her novels have been published in more than a dozen countries and translated into eight languages; they've also been shortlisted for the HOLT Medallion, the Daphne Du Maurier award, the National Readers' Choice award and the Booksellers' Best award and won the RT Reviewers' Choice award.
The heroine of Elizabeth's Profiler novels was called "one of the most amazing characters created in print" by Fresh Fiction. Her novels have received praise from Lee Child, J.T. Ellison, Jeffery Deaver, Tess Gerritsen, R.L. Stine, Allison Brennan, Laura Griffin, Suzanne Brockmann, Hank Phillippi Ryan and Zoë Sharp.
No comments posted.