1--What's the name of your latest release?
The Highlander's Unexpected Proposal
2--What is it about?
Adam Macquarie needs a bride to re-establish his dying clan, and Lark Montgomerie needs an escape from her horrible life, but they are both hiding secrets that could ruin everything for them and Wolf Isle.
3--What word best describes your heroine?
Determined
4--What makes your hero irresistible?
Sense of honor (not to mention his biceps!)
5--Who are the people your main characters turn to when they need help?
Lark finds a friend in Lady Ava Maclean. Adam has four brothers, but the second oldest, Beck, is the one he turns to first.
6--What do you love about the setting of your book?
The western isles of Scotland are rugged and beautiful with mountains, lush valleys, and stormy, dramatic seas. I love it all!
7--Are you a plotter (follow an outline) or a pantster (write by the seat of your pants)?
Definitely a pantser. I'm trying to plot more, but even when I do, my characters decide where we will be going each day when I sit down to write.
8--What is an ideal writing day for you?
Waking up early before everyone else. Sitting down with a hot cup of chai tea latte in front of my window where I can see the birds visit my feeders. Hopefully I've written some ideas of where I want the story to go the night before, so the dialogue starts up right away. Before I know it, my 2000 words for the day are complete.
9--Do you listen to music while you write, need total silence, or do you have the TV on?
I create a soundtrack for each series that I write. If I get stuck, turning on the music, with all its emotion, usually gets my characters interacting again. Sometimes, a random song will come on, moving my story in that emotional direction.
10-- How do you approach research?
I usually start with basic internet searches on locations and time periods. I want to know the political climate, surrounding wars, religious tensions, clothing, and surrounding terrain and weather. All of those things affect characters and that, in turn, affects my plot. After I decide on a basic time period and location, I delve into much more detail, using private Scotland heritage websites, pictures and pamphlets and books from my own trips to Scotland, and timelines of word usage. I am constantly tweaking my book to reflect the true historical setting right up until publication.
11--What is your publishing journey story?
I've been writing stories my whole life, but with a degree in cellular biology, I worked first in a lab and then in a drug development company for fifteen years. I would write at home on the weekends. I finished my first book in 1998 and started to try to get it published. When I became a finalist in the Golden Heart RWA contest in 2009 (with a different book), I was able to find my wonderful agent. By that time, with three kids, it was too expensive for me to work and get childcare for all of them, so my husband suggested I stay home and write full time (Woot!). My first book was published in 2010. I took two years off (2011 – 2012) to fight and beat the snot out of ovarian cancer with fifteen months of chemo, surgery, and recuperation. Overall, I've published twenty-three novels and novellas and plan to continue writing through a very long life.
12--Do you have critique partners/writing groups you want to give a shout-out to?
I help moderate a couple FB groups: Historical Romance Lovers (https://www.facebook.com/groups/520438361649029),
A Touch of Intrigue (https://www.facebook.com/groups/ATouchOfIntrigue/),
and the Ruby Slippered Sisterhood (of 2009 Golden Heart Finalists - http://rubyslipperedsisterhood.com/).
The Romance writing community is very supportive and helpful to writers at every level, and we absolutely love readers. Romance is all about relationships, so forming friendships is part of who we are.
13--What're the most frustrating things about being an author?
The time it takes to get my books into my readers' hands. I have these fabulous stories and characters that I want to share immediately because I'm so excited about them. But it takes months to get it all down on paper, then months of edits, and then months of waiting for it to be born. Rather like having a baby!
14--What's your favorite scent?
The forests on the coast of Maine – pine, fresh wind, and earth mixed with a hint of salt spray. It reminds me of the Scottish coast.
15--What movie will you watch no matter what if it's on TV?
Oh gosh, there are so many! Kings' Men, Independence Day, Knives Out, Pride & Prejudice.
16--Do you like breakfast, lunch, or dinner best?
Breakfast for certain! Yum!
17--What's one thing you wish you knew more about?
Technology. I am technology challenged. In fact, often when I walk into a room, electronic things suddenly stop working. My hubby thinks I have a magnet in me and makes me leave the room while he fixes whatever it was that went haywire.
18--What's the silliest thing you've recently done?
Made a video of me stalking a hidden gnome in the forest of Quoddy Head State Park up in Maine.
19--What can readers expect from you next?
The second book in a different series, Sons of Sinclair, will release in stores in April! The Highland Warrior is about the second of four sons who were raised by a warlord father to believe they are the Four Horsemen of the Apocalypse.
20--How can readers reach you?
I love to hear from readers!
Right now, the first book in my Highland Isle series, The Beast of Aros Castle is FREE until the end of October. At the end of the book, if you sign up for my newsletter, you can get the second book in the series for FREE also.
https://www.facebook.com/HeatherMcCollumAuthor/
https://twitter.com/HMcCollumAuthor
https://www.pinterest.com/hmccollumauthor/
https://www.instagram.com/heathermccollumauthor/
The Brothers of Wolf Isle #1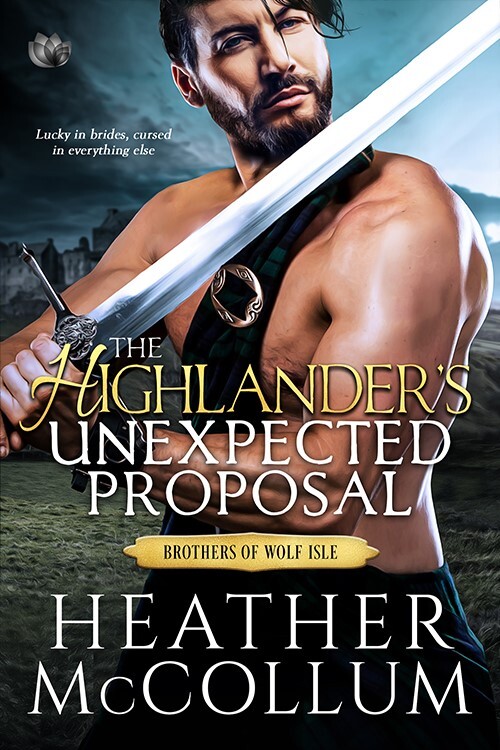 A lass begging to marry him might top the list of "oddest things to happen," but Chief Adam Macquarie is desperate. And no matter how much he hates to do it, he's not above lying to get what he wants. Starting with the fact that he just omitted the truth about the situation back at his home--where there are no women and only a handful of other people. Because he has a secret need for a wife himself, one she won't be too happy about when she finds out.
Lark Montgomerie is thrilled the brawny chief agrees to save her from her drunken father's machinations of wedding her off to the first fool that agrees. He's easy on the eyes and no one can be worse than her current options. Now a new life awaits her, on an exciting Scottish isle no less, and nothing will dampen her spirits. That is, until she arrives in her new homeland and realizes more than a few things are amiss. . .
Romance Historical [Entangled: Scandalous, On Sale: October 19, 2020, e-Book, ISBN: 9781649370594 / eISBN: 9781649370594]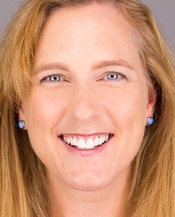 Heather McCollum is an award winning, historical romance writer. She is a member of Romance Writers of America and the Ruby Slippered Sisterhood of 2009 Golden Heart finalists. The ancient magic and lush beauty of Great Britain entrances Ms. McCollum's heart and imagination every time she visits. The country's history and landscape have been a backdrop for her writing ever since her first journey across the pond. When she is not creating vibrant characters & magical adventures on the page, she is roaring her own battle cry in the war against ovarian cancer. Ms. McCollum recently slayed the cancer beast and resides with her very own Highland hero, rescued golden retriever & 3 kids in the wilds of suburbia on the mid-Atlantic coast.
No comments posted.