Instead of trying to find your perfect match in a dating app, we bring you the "Author-Reader Match" where we introduce you to authors as a reader you may fall in love with. It's our great pleasure to present Kelly Farmer!
Writes:
Hi there! I write contemporary romance and light women's fiction with snarky humor and heart. My debut novel, OUT ON THE ICE, is a female/female hockey romance. Caro runs a successful all-girls hockey training center and is embarrassed to be given a shout-out here. She's very private. Amy, however, is thrilled to meet you. She's an out and proud bisexual who plays professional women's hockey. They develop the feels while coaching at Caro's summer camp, then start a long-distance relationship. Caro's need to be private clashes with Amy living life out loud. Through the power of love, they bring out the best in one another and work together to achieve their goals. Yay!
About:
I'm an Aquarius who enjoys long walks in the moonlight, candlelight dinners… I try not to take life too seriously, obviously. Writing has been a passion since childhood. It took 20 years to achieve publication, so I'm also rather stubborn and refuse to give up on my dreams. I love nature, dogs, the 80's, and all kinds of music. I dislike the weather in my hometown Chicago and whine about moving every winter. My day job is at a veterinary hospital (awww). I used to do a lot of theater, so don't be surprised if I bust into showtunes at random moments.
What I'm looking for in my ideal reader match:
Here you write some bullet points about the ideal reader for OUT ON THE ICE
You love slow burn romance
Snappy banter is your catnip
You enjoy watching opposites attract and complement one another perfectly
You like strong women and female-centric stories
You love it when people are comfortable enough to show their dorkiness to one another
Must love dogs!
What to expect if we're compatible:
Here you write some bullet points about what readers can expect once they become a fan of your writing
Pop culture references
Women's hockey
Wisecracking best friends
The theme of outsiders finally finding a home
References to It's a Wonderful Life (I put one in every book)
A newsletter where I post snippets from the teen romances I wrote in junior high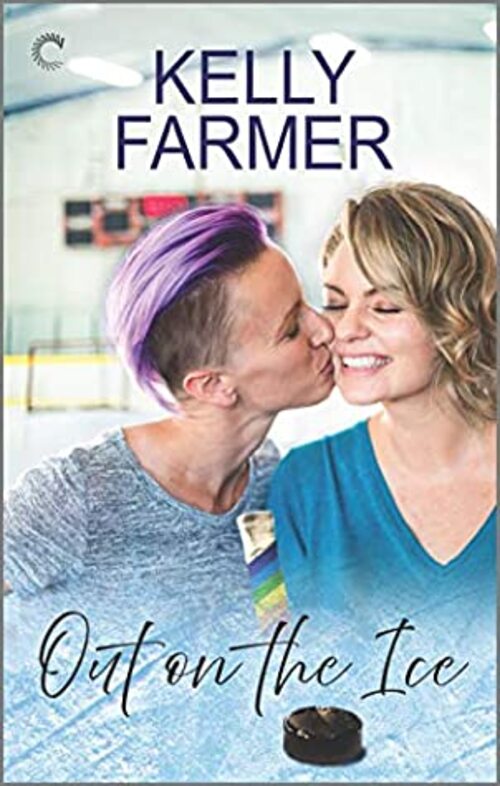 Don't miss this tender and funny contemporary romance from debut author Kelly Farmer.
Caro Cassidy used to be a legend.
During her career, Caro was one of the best defense players in women's hockey. These days, she keeps to herself. Her all-girls hockey camp is her life, and she hopes it'll be her legacy. Sure, her new summer hire is charming and magnetic, but Caro keeps her work and personal life strictly separate.
Amy Schwarzbach lives life out loud.
Amy's as bright and cheerful as her lavender hair, and she uses her high-profile position in women's hockey to advocate for the things she believes in. Ten weeks in Chicago coaching a girls' training camp is the perfect opportunity to mentor the next generation before she goes back to Boston.
Letting love in means putting yourself out there.
When the reticent head coach offers to help Amy get in shape for next season, her starstruck crush on Caro quickly blossoms into real chemistry. As summer comes to an end, neither of them can quite let go of this fling—but Amy can't afford a distraction, and Caro can't risk her relationship becoming public and jeopardizing the one thing that's really hers.
Romance Contemporary | Romance LGBTQ | Romance Sports [Carina Press, On Sale: August 24, 2020, e-Book, ISBN: 9780369701176 / eISBN: 9780369701176]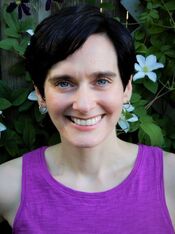 Kelly Farmer (she/her) has been writing romance novels since junior high. In those days, they featured high school quarterbacks named Brad who drove Corvettes and gals with names like Desireé because her own name was rather plain. Her stories since then have ranged from historical and contemporary male/female romances to light women's fiction to LGBTQ+ romance. One theme remains the same: everyone deserves to have a happy ending.
Kelly was a 2015 Romance Writers of America Golden Heart® Finalist in the Contemporary Romance category. She is past president of the Chicago-North Romance Writers and is also a member of Women's Fiction Writers Association.
When not writing, she enjoys being outside in nature, quoting from Eighties movies, listening to all kinds of music, and petting every dog she comes in contact with. All of these show up in her books. She also watches a lot of documentaries to satisfy her hunger for random bits of trivia. Kelly lives in the Chicago suburbs, where she swears every winter is her last one there.
No comments posted.