Thank you so much for being here today, and welcome to the Scars & Sins Cover Reveal!!!! It is my pleasure to introduce you to Ace Rossetti, the second flaming hot alpha brother in my mafia romantic suspense series, Brooklyn Brothers, and his sweet and saucy little Roxy. For those of you who have read Lace & Lies (Brooklyn Brothers #1), we get even deeper into the mafia world in this second book. There's more action, more danger, and, of course, more secrets. With Ace and Roxy, it's all forbidden love and stolen moments. They come from enemy families, so they have to hide the way they feel from everyone. D'Angelo v. Rossetti. Manhattan v. Brooklyn. They shouldn't even be in the same room together, let alone the same bed. But they're not Romeo and Juliet. Both of them died. And Ace refuses to let anything happen to Roxy. They will start a war if they're discovered. Then they'll have a lot more to worry about than their own Scars & Sins. . .
This cover went through so many rounds of revisions, and this wasn't even the first final draft! It looked completely different up until about a month ago. But there were just so many different elements to Ace and Roxy's story that I wanted to capture, so it made the process that much more tedious. I'm thrilled to say, though, that I think it's finally PERFECT! It exudes the right amount of temptation and sensuality I was going for, and I am so completely in love with it!!
SO. . . if you would be so kind as to leave a comment below, let me know what YOU think of this cover, you'll be entered to win a $20 Amazon gift card!! Super easy, right? That's all! Just drop a quick line or two, offer up your opinion, and you're in!! Thank you again for taking the time to stop by and say hi! I love hearing from you guys! Open internationally - Good luck!!
***
Brooklyn Brothers #2
From Amazon bestselling author Melanie Munton comes a tale of forbidden love between enemy families. The second book in the mafia romantic suspense series, Brooklyn Brothers, follows the secret romance of Roxy and her long-time crush--and best friend's brother--Ace. If they're discovered, it will start a war, and they'll have much more to worry about than their own Scars & Sins. . .
Romance Contemporary [Self Published, On Sale: March 31, 2020, e-Book ]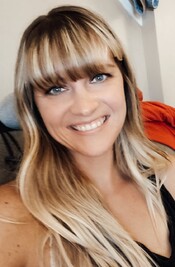 Melanie grew up in a small town in rural Missouri. After marrying her husband, she decided she wanted to try coastal life because why not? A few months later, they moved to North Carolina where she discovered her passion for writing, and they never looked back. They are now enjoying life with their beautiful daughter in Savannah, GA and loving every minute with their little Georgia peach.
Melanie's other passion is traveling and seeing the world. With anthropology degrees under their belts, she and her husband have made it their goal in life to see as many archaeological sites around the world as possible. She has a horrible food addiction to pasta and candy (not together…ew). And she gets sad when her wine rack is empty.
At the end of the day, she is a true romantic at heart. She loves writing the cheesy and corny of romantic comedies, and the sassy and sexy of suspense. She aims to make her readers swoon, laugh out loud, maybe sweat a little, and above all, fall in love.
No comments posted.