Catalina was halfway back to the office, walking fast, when her phone vibrated. She yanked it out of the pocket of her coat and glanced at the screen. Daniel.
"Please tell me you've got a lead on Olivia," she said.
"Nothing yet, but you need to get back here now."
"Almost there. Why? What happened?"
"There's someone here to see you. Says it's urgent. Says it's about Olivia."
"Put him on the phone," Catalina said.
"Hang on," Daniel said.
The voice that came on the line was masculine, eerily calm, cool and controlled. It was, she concluded, the kind of voice that could lead you out of a burning building. It was also a voice that, under the right circumstances, could scare the living daylights out of you.
"My name is Slater Arganbright," he said.
"Oh, shit," Catalina whispered.
"I realize you've got some history with my uncle. We can talk about that later. Right now we've got other priorities. I understand your business partner, Olivia LeClair, is missing."
Okay, so she had been on the verge of calling Victor Arganbright. It was one thing to put in a call for help. It was something else entirely to discover that someone from the Foundation was already on the scene. That information left two gut-wrenching possibilities: either Victor Arganbright had known that Olivia was in danger and had failed to warn her in advance or his so-called Foundation was behind the kidnapping.
"Did Victor Arganbright's thugs take Olivia?" she said. It was all she could do not to scream into the phone. "Because I swear, if you harm her, I will find a way to destroy your Foundation even if it takes me the rest of my life."
"No, we didn't take your friend," Slater said. "And for the record, my uncle doesn't employ thugs. Just people like me."
It wasn't the denial that brought her to a stunned halt in the middle of the sidewalk. She had been prepared for that. It was highly unlikely that anyone in his right mind would admit to a serious crime like kidnapping, especially not while he was speaking on the phone. For all Slater Arganbright knew, she was recording his words.
It was the incredibly unemotional way he spoke that stopped her cold. His voice sounded far too flat, unnaturally so. There should have been some heat in the denial; a hint of outrage, at the very least. After all, she had just pulled out a verbal jackknife by virtually accusing him, or at least his uncle, of a major federal crime.
"How did you know Olivia was kidnapped?" she said. She still sounded fierce and accusatory. She did not give a damn. She was dealing with an Arganbright.
Whose help she might need.
Damn, damn, damn. Shit.
That was the second time she had used the word shit in the past few minutes. Her language was deteriorating rapidly. That was probably not a good sign. Control, Catalina. You must exercise control.
"When I walked into your office a few minutes ago your receptionist said you were out looking for your friend," Slater explained in his eerily uninflected voice. "I was told no one appears to have seen or heard from Ms. LeClair since late yesterday. Considering that I came to Seattle to ask you and Olivia for some professional assistance, it's unlikely that her disappearance today is a coincidence."
Still no emotion in the words. Just flat statements of facts. Or flat-out lies. There was no way to be sure. It was as if she was talking to a robot.
Two could play that game.
(C) Jayne Ann Krentz, Berkley, 2020
***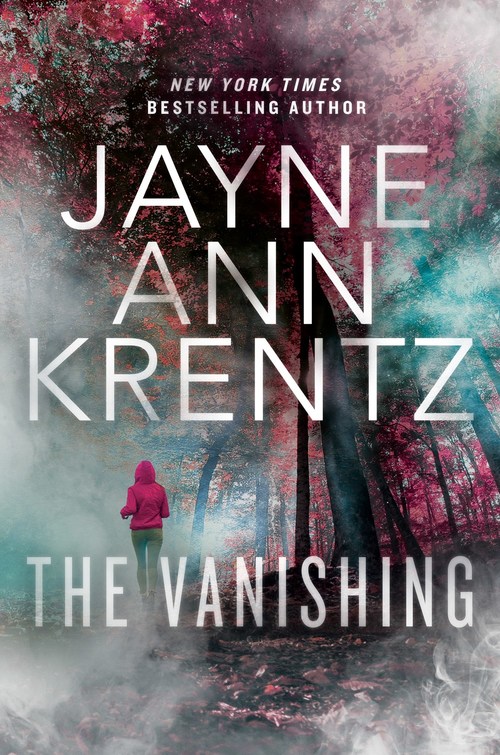 From New York Times bestselling author Jayne Ann Krentz comes a gripping new romantic suspense trilogy fraught with danger and enigma.

Decades ago in the small town of Fogg Lake, The Incident occurred: an explosion in the cave system that released unknown gases. The residents slept for two days. When they woke up they discovered that things had changed—they had changed. Some started having visions. Others heard ominous voices. And then, scientists from a mysterious government agency arrived. Determined not to become research subjects of strange experiments, the residents of Fogg Lake blamed their "hallucinations" on food poisoning, and the story worked. But now it has become apparent that the eerie effects of The Incident are showing up in the descendants of Fogg Lake.…
Catalina Lark and Olivia LeClair, best friends and co-owners of an investigation firm in Seattle, use what they call their "other sight" to help solve cases. When Olivia suddenly vanishes one night, Cat frantically begins the search for her friend. No one takes the disappearance seriously except Slater Arganbright, an agent from a shadowy organization known only as the Foundation, who shows up at her firm with a cryptic warning.
A ruthless killer is hunting the only witnesses to a murder that occurred in the Fogg Lake caves fifteen years ago—Catalina and Olivia. And someone intends to make both women vanish.
Romance Suspense | Romance Paranormal [Berkley, On Sale: January 7, 2020, Hardcover / e-Book, ISBN: 9781984806437 / eISBN: 9781984806451]
Jayne Ann Krentz is the author of fifty New York Times bestsellers and has over forty million books in print. Jayne writes fast-paced suspense with a sexy edge under three pen names. If you like contemporary settings, try one of her new releases written under her Krentz name. Readers looking for a similar thrill in a historical setting go for the books she writes as Amanda Quick. And those adventurous types who prefer their suspense with a futuristic/paranormal twist read the novels she writes as Jayne Castle.
No comments posted.