Instead of trying to find your perfect match in a dating app, we bring you the "Author-ReaderMatch" where we introduce you to authors as a reader you may fall in love with. It's our great pleasure to present C.R. RICHARDS!
Rabidly Reads and Writes: Heart pounding, spine chilling, emotion-stirring Dark Fantasy Novels
About the Author:
C.R. Richards loves dark fiction stories. She enjoys the sensation of sitting on the edge of her seat, intensely anxious to discover the next twist in a good book. Yes. She loves being scared, but not too scared. No slasher movies, please. In a secret confession, the author admitted she still watches reruns of Supernatural tucked under her covers.
Richards makes her books all about the characters. She spends a great deal of time developing their personalities, desires and their failings. If the reader doesn't care about the character, then what's the point?
What I'm Looking for In My Ideal Reader:
Adventures with me won't be comfortable or light-hearted. Expect journeys into the dark and creepy. My ideal reader will boldly embrace the unexpected, laugh in the face of danger and fortify their reading nook with the warm fuzziness of a loyal pet.
I'm looking for a reader who seeks spine-tingling thrills. And when things take an emotional turn, my ideal reader isn't afraid to grieve with me. In other words, they will stick it out from beginning to end…of the series.
Oh Right. Must like pets. I keep a few flesh-eating creatures in the basement. They're well behaved. I promise.
Heart of the Warrior #3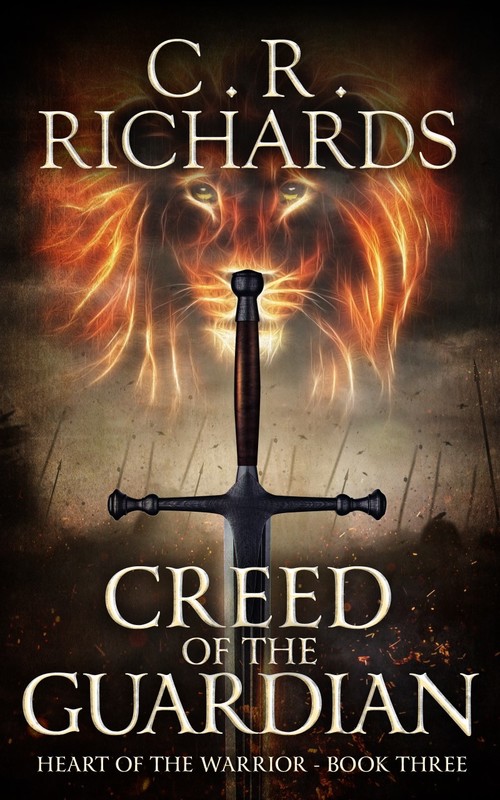 Protect the Innocent. Punish the Guilty.
Seth the Ice Lion, now an Apprentice in the Jalora Legion, reluctantly travels aboard ship with his new battalion. Western Beta's mission seems a dull assignment. Guarding miles of bogs and old ruins should be a simple task, but Seth soon learns nothing is easy for the Bearer of the Lion Ring. The Jalora is the embodiment of Good and the source of Seth's power. It commands he search North Marsh for a relic capable of saving his homeland from the ravenous appetite of the Jackal invaders. Surrounded by deadly bogs and savage beasts, he must find the relic before the Lion Spirit inside of him takes control of their shared body.
Invaders from across the sea hold a firm grip on Valdeon, but their thirst for blood remains unsated. They lust for the riches of Andara. Using fear and greed as weapons, the Jackal enlist aid from the continent's unscrupulous mercenaries to prepare for a larger invasion. They build a stronghold – Stone Fang Fortress - in the Bloodtooth Mountains of the north. It is here they prepare to conquer the free world.
Will Seth find this powerful relic before the Jackal swarm invades Andara? Or will his people be enslaved under the iron fist of the Jackal Lord? Seth's answers hide in the deadly bogs of North Marsh…
Fantasy Dark [Self-Published, On Sale: October 10, 2019, e-Book, ISBN: 9780990669470 / eISBN: 9780990669470]
C.R. Richards' literary career began when she interned as a part-time columnist for a small entertainment newspaper. She wore several hats: food critic, entertainment reviewer and cranky editor. A co-author of horror and urban fantasy novels, her first solo fiction project - The Mutant Casebook Series - was published by Whiskey Creek Press in 2013. Phantom Harvest (Book One in the series) is the winner of the 2014 EPIC eBook Awards for Fantasy Fiction. Cynthia is an active member of the Horror Writers Association, EPIC and Rocky Mountain Fiction Writers.
No comments posted.