Instead of trying to find your perfect match in a dating app, we bring you the gAuthor-Reader Match" where we introduce you to authors as a reader you may fall in love with. It's our great pleasure to present CLARE O'DONOHUE!
Writes:
Spy novels and mysteries, with my latest, BREAKING THE DANCE, the 2nd in my World of Spies series hitting the shelves May 8th, 2019.
About:
Mystery writer and avid traveler seeks readers for adventures in Ireland (BEYOND THE PALE) and South America. BREAKING THE DANCE is Nick & Nora meets James Bond when a husband & wife team of accidental spies try to help an art thief stay alive while on the trail of a notorious Argentinian killer. Laughs, thrills and a few tips on how to dance the tango all included.
What Ifm looking for in my ideal reader:
A detective who follows the clues no matter where they go
A traveler (real & armchair both welcome!)
A lover of smart, strong characters living out real relationships amidst sometimes surreal circumstances
An adventurer who doesnft mind hanging out with art thieves, spies, and killers
Someone who enjoys classics like Mrs. Polifax, and Lord Peter Whimsey & Harriet Vane
What to expect if wefre compatible:
More of Finn and Hollis Larsson as they chase down the real leaders of an international crime ring. A sixth installment in the Someday Quilts series. More novels, both stand-alone and series, as well as stories. 
World of Spies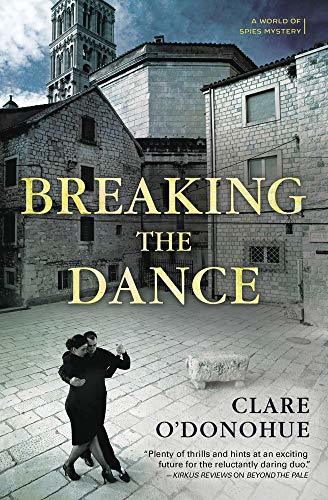 The critics raved about Hollis and Finn ...
"The believability and chemistry of Hollis and Finn as a couple, as shown in their witty dialogue, is the main appeal." Publishers Weekly
"The relationship between Hollis and Finn is the hook in this smart debut." Booklist
"Mystery buffs who enjoy charming sleuths will appreciate the quick-witted couple." Library Journal
... And now they're back and bound for Argentina!
Husband and wife college professors Hollis and Finn Larsson think their days as accidental spies are behind them. But just weeks into a new school year, a mysterious envelope arrives containing two passports. The photos are of Hollis and Finn but the names are Janet and Tim McCabe. Within hours, the couple is forced onto a private plane headed to Argentina with an Interpol mission to find Irish art thief Declan Murphy and a haphazard plan to get home with their lives - and marriage - intact. As clues take them from the mountainous north through the tango halls of Buenos Aires to the southernmost tip of Tierra del Fuego, they rush to find Declan and escape from the clutches of those who would do them harm.
Mystery Amateur Sleuth | Suspense [Midnight Ink, On Sale: May 8, 2019, Paperback / e-Book, ISBN: 9780738756547 / ]
Clare OfDonohue
is the author of MISSING PERSONS, the first in the Kate Conway Mysteries, as well as four Someday Quilts Mysteries (THE LOVERS KNOT, A DRUNKARDfS PATH & THE DOUBLE CROSS, and THE DEVILfS PUZZLE). Clare began her writing career as a newspaper reporter for a small weekly paper outside Joliet, Illinois. She covered everything from school board meetings to murder trials, and wrote a weekly column. For the last thirteen years she has worked in television, writing and producing for shows on HGTV, truTV, The History Channel, Food Network, A&E and others. She continues to work as a producer and lives in Chicago, IL.
No comments posted.