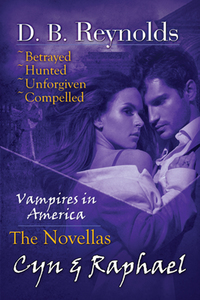 Together at last in one collection! Author D.B. Reynolds offers one reader a chance to win an autographed copy of VAMPIRES IN AMERICA. It includes BETRAYED, HUNTED, UNFORGIVEN, and COMPELLED: The Cyn & Raphael Novellas. These novellas can stand alone or be enjoyed as part of the series.

BETRAYED: Vampires in America 5.5
War has come to the North American vampires, and Vampire Lords are reaching across territorial lines to strengthen allies and weaken enemies. The most powerful Lord of them all, Raphael, could change the course of the war and determine who raises the final banner of victory. But at what price? And will his mate, Cyn, be the one to pay it?


HUNTED: Vampires in America 6.5
The Lord of the Midwest is dead, and the powerful vampires of North America are gathering to choose his successor. The Vampire Council will be there to oversee the competition—each of them focused on keeping the violence to a bloody minimum, including Raphael, who will do whatever it takes to ensure the victor is a vampire he can trust. But someone is hunting, determined to stop Raphael and his mate, Cyn, from ever reaching Chicago.

Soon, the hunter may become . . . the hunted.


UNFORGIVEN: Vampires in America 7.5
War is imminent, and a spy has infiltrated Raphael's estate. But his target is not Raphael; it's his sister, Alexandra, whose earlier duplicity nearly cost Cyn her life. Raphael and Cyn are determined to play the spy's game, traveling to Mexico to discover who their enemy is and just how far he'll go to win. But once Raphael finds his sister, can he take the chance that she won't betray him again?

COMPELLED: Vampires in America 10.5 It was only a few months ago that Raphael lay helpless and dying, taken by treachery, while Cyn fought to save him. Unexpectedly, it was Nick who provided the key to his freedom. In exchange, he secured a promise that they would help him find and recover the same magical artifact that had been used to imprison Raphael. But when he calls on them to keep that promise, it will be Cyn who pays the price.

Torn between the two powerful men, struggling to keep them from killing each other, she undertakes a desperate search that will find her fighting for her life against a madman who wants her for himself.

D. B. Reynolds is the RT award-winning author of the popular Vampires in America series of Paranormal Romance/Urban Fantasy, and an Emmy-nominated television sound editor. She lives with her husband of many years in a flammable canyon near Los Angeles, and when she's not writing her own books, she can usually be found reading someone else's. Visit her blog at dbreynolds.com for details on all of her books, for free stories and more."
Contest ends: August 31, 2016