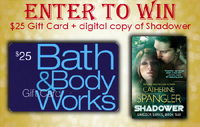 It's almost summer, and the beach is beckoning. How about some pampering while you're enjoying the sun, sand, and water? If you win, you'll receive a $25 gift card from Bath & Body works and a copy of the second Shielder series book, SHADOWER (or one of any of Catherine Spangler's e-books).
It's interesting to ponder what things my characters would pack in their beach totes. Here are some choices from a character in each of the five Shielder series books:
1) SHIELDER: Nessa would take her beloved lanrax, Turi (a lovable, ferret-like creature with four eyes).
2) SHADOWER: Moriah is a smuggler, and she would pack three or four alternate IDs—just in case.
3) SHAMARA: To keep from being recognized and captured, Eirene would pack some hair dye and a few disguises.
4) SHADOW CROSSING: Crown Prince Rurick, who impersonates an android when he travels, would be sure to take his fake android arm bands to maintain his secrecy.
5) SHADOW FIRES: Because of his unique skin, Arion wouldn't need sunscreen. But he'd be sure to pack a loincloth and a weapon.
To add to the summer fun, SHADOW FIRES, the fifth book in this science fiction Shielder series, is now on presale for a special limited time price of 99¢! For even more fun, the first four Shielder books will have special pricing through June 8!
Jenna dan Aron, a Shielder, lives a solitary existence, shunned by her people because she has visions and can see the future. She's even foreseen her own destiny: to be a human offering, a mate for a savage Leor warlord. When two Shielder colonies need to be rescued, the Leors who are their only hope demand a bride for their leader in return. Knowing she can't deny fate, Jenna steps forward.

The Leors are a hybrid race and only part human. Arion of Saura finds mating outside his race abhorrent, but he has no choice, as his kind faces extinction. His life is ruled by hard logic and physical prowess, with no room for softness or emotion. Bound to him, Jenna faces a life of barbarism with a mate who seems more beast than man. In the relentless heat of the wild Sauran desert, Jenna and Arion wage a battle of wills, until they discover that the heart is mightier than any weapon—and that love can forge shadow and fire together.
You can read an excerpt from Jenna's and Arion's story in SHADOW FIRES on my website.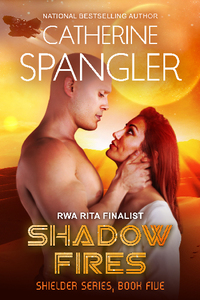 Buy SHADOW FIRES
Contest ends: June 15, 2015