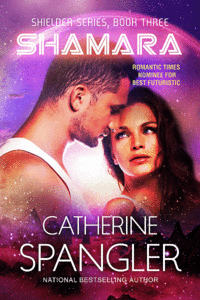 September is here! It's a nice time for cooler temperatures (unless you're in Texas). Actually, any season is great for picking up a good book and getting swept away by the story. So I'm offering a $25 gift card from the retailer of your choice to help you savor the season.
While you're at it, check out Catherine's latest romantic science fiction release, the third book in her Shielder series!
Shielder Series, Book 3

In a universe of darkness and depravity, the Shielders battle to stay one step ahead of the powerful, vengeful Controllers, who are determined to destroy the entire Shielder race. The race's survival depends on the quest of one man—Jarek san Ranul. He has found evidence of a wormhole he believes might offer the Shielders an escape to another galaxy. But he faces daunting challenges to make such a mission possible. When he meets Eirene Kane at a Pleasure Dome and she saves his life, he realizes she might be the key to facilitating his daring plan.

On the run from a Leor warlord who wants her as his bride, Eirene must hide her true identity. She's an Enhancer, with rare powers that could get her sold to the highest bidder if she's caught. Her flight puts her on a collision course with Jarek, who suspects her secret, and knows he needs her powers to make his plan work. Although Eirene refuses to admit she's an Enhancer, Jarek believes otherwise and is desperate enough to kidnap her. During their enforced time together, a special bond forms between them, leaving Eirene torn between her attraction to this charismatic Shielder commander and the need to ensure her survival. Despite the danger should her true identity ever be exposed, she finds herself falling in love with Jarek, and wanting the one thing he claims will free them forever—Shamara.
Buy SHAMARA
Contest ends: September 30, 2014