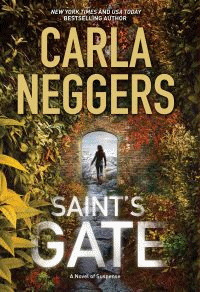 New York Times bestselling author Carla Neggers provides her August contest winner with the means for making scrumptious meals for years to come, plus a thrilling read—SAINT'S GATE (MIRA Books, hardcover, August 23, 2011), Carla's latest romantic suspense novel.
In SAINT'S GATE it appears legend is becoming deadly reality when a nun is found murdered near a convent on the Maine coast. Speaking of legendary status: the winner of Carla's contest is sure to gain just that among family and friends for the delicious breakfasts she'll be making with the Stonewall Kitchen cast-iron, non-stick Belgian Waffle Maker, Wild Maine Blueberry Syrup, and Wild Maine Blueberry and Champagne Blueberry jams she wins. Two additional winners will each receive a copy of one of Carla's backlist novels.
SAINT'S GATE
Order Today
When Emma Sharpe is summoned to a convent on the Maine coast, it's partly for her art crimes work with the FBI, partly because of her past with the religious order. At issue is a mysterious painting depicting scenes of Irish lore and Viking legends, and her family's connection to the work. But when the nun who contacted her is murdered, it seems legend is becoming deadly reality.
Colin Donovan is one of the FBI's most valuable assets—a deep-cover agent who prefers to go it alone. He's back home in Maine after wrapping up his latest mission, but his friend Father Bracken presents him with an intrigue of murder, international art heists and a convent's long-held secrets that is too tempting to resist. As the danger spirals ever closer, Colin is certain of only one thing—the very intriguing Emma Sharpe is at the center of it all.
A ruthless killer has Emma and Colin in the crosshairs, plunging them into a race against time and drawing them deeper into a twisted legacy of betrayal and deceit.
For the most up-to-date information and to read excerpts from SAINT'S GATE and Carla's other books, visit www.CarlaNeggers.com
Contest ends: August 31, 2011