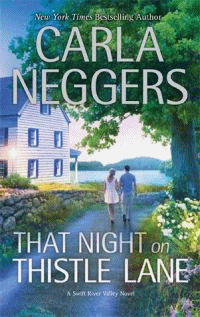 If you're like Carla Neggers, you don't consider the holidays complete without watching "White Christmas," the highest–ranking film at the box office in 1954. Starring Bing Crosby, Rosemary Clooney, Danny Kay and Vera–Ellen, the movie was the first ever shot in the VistaVision widescreen format? And who could forget the colorful costuming in the song–and–dance numbers!
The lucky winner in Carla's Holiday contest will receive the Two–Disc Holiday Edition of "White Christmas," along with an ARC of her February contemporary romance from Harlequin MIRA, THAT NIGHT ON THISTLE LANE. In this second book in Carla's Swift River Valley series Phoebe O'Dunn discovers a secret room in the small–town library where she works. The room is filled with vintage Hollywood–style gowns, reminiscent of those worn in "White Christmas." Phoebe wears one of the gowns to a Boston masquerade ball and meets a handsome swashbuckler. Who he is and how those gowns came to be in that secret room will keep the winner turning the pages.

THAT NIGHT ON THISTLE LANE
Order Today
Librarian Phoebe O'Dunn deals in stories, but her passion for history has taught her that happy endings are rare. Her life in Knights Bridge, Massachusetts, is safe and uneventful...until she discovers the hidden room.
Among its secrets is a cache of vintage clothing, including a spectacular gown—perfect for a gala masquerade in Boston. In the guise of a princess, Phoebe is captivated by a handsome swashbuckler who's also adopted a more daring persona. Noah Kendrick's wealth has made him wary, especially of women: everybody wants something.
When Noah and Phoebe meet again in Knights Bridge, at first neither recognizes the other. And neither one is sure they can trust the magic of the night they shared—until an unexpected threat prompts them to unmask their truest selves.
After all, it takes more than just the right costume to live out your personal fairy tale. It takes heart...and the courage to be more than you ever dreamed.
Visit www.CarlaNeggers.com to read an excerpt of this engaging novel, and be sure to enter her My Favorite Library Contest, which will be posted there soon. The winner's library will receive a $1000 grant from Carla—and a collection of her novels!
Contest ends: December 12, 2012