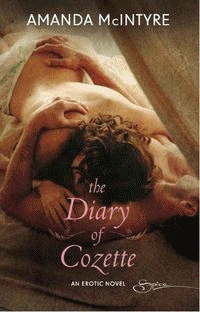 Escape to your favorite era with the choice right at your fingertips! Yummy heroes, resilent heroines slathered with sizzling romance! Titles include: Diary of Cozette, Tortured, Winters Desire, The Pleasure Garden and The Master & the Muses! And as an added bonus, I'll toss in the latest Naughty Bits, Vol III, featuring my twisted romantic suspense, Mirror, Mirror!! Hot summer reads for your most vividly wicked escape!!
THE PLEASURE GARDEN
Order Today
Many lifetimes ago, the beautiful May Queen found exquisite seduction not with her husband, but in the arms of the Green Man - the passionate ruler of all that is warm and light. And thus began the earth's most torrid love triangle.
Now three women of diverse eras are drawn to the mystical site of the Celtic queen's tragic demise. Their fiery obsession ignited by Beltane Magic is barely perceived, but erotically felt. With each kiss, their passion would break an ancient curse - and reunite a love most profound...
Cinnea
Driven by an unseen force, the goddess maiden seduces the one man forsaken by law and principle - an Irishman soon for the priesthood...
Catherine
The future countess of Fairfax House yearns for the illicit nights and perfect love in the arms of her betrothed's cousin...
Emmaline
She inherits a decrepit house and garden that awakens in her a raw sexual awareness, the likes of which she can abide alone no longer...
Contest ends: June 30, 2011