When you get right down to it, most stories in the romance genre are fated pairings. The hero and heroine either "meet cute" or "meet against all odds," often disliking one another in the beginning. The romance in Mystic is not only a fated pairing, but it is also against all odds. Aidan Banadänsk finds Sula Enduran as the result of a recurring vision, although the romance isn't even hinted at in his vision. He only knows she is in danger and he must rescue her. What he doesn't realize is that the rescue is only the beginning of their story. Most of my stories involve pairings that seem fated, beginning with Slave, the first book in the original Cat Star Chronicles series. In her quest to rescue her kidnapped sister, Captain Jacinth "Jack" Rutland needs a man to pose as her master on a planet where all women are enslaved, so she buys a male slave whom she dubs Cat. The attraction between Cat and Jack is immediate and strong, despite the fact that she is human and he is Zetithian. Moreover, she had to travel halfway across the galaxy to find him in the slave market on Orpheseus Prime. That, of course, is among my favorite fated pairings, but in case you've never read it, I'll throw in a few that you might have seen or at least heard about. I'm talking about movies, of course. Fated pairings? How about Moonstruck, which is one of my all-time favorite movies, although its release date (1987) at least hints at my age. In that story, the heroine (played by the multitalented Cher) is engaged to one man, then falls undeniably and overwhelmingly in love with his brother (played by Nicholas Cage). Funny thing about that story. Cher's character is essentially cheating on her fiancé. However, I've never heard a breath of criticism toward her character for being a cheat. Even when her fiancé tells her he must break their engagement (for a ridiculous reason, I might add) she accuses him of breaking his promise to her. This coming from her, even though the fated pairing is clearly the best choice for all, seems a bit biased, but only adds to the comedy. Another of my favorite fated pairings is You've Got Mail. Purely by chance, the hero and heroine are online pen pals, yet away from the anonymity of the internet, they are fierce rivals in the bookselling business. Their first face-to-face meeting occurs without her knowing who he is, and the attraction between the two is obvious to the viewer. Unfortunately, she later learns to despise him for putting her out of business. When the pen pals agree to meet in person, he realizes her dual identity and pretends that his presence is strictly coincidental. He then "tweaks" their relationship until finally admitting to his alter ego. The final scene is both satisfying and one of the sweetest endings I can think of. So, there you have it! Those are my three favorite examples of fated pairings. What are some of your favorites?
Cat Star Legacy #2
Her love is the one thing he never saw coming...
Sulaksha Enduran is still reeling from the death of her lover. He died of a mysterious plague—and it's out of control. Sula is determined to find answers on her own, until an impossibly sexy Zetithian saves her life and joins her quest. Despite the prescient abilities and power over the wind that enable Zetithian mystic Aidan Banadänsk to rescue Sula from certain death, he couldn't have predicted her unique effect on him. It shrouds her future in mystery...and fills him with unparalleled desire. But Sula's investigation has put her in the crosshairs of a deadly conspiracy. With an entire planet's population at stake, Sula and Aidan must risk it all to save the planet, the galaxy...and each other.
Romance Science Fiction [Sourcebooks Casablanca, On Sale: January 29, 2019, Mass Market Paperback / e-Book, ISBN: 9781492661634 / eISBN: 9781492661641]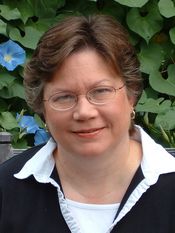 Cheryl Brooks is a former critical care nurse and is the author of the ten book Cat Star Chronicles series.
Maverick
and
Mystic,
the Cat Star Legacy, features the next generation of Zetithians. Cheryl resides with her husband, two sons, two horses, three cats, and one dog in rural Indiana.
No comments posted.