Science Fiction is hot right now and after watching the latest Star Wars film we're ready for more off-planet adventure. One of the hottest science fiction writers of space opera is Dave Bara. His Lightship Chronicles follow Peter Cochrane and his adventures as part of the new Galactic Union against the First Empire. The second book in the series, STARBOUND is now available.
Will we read about the adventures of other Lightship captains?
Dave: Always a possiblity. I think the most likely candidate is Dobrina, but [possible spoiler alert] she still has to get through Volume III (DEFIANT) to get her own series!
STARBOUND has influences from the histories of Oald World Dutch / Spanish merchantman and the Historians as a religious political force. What other Old World references could we expect in future stories?
Dave: If/when we get to Volume IV, we'll see a society very much like the old Venetian Republic being threatened by an Ottoman/Turk like power, and our heroes will end up right in the middle of that mess!
The main character, Peter Cochrane, has it very easy; he gets the heroines, leads battles on the ground and in space, all his decisions seem easy and without regret, and he's the only one given time off after a hard day. In STARBOUND, his intuition is considered an enhanced skill, like a superpower and if so are their other telekinetic abilities?
Dave: I would disagree that Peter has it easy, he's lost a brother, a girlfriend, and had 33 people die under his command, and he has a lot of regrets that he shares with Layton and Marker. We'll see the effects these choices have on him much more in DEFIANT, PTSD and the like. He's not super-human, but when he makes a decision he lives with it. And it is the future, so we do have advanced therapies. To answer the second part, in other drafts there was much more psi power in this universe, mostly enhanced nano tech stuff using old technology the Sri developed. Peter relies more on his natural abilities, and I would say his intuition is improving, much like the powers Donal Graeme matured in Dorsai by Gordon Dickson. And lastly, I believe in intuition, and I've seen my own grow over time, so that's an important theme that will continue.
Will there be stories from the other character's perspectives, like Dobrina Kierkopf or Serosian? They both hint at having a larger experience that made them what they are in Book 1.
Dave: I do have a novella, which was excerpted from the original IMPULSE manuscript (then called Reunion Day) that would involve another character, perhaps Dobrina, or more likely George Layton, that would take place during the time Peter is in rehab from his injuries suffered in IMPULSE. So yeah, that's out there. And maybe someday an anthology of short stories that would tell many of the character's backstories. That would be cool.
Peter's actions span military naval action, ship-to-ship battles and then down to squad level battles. What adventures are you imagining when you setup a scene for Peter?
Dave: Well obviously he's the focal point of the series right now. In IMPULSE he's a junior officer promoted over where his experience would usually place him. He has to take drastic action just to prove himself. As STARBOUND opens he's much more confident in his abilities, but that creates conflicts with his superiors and even his commanding officer, Maclintock. But by the end of the book circumstances force him into the captain's chair, and from there he has to assume the mantle of command and make decisions that effect thousands of lives and the fate of worlds. So at each level he has to have, in my mind, the standing to take an action, the experience to do so, and in the end he has to have the balls to carry it out. So for me, it's a progression as he rises up the ranks.
With Peter promoted to a higher standing in the Union royal families and in the Union military, will he grow more into a military or political leader?
Dave: Well he's married to a princess now, isn't he? And that will certainly effect his decision making. I will give you a hint about DEFIANT though; certain people in his life want him off the battlefield, and others want him out in space. He has to decide which is correct for him, and the journey to how he gets there is what the book is about.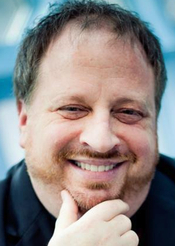 Dave Bara is the author of Impulse and an enthusiast of space programs, astronauts, and science fiction. His Lightship Chronicles are inspired by the works of Frank Herbert and Isaac Asimov, among others. He lives in Seattle, WA.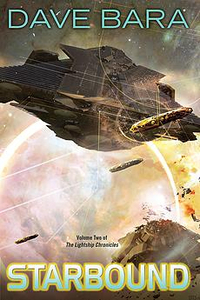 THE FIRST EMPIRE HAS RETURNED.
THE NEW GALACTIC UNION HANGS IN THE BALANCE
The Lightship H.M.S. IMPULSE is gone, sacrificed while defeating First Empire ships the fragile new galactic alliance had hoped it would never see again...
For Peter Cochrane, serving as third officer aboard his world's flagship, H.M.S STARBOUND is a dream that's finally come true. Tasked with investigating a mysterious space station in a newly re-discovered star system, Peter and STARBOUND face a terrible attack. The wounds of that battle may heal with time, but the war is far from over as the First Empire returns, aided by new traitors from within the Union itself!
No comments posted.