Small Goals, Big Results
Back in the late 1990s, before I had published my first novel, I had pocketful of literary aspirations and a heart filled with dreams. I also had two small children and a budget that precluded the hiring of a baby sitter or nanny. Although I had the idea for a novel rumbling around inside me, I despaired of having the time and emotional space in which to write it. The uninterrupted days, those blissful periods, kind of like swoons or trances, when I could sink deep into my work and not emerge for hours, were like a mirage from another time; I could not imagine having them back until the youngest child was eighteen and off to college.
My reaction to these restrictions ranged from brooding resentment to Zen-like acceptance. But neither strategy was particular helpful. And I certainly wasn't getting any work done. Then I had an epiphany: I would not tell myself I was writing a novel, a concept that made me feel like an ant balancing a grapefruit on its back. No, I broke down the task at hand into much more manageable chunks or bits. I told myself that I was writing a scene. A conversation. A description. And I gave myself a small, manageable goal: two pages a day, five days a week.
There was such a sense of liberation in this: I was no longer plagued by the enormous task I had set before myself and instead had a concrete goal that could be checked off on my "to do" list. I wrote those two pages during endless re-runs of Barney, the oversized (and under-endowed, at least mentally) purple dinosaur, Dora the Explorer and episodes of Arthur. I wrote them during naps, play dates (at someone else's house) trips with their father to the zoo/park/playground. I was not overwhelmed, guilty, angst-ridden or despairing. I was just writing, two pages a day, five days a week.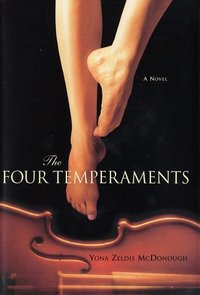 And it worked. By week's end, I had ten pages, by month's end, forty. Sometimes I was even able to exceed my limit. The pages piled up and less than a year, I had a draft of a novel. And even though a draft is a far cry from a finished book, it still beats that blank computer screen with the cursor pulsating like a small, frantic heart.
Once the draft was completed, I switched my mantra slightly to editing, and then revising. The magic of my self-deception still worked, and I could polish and refine the draft into one submittable first to an agent and then an editor. My first novel, THE FOUR TEMPERAMENTS, was published by Doubleday in 2002, hard proof that even the smallest increments can one day turn into solid achievements.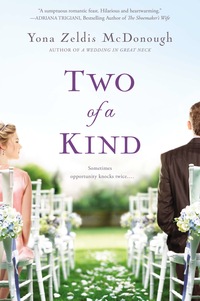 Now my children are older and my time is much less constrained. But I still use the two pages a day mantra; it gets me over so many humps, blocks and dead ends. In my fifth novel, TWO OF A KIND, one of the protagonists, Christina Connelly, eluded my grasp for the longest time. Even though she was at the center of the story, she was nut I could not crack, the consciousness I could not penetrate. I was first frustrated, then disgusted, then despairing. How would I bring her to life? I wondered. How would I make it all work?
Once again, I was saved by my two-pages-a-day strategy. I did not attempt to tackle Christina overall; I focused on her scene-by-scene, conversation-by-conversation, description-by-description. Who was she, want did she need and want? How did she go about getting it? What happened when she did not? Two pages at a time, I broke her code, unlocked her secrets and brought her forth. By staying small in my immediate goals, I was able achieve the larger one.
Right now, I'm looking forward to the publication of my seventh novel, THE HOUSE ON PRIMROSE POND. And even though you would think I am a seasoned veteran at this point, the two-pages-a-day rule was still my governing principle for writing it. The novel presented new challenges: a new location, New Hampshire, as well the shuttling back and forth between a present-day story and one set in late 18th and early 19th centuries. Each time I felt overwhelmed, confused or stuck, I remembered my mantra. All I had to do was hammer out those two pages, and the rest would take care of itself. It was a great lesson, not only for writing, but also for the larger task of living my life.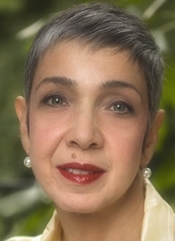 Yona Zeldis McDonough is the author of six novels; her seventh, The House on Primrose Pond, will be out from New American Library in February, 2016. In addition, she is the editor of the essay collections The Barbie Chronicles: A Living Doll Turns Forty and All the Available Light: A Marilyn Monroe Reader. Her short fiction, articles and essays have been published in anthologies as well as in numerous national magazines and newspapers. She is also the award-winning author of twenty-six books for children, including the highly acclaimed chapter books, The Doll Shop Downstairs and The Cats in the Doll Shop. Yona lives in Brooklyn, New York with her husband, two children and two noisy Pomeranians.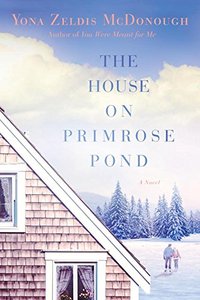 A compelling novel about one woman's search for the truth from the author of YOU WERE MEANT FOR ME.
After suffering a sudden, traumatic loss, historical novelist Susannah Gilmore decides to uproot her life—and the lives of her two children—and leave their beloved Brooklyn for the little town of Eastwood, New Hampshire.
While the trio adjusts to their new surroundings, Susannah is captivated by an unexpected find in her late parents' home: an unsigned love note addressed to her mother, in handwriting that is most definitely not her father's.
Reeling from the thought that she never really knew her mother, Susannah finds mysteries everywhere she looks: in her daughter's friendship with an older neighbor, in a charismatic local man to whom she's powerfully drawn, and in an eighteenth century crime she's researching for her next book. Compelled to dig into her mother's past, Susannah discovers even more secrets, ones that surpass any fiction she could ever put to paper...
3 comments posted.
Anew to me author and a lovely introduction. What an excellent philosophy...all tasks are easier when taken in manageable bits.
(Kathleen Bylsma 12:35pm November 10, 2015)
Thank you for writing, Kathleen and Peggy; I loved hearing from both of you! Kathleen you are right: this philosophy works in other areas as well. Peggy, the process is different for each of us, and the trick is figuring out one that works for you, so you can stick with it.
(Yona Zeldis McDonough 1:22pm November 16, 2015)