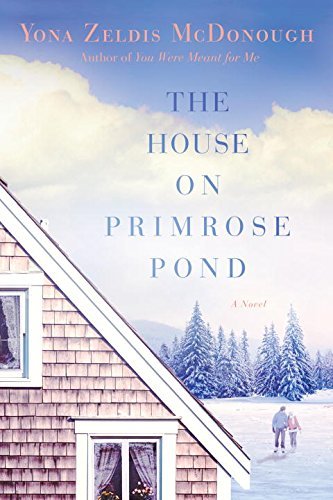 Purchase
NAL
February 2016
On Sale: February 2, 2016
Featuring: Susannah Gilmore
400 pages
ISBN: 0451475380
EAN: 9780451475381
Kindle: B00X593BUE
Paperback / e-Book
Add to Wish List

A compelling novel about one woman's search for the truth from the author of YOU WERE MEANT FOR ME.
After suffering a sudden, traumatic loss, historical novelist Susannah Gilmore decides to uproot her life—and the lives of her two children—and leave their beloved Brooklyn for the little town of Eastwood, New Hampshire.
While the trio adjusts to their new surroundings, Susannah is captivated by an unexpected find in her late parents' home: an unsigned love note addressed to her mother, in handwriting that is most definitely not her father's.
Reeling from the thought that she never really knew her mother, Susannah finds mysteries everywhere she looks: in her daughter's friendship with an older neighbor, in a charismatic local man to whom she's powerfully drawn, and in an eighteenth century crime she's researching for her next book. Compelled to dig into her mother's past, Susannah discovers even more secrets, ones that surpass any fiction she could ever put to paper...
Interviews for The House on Primrose Pond
Writing a Woman's Life | Small Goals, Big Results
The House on Primrose Pond
November 10, 2015
Portrait of a (Young) Lady
The House on Primrose Pond
October 13, 2015
Name Game
The House on Primrose Pond
September 8, 2015
Under Cover
The House on Primrose Pond
August 11, 2015
Yona Zeldis McDonough on Writing a Woman's Life
The House on Primrose Pond
July 14, 2015
Comments
10 comments posted.
Re: The House on Primrose Pond

Hi, Yona!! You're not the only one who agonizes over
their name!! I've done the same thing with mine, all my
life, and have wished 1,000 times or more that I would
change it, but never had the guts. It was originally
supposed to be Margaret, but someone messed up my Birth
Certificate, and I've been saddled with this name ever
since. My Mother also was supposed to name her Daughters
with V's, and I was either supposed to be named Vivian or
Valerie. That's a little better, but still no
consolation. I was teased through school with my name,
and never told anyone about it. Only my Friends saw what
happened. Being bullied is no fun. Anyway, I'm looking
forward to reading not only your latest book, but one
other one that I missed. I have them on my TBR list, and
because I got a little behind with my reading, now I have
to hunker down and get to it!! Congratulations on your
book, and remember that you're not alone. Anything goes
nowadays with names. Just look at Hollywood!! lol
(Peggy Roberson 5:25pm September 8, 2015)
Get it free
club penguin free membership
(Itunes Codes 10:16pm October 4, 2015)
I found your College story very enlightening, as well as
interesting. Who would have thought that it would turn out
to be a stepping stone to where you are now?? Your latest
book sounds like it's going to be a real page-turner, and I
can't wait to get my hands on it!! It's going to make for
a great Fall read!! Congratulations on your latest book,
and I'm sure it's going to do well!!
(Peggy Roberson 11:40am October 13, 2015)
Thanks for writing, Peggy Roberson! If you send me your address (you can DM me on Facebook) I will send you a bookmark or two!
(Yona Zeldis McDonough 10:05pm November 6, 2015)
Peggy is an adorable name and I wish it were mine! Sigh...
(Yona Zeldis McDonough 10:07pm November 6, 2015)
Anew to me author and a lovely introduction. What an excellent philosophy...all tasks are easier when taken in manageable bits.
(Kathleen Bylsma 12:35pm November 10, 2015)
I can't imagine what it would be like to be an Author, and have
to write under a deadline, where you would have to set up some
sort of schedule in order to get your books written!! For me, I
would feel that I would come across some sort of writer's block,
and not be able to write pages on a certain day, because the
thoughts won't flow, for whatever reason. In my case, I would
have to sit and write for as long as the ideas keep flowing, even
if it was for hours at a time, without interruption, then take
breaks in between the following day, if need be. Your latest
book sounds like such a great read, that I wouldn't change your
system for anything!! I'm really looking forward to reading it,
and have put it on my TBR list, to be read this Fall/Winter.
Congratulations on what I'm sure is bound to be a big hit!!
(Peggy Roberson 8:57am November 11, 2015)
Thank you for writing, Kathleen and Peggy; I loved hearing from both of you! Kathleen you are right: this philosophy works in other areas as well. Peggy, the process is different for each of us, and the trick is figuring out one that works for you, so you can stick with it.
(Yona Zeldis McDonough 1:22pm November 16, 2015)
SOUNDS GREAT,GOT TO READ.
(Marsha Baurns 2:05pm February 3, 2016)
Great review. Would really like to see what secrets Susannah
will find. Can't wait to read
(Dianne Casey 7:41pm August 11, 2016)
Registered users may leave comments.
Log in or register now!